3 dead, 2 injured in Far North Dallas shooting
DALLAS - Three people are dead, and two others are in the hospital after a shooting at a Far North Dallas apartment complex.
Officers arrived at the Landmark on the Valley Apartments on Spring Valley Road just west of the Central Expressway around 4:40 a.m. Friday. They found five gunshot victims, including some in a car. 
Man admitted starting Dallas apartment fire that injured woman and son, DFR says
Three of the victims, a woman and two men, were pronounced dead at the scene. The other two victims were taken to the hospital. One of them is in critical condition.
Fort Worth police looking for suspect who shot dog during robbery
Florence Hernandez was asleep and did not hear gunfire, but she saw what those bullets left behind.
"When I looked outside, there was police everywhere," she said. "When I walked down some more, I seen bodies like all over the parking lot. It's just really sad."
"They were gathered in the back parking lot of the apartment complex," explained Kristin Lowman with Dallas PD. "Three people died at the scene: two men and one woman. Two male victims were taken to a hospital. One's listed in stable condition. One's listed in critical condition."
The complex cradles the border between Dallas and Richardson. A Richardson officer was flagged down after the shooting, and that department notified Dallas.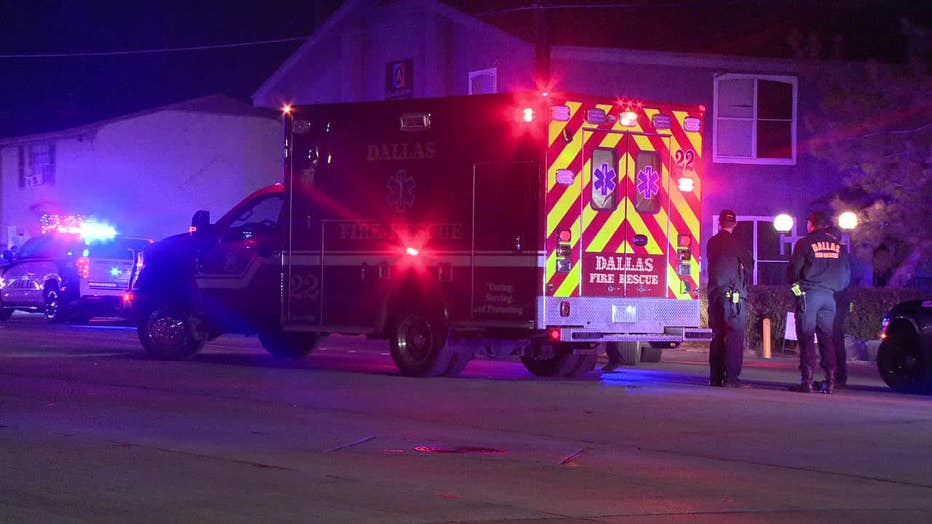 Richardson officers assisted DPD, gathering some personal belongings of victims.
Dallas officers used flashlights in the dark looking for shell casings and dropping evidence markers where they found one.
Homicide detectives searched to see if anyone had security cameras and apparently found some, leaving one apartment building with what appears to be a DVR.
Uniformed and plainclothes officers at the complex some eight hours after the shootings. They are still trying to piece the puzzle together: Why the shootings and who did it?
"Investigation's ongoing in terms of suspect or suspects," Lowman said. "What we do know at this time is detectives have determined that it wasn't a random shooting. So that's one thing for the community to know that at this point we do not believe that it was random."
Whatever the circumstances, Hernandez is hurting for the people who died and their families.
"It's not right," she said. "What they did is not right."
Police have not yet released the names of any of the victims. They say they are trying to reach next of kin.
Anyone with information is asked to call the Dallas Police Department or Crime Stoppers at 214-373-8477. There is a reward available for information that leads to an arrest and indictment in the case.