Man admitted starting Dallas apartment fire that injured woman and son, DFR says
DALLAS - A woman and her teenage son are in the hospital after an apartment fire in Dallas overnight. Officials said a man who lived with her admitted to starting the fire.
According to Dallas-Fire Rescue, firefighters responded to calls about the fire just after midnight Thursday at a complex on Stag Road, which is near Ledbetter Drive and Bonnie View Road in Southeast Oak Cliff.
The firefighters were able to quickly put out the flames coming from a second-floor apartment.
"It shocked me. I'm just in shock," A.D. Dixon said.
Dixon said he's lucky to be alive. 
He was asleep inside his second-floor apartment at Villa Sorento when his next door neighbor's unit caught fire.
"I heard fire and seen the window and jumped," he added.
Dixon got out unscathed, but his neighbor wasn't so lucky.
READ MORE: 18-wheeler driver killed in crash on 635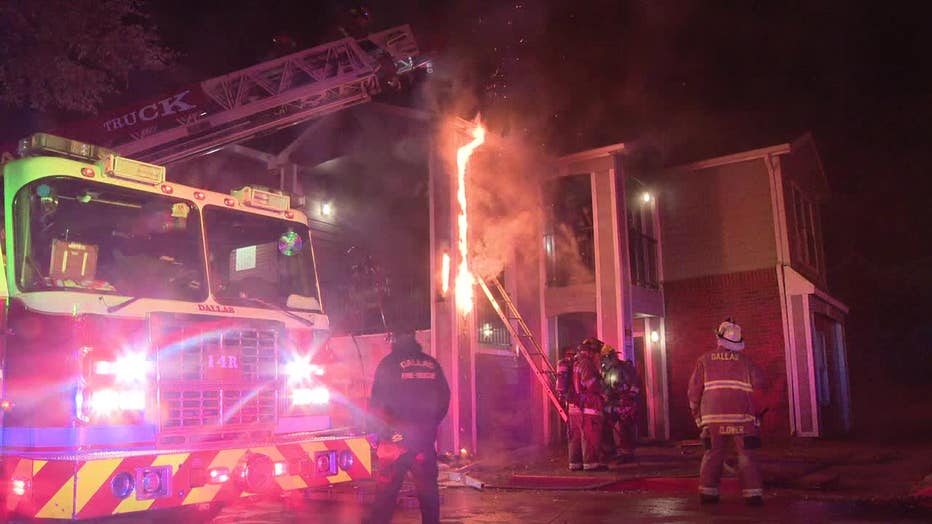 Neighbor Tiashmon Clark, a Marine veteran, said he arrived home just as a woman who was on fire ran out of the apartment. 
"I looked up and I seen the lady come running out of the building on fire. My first instinct was to pull my truck over, jump out of my truck and help her," he said. "She got over to the grass right here and she started rolling."
Clark said he used his sweater to help the woman put out the fire. Then she told him her teenage son was still in the building.
READ MORE: Police arrest suspect at Dallas golf course after he shot at golfers, hid for hours in drainage ditch
Other neighbors rushed to a second-floor window at the back of the apartment as the boy jumped to escape the flames.
"They said he couldn't even walk. So, I don't know what his injuries were but when I went back and looked at him, he looked bad," Clark said.
Dallas Fire-Rescue said the woman and her son were taken to the hospital. The woman has life-threatening injuries.
A man with burns also showed up at the hospital around the same time. During questioning, he admitted to starting the fire, DFR said.
A spokesman for Dallas Fire-Rescue said that man lived in the apartment where the fire started, but was not related to the mother and son.
The suspect, whose name has not yet been released, was arrested but remains hospitalized with injuries.
Once he's discharged, he'll be booked and likely charged with arson.
A motive remains unclear.
A DFR spokesman said most of the fire damage was contained to the one unit, but several other units in that building were affected by smoke and water, including Dixon's.
The American Red Cross is assisting neighbors whose apartments were affected by the smoke and water.