200+ gravestones damaged at Waxahachie cemetery
WAXAHACHIE, Texas - Police in Waxahachie are investigating what they call the worst case of vandalism the city's cemetery has ever seen.
Sometime between Saturday afternoon and Monday morning, about 275 graves were damaged at the Waxahachie city cemetery.
Most of the gravestones that were knocked over or smashed were in the historic part of the cemetery. Some of them were more than a century old.
One was the gravesite of Emory Rogers, one of Waxahachie's first settlers.
Paul Yarbrough is one of many visiting the Waxahachie City Cemetery to find that a relative's gravestone was overturned.
"I heard about damage and came out today," he said. "Luckily, we only have one there that was turned over.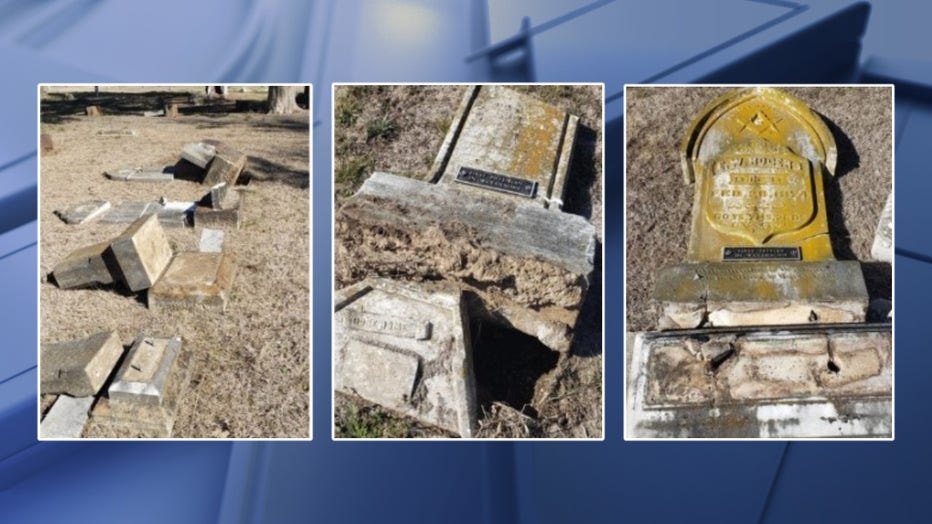 Yarbrough's family moved to Waxahachie from Tennessee in 1853.  He and his brother have found 200 relatives buried here. 
"Gravesites are for the living to find history. They are just stones, but there's history and a story behind each one," he said. "This is all that's left of their lives, these names on these markers. And you have destroyed some of that"
The city is working to hire an expert contractor who can carefully replace the markers without causing more breaks in the stone that is old and brittle.                 
Amy Borders with the city says they are collecting donations for the repairs. 
"We've had a tremendous outpouring of support from the community," she said.
The city said repairing the monuments will be very expensive.
Leaders plan to consult with restoration experts to make sure the historic gravestones are properly preserved.
Volunteers who want to help with the cleanup are asked to coordinate with the city's parks and recreation department.
The city is asking that people don't try to reset the stones themselves. 
"We will get everything repaired," Borders said. "We just want to make sure we do it right and safely."
The hope is that whoever is responsible will turn themselves in. 
Police are asking for tips to help catch those responsible. Anyone with information is asked to call the Waxahachie Police Department at 469-309-4426.
TO DONATE: Checks may be mailed to P.O. Box 757, please include CEMETERY DONATION on memo.
Cash, check or credit card in person at City Hall, 401 S. Rogers. 
Credit Card by phone at 469-309-4170; wait for prompt to speak to a billing clerk.
READ MORE:
Rep. Van Taylor admits affair, abandons U.S. House reelection bid
Benbrook mother, 3-year-old son killed in Mesquite car crash