Texas Rangers to host Colorado Rockies in 2022 home opener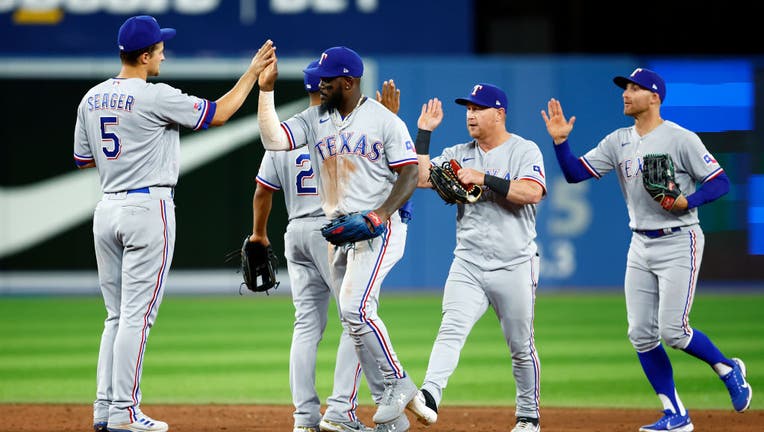 article
ARLINGTON, Texas - A new season brings new hope for Texas Rangers fans. The team will take on the Colorado Rockies Monday for the 2022 home opener at Globe Life Field.
Texas had a 60-102 record overall and a 36-45 record in home games last season. The Rangers pitching staff averaged 7.8 strikeouts per nine innings while giving up five runs per game in the 2021 season.
But two new veteran sluggers signed in the off season, Marcus Semien and Corey Seager, are already bringing some much-needed leadership and enthusiasm to the field.
General manager Chris Woodward has said Semien and Seager have been integral in the abbreviated spring training in elevating the whole tone in the locker room and on the field.
RELATED: Rangers rally from 5 runs down, beat Blue Jays 12-6
Texas Rangers celebrate 50th anniversary in Arlington
The team is celebrating its 50th season this year. Announcer Chuck Morgan has been with the team for 39 of those 50 years. 
"I'm excited about it. The Rangers have been here for 50 years since they moved from Washington and always have gotten great support from the media and fans and just it's just fantastic. And I'm saying right now, 'Get your caps on. Make a lot of noise today and get on the bandwagon now,'" he said.
For the anniversary, the team will be selling and giving away some special merchandise like retro bobblehead figurines and baseball cards, a Nolan Ryan pitching rubber and even plush dots to celebrate the iconic dot races.
"Saturday night the Corey Seager jersey, it will be Corey Seager's first jersey. He's gonna be in a 1972 replica jersey," Morgan said. "It's going to be a great year and we're gonna have some fun this year to celebrate 50 years of baseball."
Brisket Egg Rolls, Mac & Cheese Nacos & More: Rangers introduce new concession foods
The Rangers also spiced up their ballpark menu to make sure the 2022 season has a little more flavor.
Casey Rapp, the man behind the unique concessions, said his team usually starts brainstorm at the end of each year.
"We come up with 30-40 ideas and then we narrow it down to what you're going to see here," he said. 
Some items on the menu this year include a spicy alligator corndog, corndog chili pie, a chicken fried brisket sandwich, mac and cheese nachos and brisket egg rolls.
"This was invented by a fan in 2020 and we finally get to roll it out," Rapp said about the brisket egg rolls. "It's portable. You get the barbeque sauce on it instead of soy sauce and it's really great.
Fans will also be able to purchase 50th anniversary souvenir cups, ice cream helmets and beer bats.
RELATED: Texas Rangers unveil new food offered at Globe Life Field
North Texas 6th grader to throw out first pitch at Rangers home opener
A sixth grader from Mansfield will throw out the ceremonial first pitch.
Orion Jean was on the cover of Time magazine as the 2021 Kid of the Year.
As a "kindness ambassador," he donated 100,000 meals, 500,000 books and thousands of toys to children in need during the pandemic.
He will pitch to Hall of Famer Pudge Rodriguez to kick of the game.
"Very nervous. It's amazing to be able to have this opportunity on, you know, the 50th anniversary and a home game. It's a lot of pressure, but I'm excited. And I've never done anything like this before, so I'm hoping I'm not going to mess it up and I'll be able to make everyone proud," Jean said.
There are still some tickets available for Monday's matchup against the Colorado Rockies.
Parking lots open at 10 a.m. and gates to the ballpark open at noon. The first pitch will be thrown just after 3 p.m.
READ MORE:
Royse City native Taylor Hearn getting Rangers Opening Day start a story of overcoming