Georgia beats TCU 65-7; Horned Frogs fans leave watch party disappointed
FORT WORTH, Texas - It was a very disappointing night for TCU fans as the Horned Frogs hoped to wrap up what's been a Cinderella season with a national championship win.
But, the Horned Frogs took a beating, losing to Georgia 65-7. The score was not what TCU fans wanted. 
The Frogs were trying to win their first National Championship in 84 years when they faced the Georgia Bulldogs Monday night in Los Angeles.
They had their hands full, of course, against the No. 1 ranked Georgia. The Bulldogs were undefeated before winning their second-straight title.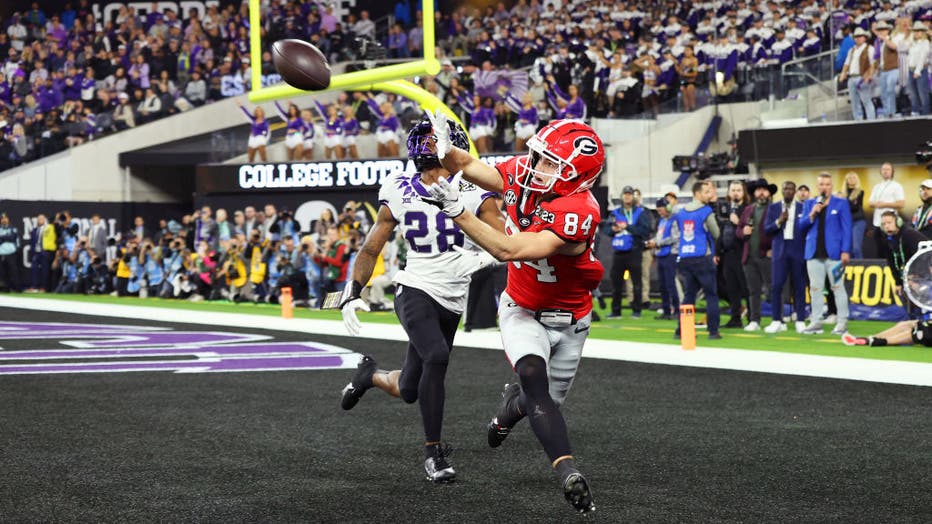 INGLEWOOD, CA - JANUARY 09: Ladd McConkey #84 of the Georgia Bulldogs makes a touchdown reception against Millard Bradford #28 of the TCU Horned Frogs during the College Football Playoff National Championship held at SoFi Stadium on January 9, 2023 i
'This team is special': TCU looking to end magical season on top
Thousands of people wearing purple packed the Schollmaier Arena at kickoff for a watch party. They went nuts after the first and only touchdown by the Frogs in the first half. But slowly. Georgia started to pull away, and the mood started to drop.
Some fans held on to the faith, hoping for a second-half comeback. However, the Frogs fell short.
"It's upsetting. We all came together and drove down from Denton to support our Texas team," said fan Sterling Robinson. "Not showing up on defense. Not producing on offense. Just not a fun game to watch for us so."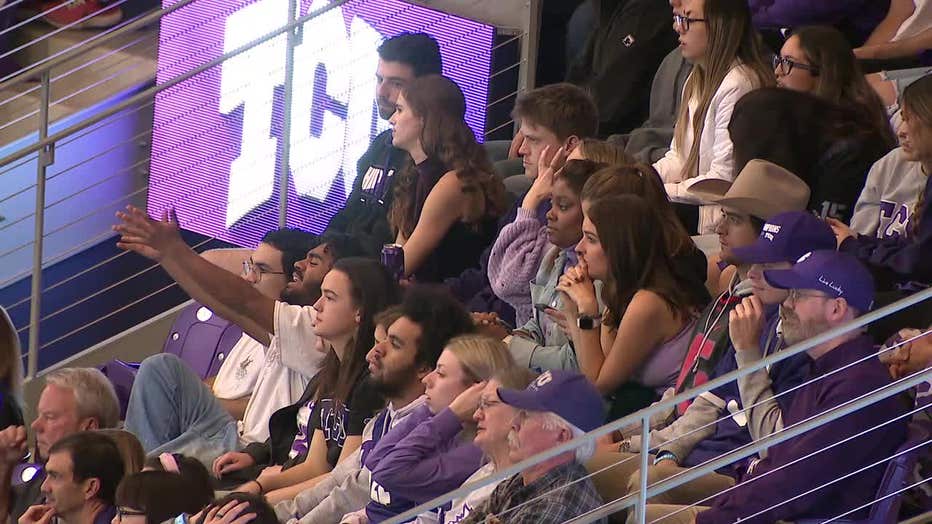 "It's sad. I mean everybody predicted a blowout," said fan Tanner Williams. "And it's like you go to the small school in this arena fence. Like 4,500 people and we had it packed out. That's a low day for Georgia. At a basketball game. For us to just be here, it's great and the fans are standing up in cheering and watching the game. This isn't even at LA."  
"It is what it is. You have to get up and do it again next year," said fan Anna Dolmany. 
Several fans drove from all over North Texas to watch the game at TCU because they couldn't make it to Los Angeles.
TCU Horned Frogs embrace 'underdog' status heading into national championship game
TCU has one previous national football title from 1938 that's universally recognized.
The Frogs were the biggest underdogs in terms of the point spread in the 10-year history of the College Football Playoff.
The Bulldogs won with the biggest margin of victory in any college bowl game ever.