TCU Horned Frogs embrace 'underdog' status heading into national championship game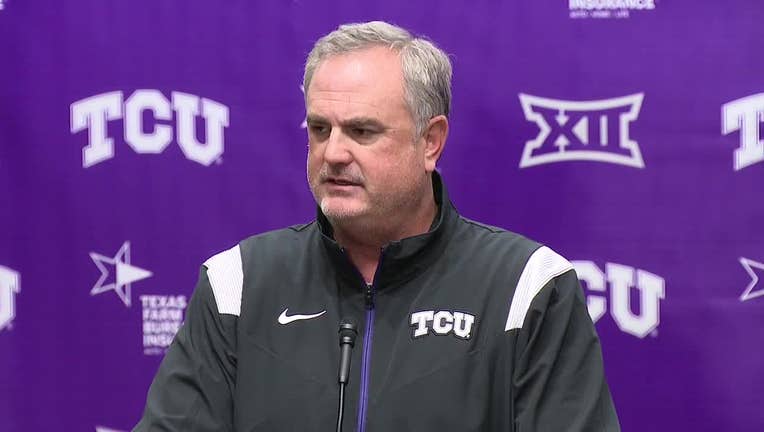 article
FORT WORTH, Texas - The TCU Horned Frogs said they're ready to shock the nation as it prepares for next week's national championship game.
Coach Sonny Dykes said the team will have two practices in Fort Worth before heading to Los Angeles Friday.
They are once again heavy underdogs. Oddsmakers favor top-ranked Georgia to win by more than 13 points.
RELATED: Defending champion Georgia vs. Cinderella TCU for CFP title
Dykes said that's fine with him because big challenges have fueled TCU's success this year.
"You know, you got to tip your hat to these guys. They've been up for every single challenge this year. It's been a learning experience. I mean, we've said it over and over again. We're kinda building this airplane as we're flying it. And that's the way it's been all year. That's because everything is new. And we're putting it together. You know, we didn't have a bowl formula. We didn't have any of that.  We just put a lot of thought and effort into maximizing every opportunity to get better," he said.
RELATED: TCU fans will have to cough up some serious cash for tickets to the National Championship game
TCU offensive lineman Wes Harris told the Associated Press that hearing the chatter about how big and physical their next opponent is gives the team "extra juice."
"It just kind of lights a fire underneath you," he said. "Definitely gave us a little bit of extra juice. We were tired of hearing about it ... and were able to make a statement to show we were a physical football team, too."
"Obviously being the underdog is something we're not unfamiliar with," added standout receiver Quentin Johnston. "So going to try to just keep moving like we did the rest of the season. And keep our heads to the ground and keep playing football."
RELATED: TCU quarterback Max Duggan declares for NFL Draft
TCU has only lost one game this season. The Horned Frogs lost to Kansas State in overtime during the Big 12 championship game.
The Frogs are playing for their first national championship since 1938.
The Associated Press contributed to this report.