Dak Prescott says he's close to 100%, expects to play against Broncos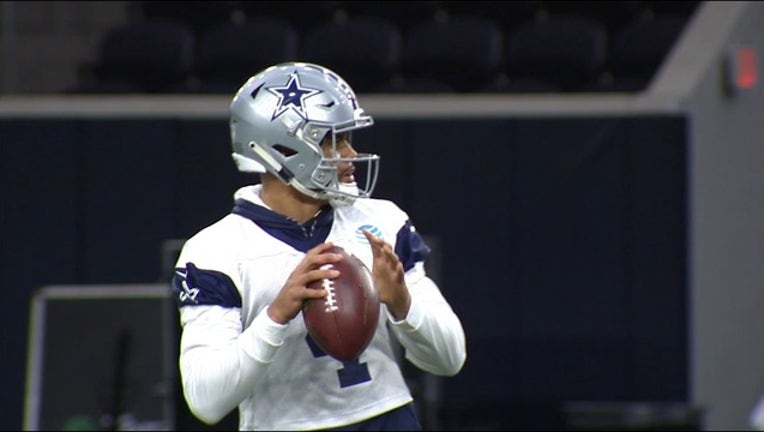 FRISCO, Texas - Dak Prescott said he expects to play Sunday against the Denver Broncos.
Prescott had two weeks to recover and now he said he's feeling good. With that said, the quarterback is ready to get back in the game.
He missed Week 8 following a calf injury. The Cowboys still pulled off a win against the Vikings with backup quarterback Cooper Rush starting.
RELATED: With Dak down, Cooper Rush passes Cowboys past Vikings 20-16
The team is doing everything it can to claim another win Sunday against the Broncos. If it's able to do that, it will be a seventh straight win for the Cowboys.
Prescott went through two days of practice and said he is looking forward to the game.
RELATED: Dallas Cowboys prepare to host Denver Broncos on Sunday
He talked about what it was like watching from the sidelines last week.
"It was a different experience. I don't want to get used to it. It was challenging but I embraced it, was able to support the guys, something Coach McCarthy talks about. Support the 48 and that was my job," he said. "I want to play in the game. I want to play in every game. It's a blessing to do this and every opportunity that we get to go out there, you don't get many of them. You want to take advantage of it."
Prescott said he is pretty close to 100%, however he will continue doing the things necessary to make sure he is in the best shape possible for Sunday's game.
Above anything though, he's going through the game plan and preparing himself to win.
The Cowboys play Denver Sunday afternoon on FOX 4.
Kickoff at AT&T Stadium in Arlington is set for noon.
Coverage of Week 9 in the NFL on FOX starts at 10 a.m. Sunday.
RELATED: Dallas Cowboys to wear red-white-blue striped helmets to honor veterans