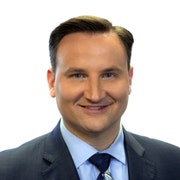 Steve Noviello
Consumer Reporter
I walked into work one day in late October, it was one of those crisp New England afternoons just before Halloween. I was working at a TV station in Vermont. On my desk was a small piece of scrap paper. Scribbled on it was the name of a 15-year-old girl whose body had been found in a ditch overnight. She was dead.
There was also a message. It read "Steve, find the family, you're the 6 o'clock lead". I opened the phonebook and started calling everyone listed with the same last name. I was reluctant to do so. It wasn't that I didn't think the girl's story needed to be told, it was that I didn't think I was the one to tell it.
I ended up finding her grandmother who invited me, a total stranger, into her house. As we sat there looking at pictures, and as her tears came more often than her words, I thought to myself - there has got to be a better way.
That's the day I decided to focus all of my energy on consumer reporting.
Don't get me wrong, that "other" type of news certainly has its place. Those are still important stories to tell, and every now and again you'll catch me telling one. But for me, the "news of the day" is not enough anymore. In today's age of pre-recorded public announcements, and pre-canned customer service people need someone to be their voice. I am YOUR voice, and I am proud to be that voice.
My career in journalism has taken me around the country and through Europe, and during that time the best advice I ever got still stands true today - "If you want a real story... talk to a REAL person." It's something that I hold close to me everyday at FOX 4.
That's where you become a part of the FOX family. It's viewers like you who are the REAL story tellers. YOU come up with the story ideas; YOU help us test the products. Ripped off? Ticked off? Confused?
Chances are you're not the only one, but with FOX 4 On Your Side you can rest assured you have an award winning team of reporters and investigators working for YOU.
E-mail me or call me, and tell me your story. Like my grandmother always says, there's two things we Italians love to do: eat, and fight back! (and I'm still full from lunch!)
The latest from Steve Noviello