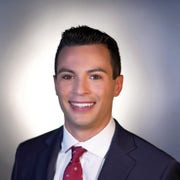 Dylan Federico
Meteorologist
I've always loved the weather as long as I can remember. Growing up in New Orleans, big-ticket weather events including Hurricane Katrina fed into my curiosity and passion for weather. 
My strong passion in meteorology is focused in the tropics and severe weather. Over the past decade, I've successfully covered and intercepted multiple tornado outbreaks along with Hurricanes Harvey, Irma, Ida, and Ian. I want to use my knowledge and experience to keep this community prepared and informed during severe weather.
My lifelong passion for forecasting the tropics and severe weather, along with my fascination with climatology, led me to Mississippi State University to earn my meteorology degree. 
My professional career began as a meteorology intern at WVUE (FOX 8) in New Orleans during high school and college, learning from legendary Meteorologists Bob Breck and David Bernard. 
After graduating from college, I got my first job at WTVM in Columbus, GA. There I covered multiple tornado outbreaks, winter weather, along with Hurricane Michael.
In 2020, I headed down to WINK-TV News in Southwest Florida. In addition to forecasting and tracking active weather there, I covered a "once in a generation" tornado outbreak in January 2022, along with Hurricane Ian which devastated the area and flooded our tv station with storm surge. Following Ian, I spent time in the community aiding in recovery efforts.
After three years of doing weather in Southwest Florida, it was time for a new challenge. I'm thrilled to come to Dallas and join the FOX 4 team. My passion for meteorology has transformed into a love of public service, caring about the weather is caring about people.
When I'm not looking at the weather, you could find me working out at the gym, running along the Katy Trail, or having fun at a festival! I'm also a huge fan of the New Orleans Saints and LSU Tigers.
The latest from Dylan Federico