Two healthcare workers killed in Dallas hospital shooting identified
DALLAS - The two healthcare workers killed in the deadly shooting at Methodist Dallas Medical Center on Saturday have been identified.
Methodist confirmed the roles of the two employees who were shot on Monday.
Jacqueline Pokuaa, 45, was a social worker. She was shot when she entered the new mother's room to provide routine services.
Katie Flowers, who went by Annette, was a nurse. She heard the shot fired, looked into the room and was shot in the hallway.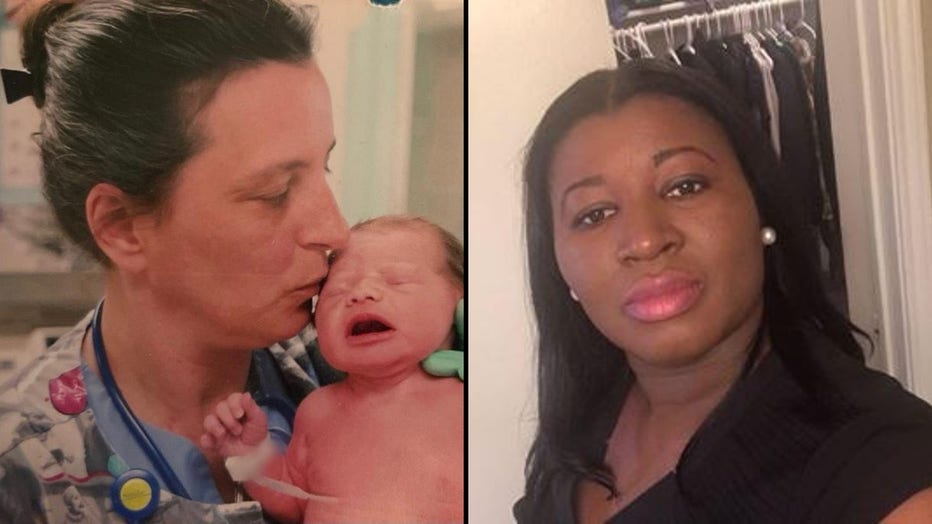 Flowers was a mother and grandmother. Her daughter said her family is not yet ready to talk. 
FOX 4 is working to find family members of Pokuaa. 
Dallas Police Chief Eddie Garcia commended the actions of the Methodist police sergeant who shot Nestor Hernandez in the leg before he left the room. He was nearby investigating report of stolen property when he heard the shot. 
"Saturday, we lost two healthcare workers who were going about their day caring for others," the chief said. "There is no doubt his actions that day saved lives by stopping the assailant from leaving the room. There was no further loss of life. He remained engaged and was in constant communication during the barricade situation. He ultimately surrendered."
A Methodist Health System police officer shot the suspect, 30-year-old Nestor Hernandez. He was hospitalized after being shot and is charged with capital murder.
Hernandez is on parole for an aggravated robbery he committed in 2015 and had an active ankle monitor.
District Attorney John Cruezot released a statement Monday afternoon saying, "I remain sickened, stunned and heartbroken by the senseless shooting at Methodist Hospital. Given the sacrifices our healthcare workers make on a daily basis, they should be free from threats of violence, especially in an area that is typically filled with the celebration of new life."
Methodist has not yet said how long each of the employees worked there. 
The chief for the hospital's police department said violence against healthcare workers is on the rise and of great concern. He said the hospital was not warned that a violent felon monitored by the state with an ankle monitor was visiting the hospital. 
PREVIOUS COVERAGE: