Trackdown: 635 rush hour road rage shooting
BALCH SPRINGS, Texas - This week's Trackdown travels to southeast Dallas County's Balch Springs, where there was a road rage shooting on busy I-635 just as rush hour started.
Balch Springs police have released surveillance video and images of the car that carried the shooter to FOX4 in hopes viewers can help them locate the suspect's royal blue Hyundai Sonata.
The incident happened about 4:40 p.m. on October 19 on LBJ near Lake June Road. Police said the received multiple 911 calls about a rollover accident and someone in the road. Still in the car, was a 9-year-old child.
Police determined on the scene that the driver in the road has been shot multiple times and he was taken to the hospital.
"Luckily he lived. He's doing well right now, able to talk," said Det. Chris Cortemelia, Balch Springs PD. "He said it was a road rage incident that started in Dallas around 175 and westbound I-20.
Video obtained by police shows a location just after where everything started. The victim is in a white Kia SUV and the shooter was in a Sonata, estimated to be model year 2009-2015 with tinted windows.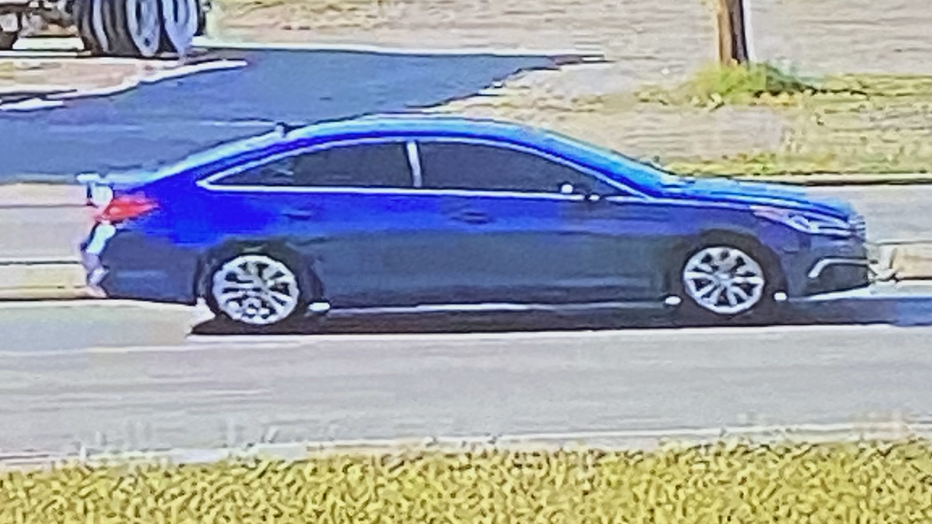 "They merged onto eastbound I-20 from 175. The lane ends. He said that he felt, apparently, the other driver felt he got cut off," Cortemelia said. "Started tailgating him, honking his horn, flashing his lights, pulling up beside him all the way down the highway." 
Driving north on 635, the man with his son moved to the second lane from left.
"As they got up to Lake June, the victim said that the suspect got to his driver's side, on the inside lane, and he heard gunshots and felt something hit him through the car," Cortemelia said. "People had to see something prior to it. There's a lot of cars behind it that had to stop, that means they saw this unfold at the beginning."
Police believe the suspect likely lives in southeast Dallas.
Anyone with information can call Det. Cortemelia at 214-796-3766 or email cortemelia412@balchspringspolicedepartment.com
RELATED: 
Man and son hurt road rage shooting on 635 in Balch Springs