3 men charged with beating Mesquite gym security guard to death
MESQUITE, Texas - Mesquite police arrested three men accused of murdering a security guard at a gym. Those arrests came just as loved ones were burying the 43-year-old father of three.
Loved ones of Patrick Prejean showed up Saturday afternoon sporting Cowboys colors.
"We just wanted to honor him in blue," said Breunte Jackson, his cousin.
Born and raised in Dallas, the father of three was known as a family man.
"Nothing he wouldn't do for his family, nothing," Jackson said.
Now Prejean's family is broken.
"I am trying to hold up right now from crying because a great man and a great father was lost from senselessness," said Marquis Paschall, another cousin.
One week ago, Prejean was attacked while on the job as a security guard at Fitness Connection in Mesquite.
RELATED: Security guard dies following assault at Mesquite gym
According to Mesquite police, there was a physical altercation inside the gym between Prejean and multiple men.
Police said Prejean was assaulted and when paramedics arrived, he was unresponsive. He later died at the hospital.
Meanwhile, his attackers took off.
"I am thankful I have the peace in my heart his fugitives have been captured," said Shevonda Hobbs, Prejean's cousin.
Hours before the funeral, investigators announced three men from Georgia were arrested in connection to the murder.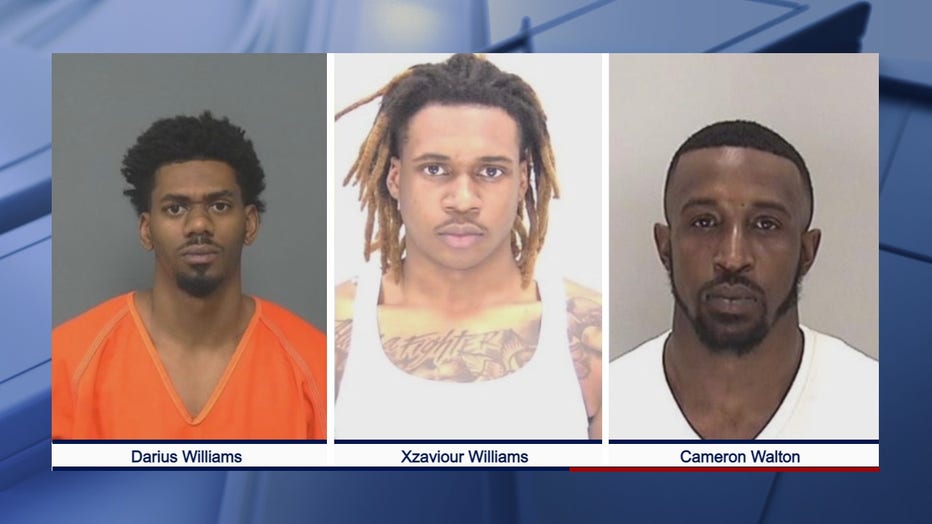 Investigators said 26-year-old Darius Williams turned himself in at the Mesquite Police Department on Friday.
Xzaviour Williams, 20, and Cameron Walton, 26, traveled back to Augusta, Georgia but were also taken into custody Friday.
Police aren't releasing exactly what led up to the altercation, but investigators confirmed they did identify the suspects from a video posted online.
The video, which FOX 4 has chosen not to show showing, appears to show Prejean kicking the men off the basketball court before being attacked.
At this time, Mesquite police aren't commenting on what happened in the video.
Another one of Prejean's cousins, Michelle Hall, is wondering why the three men didn't just walk away
"He was a gentle giant. I mean, he never showed any anger or anything," she said. 
"No matter the situation, nobody deserves to lose their life," Jackson added.
Prejean's relatives said the video is hard to watch. They're just glad to now have closure and they're focusing on the time they had with him.
"Very, very blessed that he was part of our family," Jackson said.
The two suspects caught in Georgia will be extradited back to North Texas.
Prejean will be buried on Tuesday.