Southwest Airlines flight cancellations continue; USDOT to examine airline's role in holiday travel nightmare
DALLAS - The U.S. Department of Transportation will soon investigate what is now a travel nightmare for many people who tried to fly on Southwest Airlines over the Christmas holiday.
Even as the country thaws out and the weather improves, the Dallas-based airline grounded about 70% of its flights Monday. According to FlightAware.com, the airline canceled 64% of its flights for Tuesday.
"With those cancellations and as a result we end up with flight crews and airplanes that are out of place," said Jay McVay, a spokesperson for Southwest Airlines.
The line at Dallas Love Field's Southwest ticket counter was a bit shorter Tuesday morning but growing.
READ MORE: Southwest Airlines flight cancellations leave Christmas travelers stranded at Love Field
Many of the passengers said they were trying to rebook flights that had been canceled. 
"I had to buy another ticket to go to DFW that's the only way I could make it," said traveler Ernest Siawn.
But with so many flights scrubbed, that may be difficult.
For the immense problems over the past few days, Southwest Airlines issued what it calls a heartfelt apology.
Southwest put out a statement that said it will "work to make things right for those we've let down, including our employees."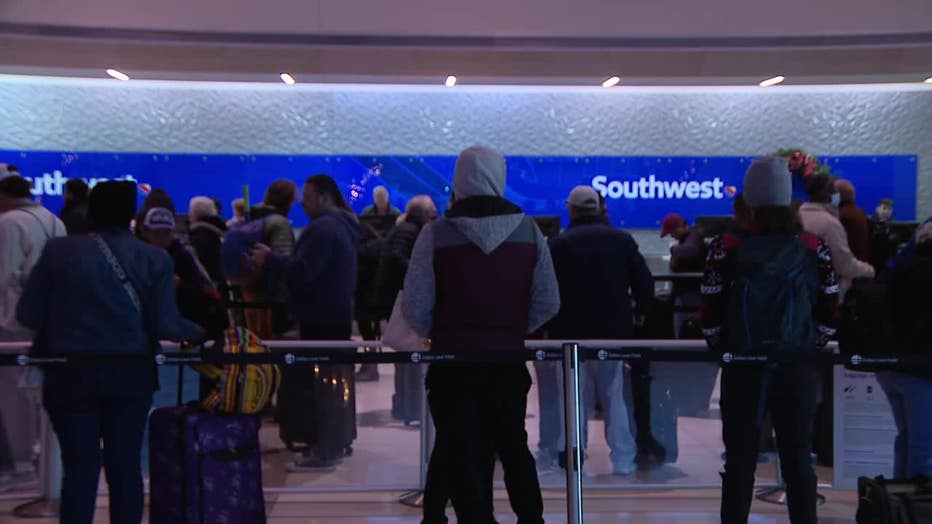 "We recognized we're falling short," the Southwest statement said.
The airline has cited the extreme weather across much of the country for the cancellations. But Southwest also ran into a significant staffing problem and issues with notifying customers and employees about the flight changes.
FOX 4 spoke to one family whose flight from San Diego to Dallas was canceled. They were planning to make the 19-hour drive on Monday and talked about their conversations with Southwest employees.
"The biggest thing is they were actually apologizing to us for how bad operationally things were going because this wasn't just weather," said Tara Hooper.
"They were all very confused on their hours, so they said they were some system glitch with their hours," her travel companion said.
Southwest CEO on Flight Cancellations
Southwest CEO Bob Jordan gave a video update on conditions at airports across the country on Tuesday evening.
"I want everyone who is dealing with the problems we have been facing, whether you haven't been able to get to where you need to go, or you are one of our heroic employees caught up in a massive effort to stabilize the airline to know we are doing everything we can to return to a normal operation," said Jordan.
Jordan blamed the winter weather for kicking off a series of events leading to cancelations.
READ MORE: Nearly 5,000 US flights canceled on day after Christmas
"With our large fleet of flight crews and airplanes out of position in dozens of locations and after days of trying to operate as much of our full schedule across the busy holiday weekend we reached a decision point to significantly reduce our flying to catch up," he said.
Jordan said the airline is going to double down on its plan to upgrade systems for extreme circumstances.
He says teams are working to process refunds and reaching out to customers who are dealing with costly detours.
"Our plan for the next few days is to fly a reduced schedule and reposition our people and planes, and we are making headway and we are optimistic that we will be back on track before next week," Jordan said.
Technology issues contribute to problem
Lyn Montgomery, the president of the union that represents Southwest flight attendants, said the company's outdated system for responding to weather problems caused a ripple effect, one that didn't seem to affect other major airlines.
"It's an archaic way of having to call thousands of crew members at one time via the telephone that is what needs to be modernized in our system," Montgomery said.
The U.S. Department of Transportation put out a tweet saying it is concerned by Southwest's unacceptable rate of cancellations and delays.
Dr. Brent Bowen, the founder of the National Airline Quality Rating says Southwest Airlines is in the midst of a complete organizational breakdown.
"The weather perhaps was the start of this breakdown, but it has to be blamed on the lack of foresight of the Southwest management and not preparing for something like this when they had the time. Southwest knows they're behind in communication technology, not only with passengers, but with air crews as well," said Bowen.
Southwest says each flight has a crew of five or six depending on the aircraft. Each of those crew members has to call the scheduling department to find out what to do after a flight has been canceled.
READ MORE: Flight canceled? Can you get a refund? Here's how to find out if you're owed money
The airline's chief operating officer told employees on Sunday the crew scheduling system was overmatched for this situation.
"Not so much technology as it was sheer manpower to answer all of these calls to reassign pilots and flight attendants to the flights they needed to be on," said McVay.
Southwest also canceled flights due to a lack of crew members, a minimum number mandated by the FAA. In some cases they had to deboard passengers before takeoff because of missing crew.
"You have to have the two pilots, but then you have to have the proper number of flight attendants for passenger safety or that plane can't move," said Dr. Bowen.
Deparment of Transportation Investigation
The Department of Transportation said it will examine whether the cancelations were controllable and whether Southwest Airlines is complying with its customer service plan.
"The only teeth is a potential fine," said Bowen.
The Department of Transportation says Transportation Secretary Pete Buttigieg spoke to union leaders and the CEO of Southwest Airlines on Tuesday.
USDOT says that Southwest's customer service plan commits the airline to providing meal vouchers and hotels where available to passengers who are experiencing significant delays and cancelations.
Congressman Colin Allred, a member of the House Transportation and Infrastructure committee released a statement Tuesday afternoon.
As the investigation takes off passengers like Chaw Nguyen, who was stuck in Denver since last Friday, are eager to put the nightmare behind them.
"I'm glad I'm home and thank you to channel 4 for letting people know what's going on," said Nguyen.
My flight is affected! What should I do?
Officials with Southwest Airlines say they are experiencing high call volumes, and travelers who do not have plans to travel in the next 72 hours should wait to call if they can, or use the airline's self-service digital tools.
Live airline flight cancelation info
https://flightaware.com/live/cancelled/today/KDAL
Flight status at Dallas Love Field
https://www.dallas-lovefield.com/airlines-flights/flight-status