Southwest Airlines flight cancellations leave Christmas travelers stranded at Love Field
DALLAS - There are a lot of frustrated travelers at Dallas Love Field and Dallas-Fort Worth International Airport on Monday.
Many people just trying to get home from a holiday trip are struggling to get flights back home after severe weather led to many canceled flights and flight crews out of position.
"When everything is out of control it is hectic and crazy and everyone is frustrated and angry at each other," said Sarah Bryant, a stranded passenger.
The Bryant family was trying to get to Cancun on Spirit Airlines. Their flight got canceled after they already check their bags and went through security.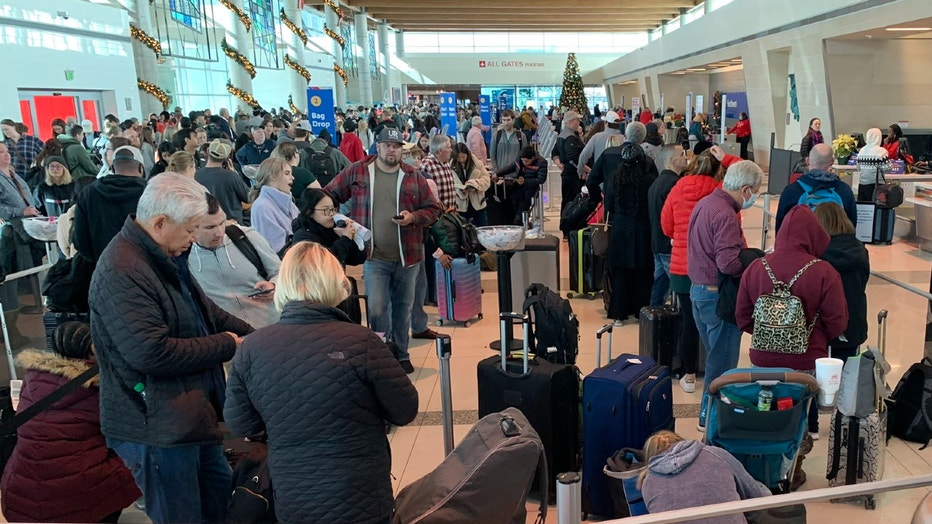 And they aren't alone.
"I try to find out where the flight is coming from. I don't get an answer," said Randy Rohmfeld.
"So I guess we get to go home and this was our kid's Christmas present," said Michelle Rohmfeld.
READ MORE: 'Massive winter storm leaves at least 34 dead, snarls travel across US
Airlines say cancelations nationwide are due in large part to effects of the massive winter storm that impacted major cities from the Pacific Northwest to the east coast, grounding flights and leaving planes and crews out of position.
Southwest Airlines was hit especially hard.
Flight tracking website FlightAware says as of 4:30 p.m. 2,747 Southwest flights were canceled Monday. That's nearly 70 percent of its total flights for the day and by far the most for any airline.
At Love Field along there have been 290 flights canceled in and out of with 67 delays.
Over the last two days Dallas-based Southwest Airlines has canceled more flights that any other airline in the country.
On Sunday, Southwest Airlines canceled 20 percent of its flights from Love Field.
The two days before that, Friday and Saturday, Southwest canceled around 30 percent of its flights.
Many passengers spent the night at the airport hoping today would be better.
FOX 4 cameras spotted people spending the night in the terminal, and luggage piling up.
"As long as we get there is all that matters, so we're going to make the best of the situation," said Susan Bryant.
At Love Field passengers waited in line for some two hours to talk to someone at Southwest Airlines ticket counter.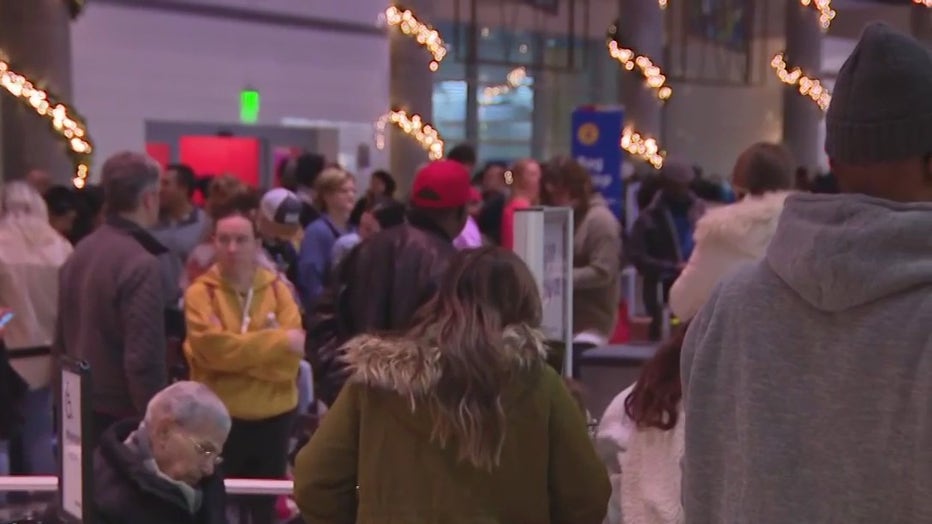 "I get here, and I find out through the kiosk that I've been canceled. Why couldn't they let me know before I was dropped off at this airport?" said Linda Burns.
The line at the Southwest Airlines baggage claim counter was even longer.
"They're trying their best out here, but 4 hours is a little too long."
Folks said it felt like a scavenger hunt trying to find their luggage among the masses.
"So the bags made it, my son didn't. But luckily I came in and was able to find them," said Garrett Hindsley.
READ MORE: Nearly 3,000 US flights canceled on day after Christmas
FOX 4 spoke to one woman who is trying to get back to Southern California after taking a trip to Florida.
She was about to board an already delayed flight at 11 p.m.
"Suddenly people started saying the flight was canceled. The flight was canceled and people were like, I honestly was worried about a riot, I was worried because I saw about six or seven different people crying. I mean I'm trying to get home to my kids for Christmas," Priscilla Wright said.
READ MORE: Burst pipes from arctic blast causing Christmas issues for people across North Texas
Edmond Kincaid and his two children slept in the terminal last night trying to catch a flight home to San Antonio. Now he's giving up.
"I've got to go get a rental car. They're not going to give me any money. They are just going to give me a refund because they're not any flights going there," Kincaid said.
Dawn Rodriguez was supposed to fly into Love Field from Orlando, but her flight got canceled on Christmas Eve.
She decided to rent a car instead of waiting several days for the next available flight back home.
"So we're here now to pick up our luggage and go home," said Dawn Rodriguez.
Rodriguez wasn't the only one.
Stephanie Mattison and her family had their flight from Dallas to Salt Lake City canceled Christmas evening, so they ditched their bags and decided to drive 17 hours.
Their next available flight would have been Thursday.
"That doesn't do any good. Thursday?! Like, that rulingsthe entire vacation," Mattison said.
Tara Hooper was stuck in California so she borrowed her counsin's car and now is driving 19 hours cross country to North Texas.
Hooper sent us photos of the San Diego Airport showing a sea of bags and frustrated passengers.
Images that are identical inside Love Field.
"They were actually apologizing to us at how bad operationally things were going," said Hooper. 
The president of the union that represents Southwest Airlines flight attendants blasted the airline today.
Lynn Montgomery says the carrier has failed to modernize technology.
Montgomery says flight attendants have been setting up cots.
"With Winter Storm Elliott our system got over tasked and the system we have could not handle the number of cancelations, changes and notifications that needed to go out. It created a huge impact and chaotic conditions for passengers and flight attendants across the nation for Southwest Airlines today," she said.
Southwest Airlines released a statement Monday afternoon calling the disruption 'unacceptable'.
Southwest Airlines says it is trying to re-book passengers as quickly as possible.
Southwest says those whose flights have been canceled may request a full refund or receive a flight credit, which does not expire.
FlightAware says more than 2,000 Southwest flights have already been canceled for Tuesday.