Southwest Airlines employees protest vaccine mandate at Dallas headquarters
DALLAS - The fight continues over COVID-19 vaccine mandates between Southwest Airlines and its pilots.
The Dallas-based airline responded to the pilots' union lawsuit saying an injunction on the vaccine mandate would put Southwest employees, customers and business at risk.
Dozens of flight attendants, pilots and many other Southwest employees from different departments showed up to Monday's protest outside the airline's Dallas headquarters Monday morning over the vaccine mandate. They say the airline is violating their personal rights. 
MORE: Southwest, American Airlines will comply with federal vaccine mandate despite Texas governor's order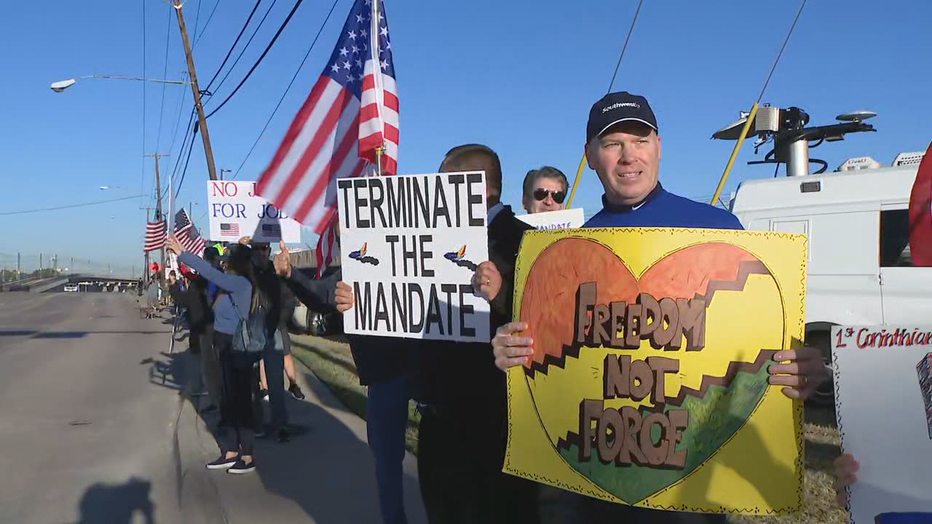 "To fight for ourselves and our medical freedom," said Southwest Airlines manager Deni Viggiano. "Not only for ourselves, but for our children."
Texas Attorney General Ken Paxton, who is up for re-election next year and has positioned himself as an opponent of vaccine mandates, showed up to the protest with a promise that legal action is coming. 
"We're already planning our lawsuits. I'm already organizing with other states," he said. "I promise you this: We will fight for you. We will do everything under our constitution."
In a lawsuit filed in August, the pilots association argued the airline is required to maintain the same working conditions, rates of pay and rules while the union is negotiating a new contract.
MORE: Southwest Airlines to give employees bonus for getting COVID-19 vaccine
It's something the union says has changed multiple times during the pandemic with quarantine policies, paid leave and now the vaccine mandate. 
But Southwest Airlines hit back over the weekend saying if the airline is forced to retract its health policies, it would put southwest customers and employees at risk and cost the airline its federal contracts. The U.S. government is its largest single customer.
MORE: Southwest Airlines flight attendant dies of COVID-19
Employment attorney Rogge Dunn is not involved in the case but says Southwest's argument may be stronger here. 
"The fact that a couple or a few employees don't want to get vaccinated when you balance that against other employees and customers and individuals who could get exposed to the COVID because it's spread by unvaccinated people, that when you're balancing those equities," he said. "It's way in favor of mandatory vaccination."
Southwest also says there are procedures in place for religious and medical accommodations. 
But employees claim they haven't been given any other alternatives for accommodations, like regular testing and masking for the unvaccinated. 
'This country stands for freedom, and it should mean that everywhere," said Southwest Airlines pilot Chris Hill. "You should not have to put anything in your body to keep your employment."
Southwest employees must be fully vaccinated by Dec. 8 to comply with the federal vaccine mandate. 
Attorneys for Southwest say that means employees must receive their second dose before noon on Nov. 24.