North Texas school districts push to vaccinate students before end of the year
DALLAS - Hospitals and school districts are stepping up with plans to vaccinate children before the summer.
Starting Wednesday, the Fort Worth Independent School District will have vaccine clinics at two locations per day. Wednesday will feature Arlington Heights H.S. and North Side H.S. from 3:30 to 8 p.m.
"We hope they will take advantage of that as we move forward," said FWISD spokesman Clint Bond.
The district teamed up with Perrone Pharmacy to provide 180 doses to each high school enrolled in the program.
"We believe this sends a message that we are moving towards normalcy again. Trying to get back to the way things were," Bond said.
About half of all students are still learning remotely, Bond said. The goal is to get as many eligible students as possible vaccinated before the start of the next school year.
"We believe the best place for students is in the classroom and this will help us accomplish that goal," Bond said.
Dallas ISD is busing students to either Fair Park or the Ellis Davis Field House where vaccination sites are already operating. The students must have approval from a parent or guardian.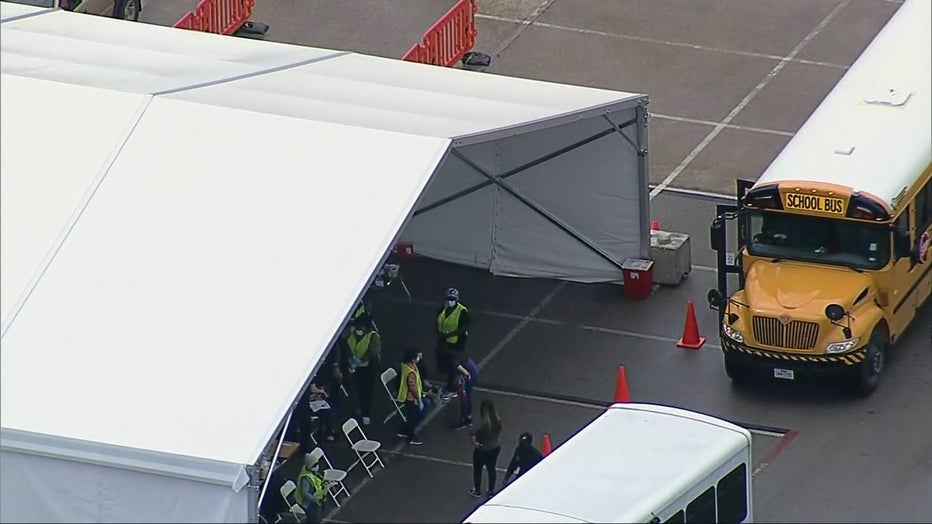 The district said it will not bring vaccines to campus because the Pfizer vaccine is too difficult to safely store and transport, requiring extremely cold temperatures.
The Arlington Fire Department helped administer shots at the Arlington ISD Athletics Center on Monday. It was already a staff development day and students did not have to be on campus.
Arlington ISD is planning more vaccine clinics after school lets out to prepare for a return to normal in the fall.
Starting Tuesday, Children's Medical Centers in Dallas and Plano offered the Pfizer vaccine to those as young as 12. The hospital will also host temporary clinics for school districts in the area.
"We are not going to get this virus under control until we start immunizing children," said Dr. Jeffrey Kahn, Chief of Infectious Diseases, Children's Health.
Additional appointments will be offered for some school district partners at pop-up clinics throughout the DFW area. The logistics are still being worked out and updates will be posted on their website.
Kahn has a message for parents still on-the-fence about getting the Pfizer vaccine, now administered over 140 million times in the U.S.
"We have a mountain of information about this vaccine. We know it's safe, we know its effective," Kahn said. "I would rely on that very large data base to really encourage parents and people who are eligible to get vaccinated."
RELATED: Arlington ISD hosts vaccine clinic for students and staff