Texas House Democrats leave state in effort to block passage of GOP voting bill
Texas House Democrats have left the state to deny a quorum and block a GOP voting bill.
The controversial bill is the main part of a special session that was called by Gov. Greg Abbott and began last week in the wake of the bill's defeat at the end of the regular Texas Legislature session in May.
House Democrats fled the State House in the final hours of the regular session to kill the bill, which would have added many new restrictions across Texas for voters and elections officials.
But this tactic would mean Texas Democrats in the House would have to remain outside the state for weeks. The lawmakers boarded planes to Washington D.C. from Austin midday Monday.
Democrats say they will stay out of state until August. Tuesday morning, Republicans will call to compel lawmakers back to Austin. 
State Rep. Jasmine Crockett (D-Dallas) flew commercial on Southwest Monday. FOX 4 spoke to her after she landed in Washington, D.C.
"We had no option because it was clear that they were just going to ram this bill under by any means necessary," she said. "I won't be back before August the 7th. I will stay out of the state until the special session ends." 
Gov Abbott talked one-on-one with FOX 4's Steve Eagar Monday evening.
"It does not eliminate anyone's ability or right to vote. Their arguments are completely bogus," he said. "Texas is adding hours, not subtracting hours, to voting. Texas is making it easier to vote than ever before. This is an attempt to make a scene about a nonexistent issue."
Crockett says Democrats started the special session in good faith. But after no amendments were added to the bills, they decided to leave. 
"The only thing that mattered were the marching orders that had been given by the governor, and that was to pass this bill. And so that's where we ended up," she said. "We ended up with a partisan vote. We ended up with Democratic colleagues that were offering amendments, reasonable amendments. None of them were reasonably considered."
"We are now taking the fight to our nation's Capitol. We are living on borrowed time in Texas. We need Congress to act now to pass the For the People Act and the John Lewis Voting Rights Act to protect Texans — and all Americans — from the Trump Republicans' nationwide war on democracy," said the Texas House Democratic Caucus in a statement.
The proposed bill would crack down on several initiatives from the state's biggest Democratic-controlled county, Harris County, like banning 24-hour polling places, banning ballot drop boxes, banning drive-thru voting and banning local elections officials from proactively sending mail-in ballot applications to voters.
The proposed legislation would also give additional power to partisan poll watchers and add new voter ID requirements to absentee ballots.
"This is a now-or-never for our democracy. We are holding the line in Texas," said Democratic state Rep. Trey Martinez Fischer. "We've left our jobs, we've left our families, we've left our homes. Because there is nothing more important than voting rights in America."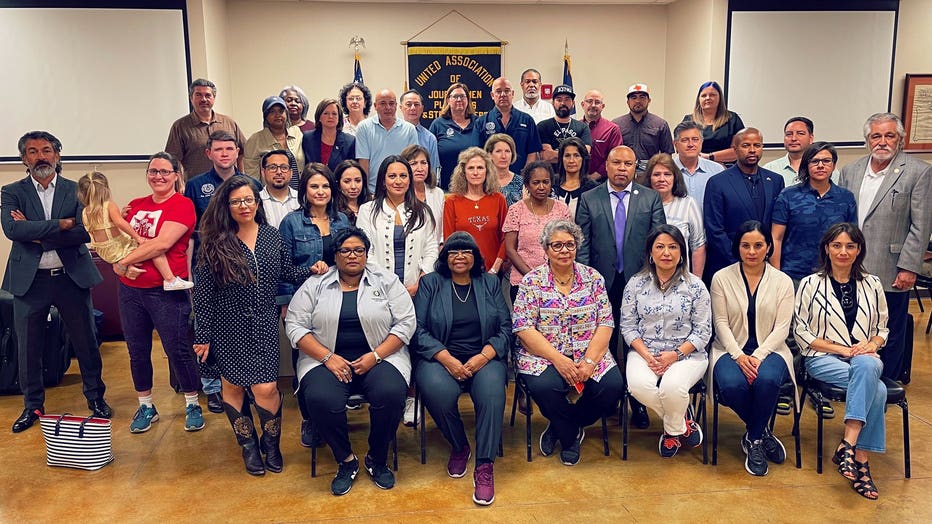 Photo tweeted by State Rep. James Talarico (D - Round Rock) of House Democrats before boarding flights out of Texas on Monday, July 12, 2021.
This is the first time since 2003 that Texas Democrats fled the state to break quorum. In that case, lawmakers were attempting to stop a partisan redistricting effort by GOP leaders.
Abbott can continue to call 30-day special sessions, even if Democrats run out the clock on the July session. Abbott is up for reelection in 2022 and has been outspoken in calling for additional rules on voting in Texas as he faces multiple primary challengers next spring.
Abbott criticized the Democratic House members for leaving the state and halting progress on his called items in the special session. 
"The Democrats must put aside partisan political games and get back to the job they were elected to do. Their constituents must not be denied these important resources simply because their elected representative refused to show up to work," Abbott said in a statement.
House Speaker Dade Phelan (R-Beaumont) said in a statement the House would use "every available resource" to restore a quorum in the chamber. State troopers were used in 2003 to find and bring back Democratic lawmakers.
"The special session clock is ticking -- I expect all Members to be present in our Capitol in order to immediately get to work on these issues," he said.
On the Senate side, Lt. Governor Dan Patrick says he hopes the Democratic minority in the Senate will show up and he says they will vote on SB1. 
The Associated Press contributed to this report.
RELATED:
Texas House and Senate committees advance controversial voting legislation
Texas Legislature hears public comment Saturday over proposed voting bills
Gov. Abbott revives GOP's thwarted new voting laws in special session