Two EF-1 tornadoes, strong winds cause damage, injure 5 in Parker & Wise counties
POOLVILLE, Texas - Strong storms and at least two EF-1 tornadoes blew through Parker county early Friday morning.
According to FOX 4 Weather meteorologist Evan Andrews, radar images indicated rotation near Poolville in Parker County just before 5 a.m. 
The National Weather Service conducted a storm survey in the area, which is about 40 miles northwest of Fort Worth, and determined one tornado developed near Whitt and one tracked through portions of Poolville. Peak winds reached 100 mph for both.
The Whitt tornado stayed on the ground for more than six miles, the Poolville twister was on the ground for just over five miles.
A total of 5 people were injured in the storms.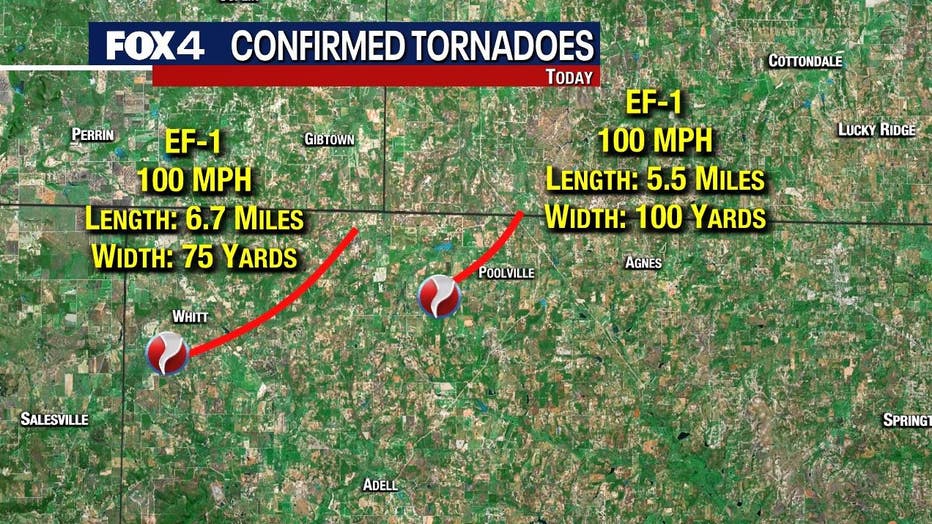 Wind packed a punch so powerful, trees snapped like matchsticks. Structures ripped apart and the pieces were strewn about.
"When it woke me up it was about 15 minutes until 5 this morning when I heard the wind come through real hard. I really thought my roof was coming off but apparently, it was some of the metal from one of the barns coming down. It flew over and hit my roof. So that's what I was hearing," said Don Gammill, who lives in the community.
Gammill owns a construction company and some of his employees live on his property. A woman inside of a toppled RV was rushed to the hospital with unknown injuries.
Gammill says the property damage is great.
"I found out so far I've got two, I've got a cattle barn down, it's completely gone. I've got half of a Haybarn up there on the hill, half of it's gone. I had a well-house here for the shop and office, it's gone," he said.
Gammill said a friend reported seeing swirling clouds heading toward his house around that time.
He's not sure if it was truly a tornado but said the wind was strong enough to wake him up.
March 24 storm damage in Poolville, TX
It was also strong enough to destroy one of his cattle barns, a well house, and half of a hay barn. An RV on the property overturned.
"We're just going to fix it and keep on trekking. That's just what we've gotta do. I'm just glad that nobody was hurt," he said. 
The storm also destroyed the Poolville Tabernacle, an open-air wooden structure that was built in 1904.
Resident Wesley Jennings said the nearly 120-year-old building once sat across town in Poolville and was moved to its current location in the 1920s.
"It was a place where we gathered in the summertimes for our community barbecues. There were funerals that took place here, revivals back in the day," he said. "It's just the center of town. It's where everybody gathers. I can tell you I've been to three funerals here in the last two years. There are still people utilizing the structure even as old as it was."
Photos show the structure had not changed much since the early 1900s.
Poolville Tabernacle (Courtesy: Dena Turner)
Jennings said the tabernacle means a lot to the community. Some of his neighbors have already started a campaign to rebuild it.
"The money has already started to come in and it will be erected again," he said.  "It may not be wood this time because we want it to last a little longer."
Poolville ISD canceled classes on Friday because of all the storm damage.
Meanwhile, FOX 4 viewers in other areas shared photos and video of damage at their homes.
In Springtown, which is also in Parker Couty, viewer Quenton Hyter shared video of sheet metal scattered across his yard.
Wise County's Emergency Operations Center said it has received numerous reports of power outages, trees in the middle of the road, and damage to homes mostly in the southwestern portions of the county.
Viewer @BCGtheFirst shared a photo of a tree that fell across County Road 2255 and School House Road in the Wise County community of Cottondale.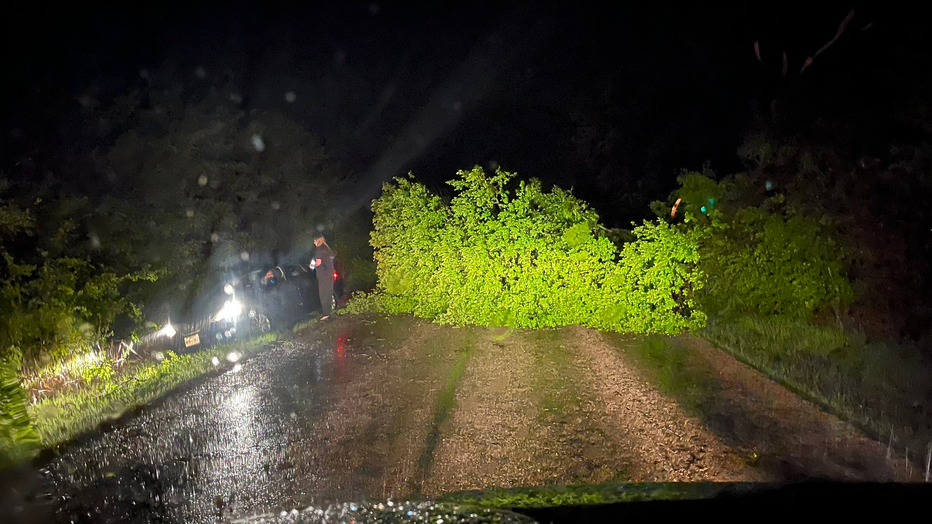 Tree down across CR 3355 and School House Road in Cottondale in Wise County | Courtesy: BCGtheFirst
Crews spent the morning clearing the roadways and repairing power lines in the area, officials said.
The National Weather Service is expected to send a survey team to the area to try to confirm the suspected tornado.