Opal Lee portrait to hang in Texas Senate Chamber
AUSTIN, Texas - A portrait of Opal Lee, the 'Grandmother of Juneteenth', will permanently hang in the Texas Senate Chamber.
The commissioned portrait of Lee, who spent years calling for Juneteenth to become a national holiday, will be unveiled on Feb. 8.
"This will be a historic and significant day in the history of Texas and for the Texas Senate," said State Senator Royce West in a news release.
READ MORE: Opal Lee discusses National Juneteenth Museum set to open in Fort Worth
Lee, who lives in Fort Worth, was with President Joe Biden on June 17 22, 2021 as he signed S. 475 making Juneteenth a national holiday.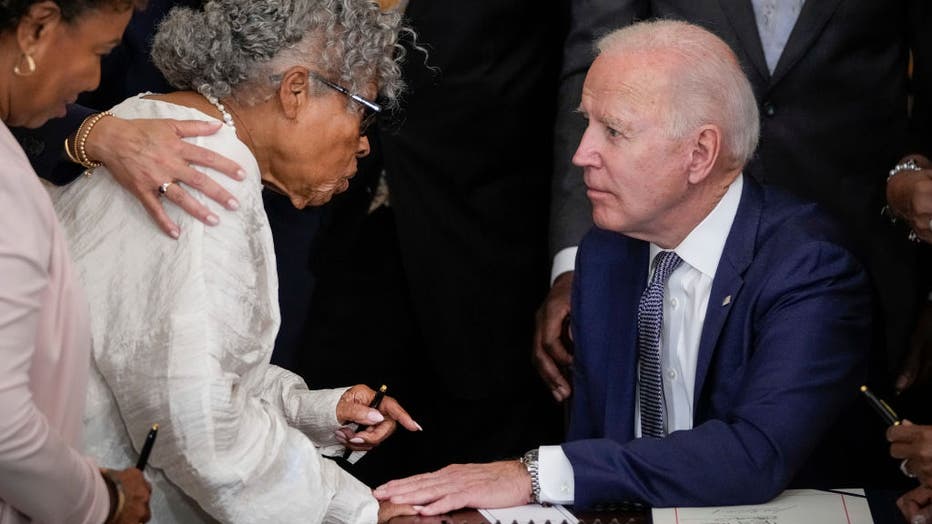 WASHINGTON, DC - JUNE 17: (L-R) Ninety-four-year-old activist and retired educator Opal Lee, known as the Grandmother of Juneteenth, speaks with U.S. President Joe Biden after he signed the Juneteenth National Independence Day Act into law in the Eas
Opal Lee's portrait will be the second to honor an African American Texan.
Former Texas Senator and U.S. Congresswoman Barbara Jordan's portrait went up in the Senate Chamber in 1973.
READ MORE: 'One of the greatest honors': Opal Lee celebrates Nobel Peace Prize nomination despite not winning award
The idea to hang Lee's portrait came at the suggestion of Texas Lt. Gov. Dan Patrick.
Lee was nominated for the Nobel Peace Prize in 2022 and is a driving force behind bringing the National Juneteenth Museum to Fort Worth.