Opal Lee holds annual Juneteenth walk in Fort Worth, but this year's has new meaning
FORT WORTH, Texas - Fort Worth was part of a Juneteenth celebration like no other in its history. 
Saturday marked the first time people gathered to remember the day Texas slaves learned about their freedom as a national holiday.
After years of persistence and hundreds of miles walked, the grandmother of Juneteenth, Ms. Opal Lee, was able to see her hard work brought to life.
Lee continued her annual tradition Saturday of holding a Juneteenth walk. This year's walk had a greater significance after Juneteenth was officially declared a national holiday.
RELATED: Biden signs bill making Juneteenth a federal holiday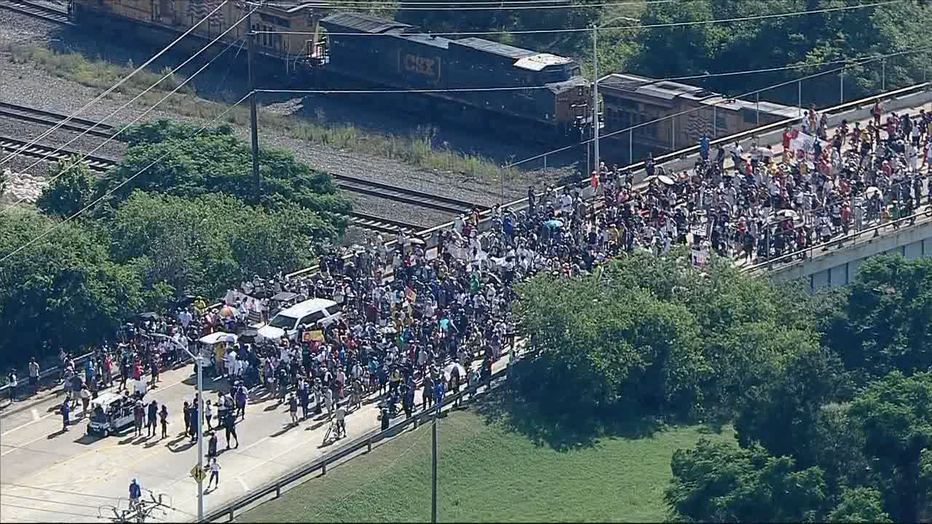 Lee started her walk Saturday at Evans Avenue Plaza at 10 a.m., and along with a large group of people, she walked two-and-a-half miles to recognize the two-and-a-half years it took for the news of freedom to finally reach slaves in Texas.
The 94-year-old great grandmother started walking and collecting signatures on a petition to make Juneteenth a national holiday in 2016.
Overall, she's been a Juneteenth advocate for more than 40 years.
Saturday was a day of celebration and activity following Lee' dream realized.
"People can be taught to hate. They can be taught to love. This is what we are about," Lee said,
When she was 12, her home was burned down by a white mob on Juneteenth. 
For more than 40 years, she's made it her mission to bring awareness to the importance of the day.
"This is the beginning of our getting the disparities out of our communities so we can work as one," she added.
People in the community spoke about what Lee means to them, and why the national recognition was needed.
"I'm a teacher, so it's really impactful, and you can tell your students anything is possible," Brandon Manning said. "I think it's so important for young black girls to see women, who against the odds, continue to push forward."
"Juneteenth is now a national holiday because of the jewel that Opal Lee is for Fort Worth," Fort Worth Mayor Mattie Parker said,
"I think it overall is going to make people step back and think about things more," Tony Monje said.
RELATED: Fort Worth's Opal Lee attends White House signing of Juneteenth bill
Thursday afternoon, she was in Washington D.C., as she got a special greeting from President Joe Biden just moments before he signed Juneteenth into law as a national holiday.
"We're blessed to mark the day in the presence of Ms. Opal Lee. As my mother would say, God, love her, Ms. Opal, you're incredible," President Biden said. "Over the course of decades, she's made it her mission to see that this day came. It was almost a singular mission. She's walked for miles and miles, literally and figuratively, to bring attention to Juneteenth, to make this day possible. I ask once again, we all stand and give her a warm welcome to the White House."
Now that Juneteenth has become the nation's 12th federal holiday, Lee said it's important to build on the momentum to address disparities like homelessness, joblessness, and health care inequities.
"Please continue the kinds of things you know. We need to become one people. It's not a white thing. It's not a Black thing. It's an American thing," Lee added.