North Texas schools ask students to wear maroon Tuesday as Uvalde students return to class
School districts in North Texas are asking students and staff members to wear maroon to show their support for students returning to school in Uvalde on Tuesday.
Uvalde CISD classes will begin Tuesday as students return to the classroom for the first time since the shooting at Robb Elementary School.
19 students and 2 teachers were killed by a gunman on May 24, 2022.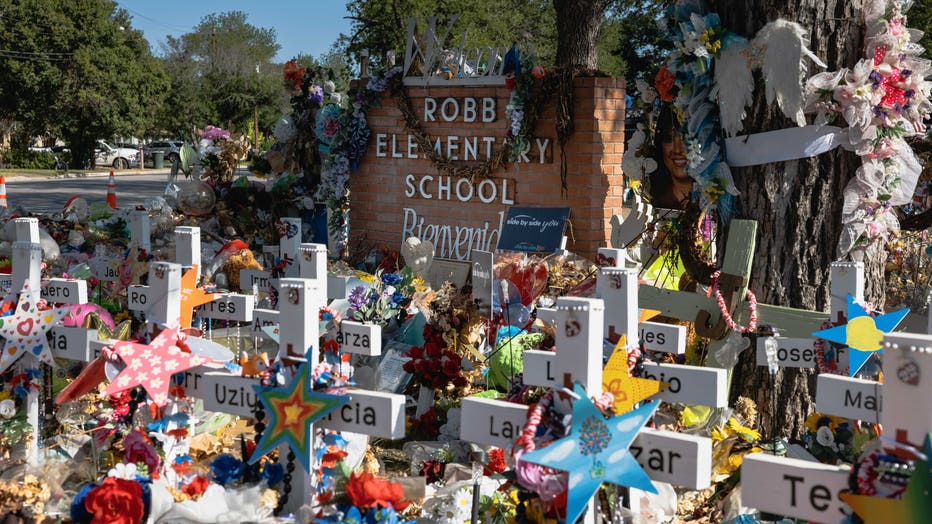 UVALDE, TX - JUNE 24: The memorial for the massacre at Robb Elementary School on June 24, 2022 in Uvalde, Texas. Nearly 300 Uvalde High School seniors received their diplomas one month to the day after nineteen children and two adults were killed at
RELATED: Uvalde children grapple with trauma after school massacre
Many local school districts like Fort Worth ISD, Irving ISD, Duncanville ISD, Plano ISD and others have joined a pledge to #StandWithUvalde.
Fort Worth ISD is encouraging staff and community members to wear maroon and white, Uvalde CISD's district colors. The district says students can wear dress code white.
"We want our friends and fellow educators in Uvalde to know we are thinking of them on this their first day of school," said FWISD Interim Superintendent Karen Molinar.
Grand Prairie ISD is asking its students to wear maroon.
"We can't even begin to imagine the level of emotion, maybe the anxiety, the fear that some of those families might be going through. So this is our way of just saying that we're with you. We don't understand it all completely, but we're sending you our strength, and we want to be together with you in this endeavor," said GPISD Public Information Officer Sam Buchmeyer.
He said it's a symbolic gesture that still matters.
"With us being so far from Uvalde, it was hard for us to really do anything tangible for them. So this is just our way of joining arms with districts across the state to send that district some strength," Buchmeyer said.
Mansfield ISD, Duncanville ISD, Northwest ISD, Weatherford ISD, Wylie ISD, Red Oak ISD, and dozens of others throughout the state are also participating in the show of support.
RELATED: Uvalde CISD getting 30 DPS officers to assist this school year in wake of school shooting
Democratic State Sen. Roland Guiterrez of San Antonio said along with people wearing maroon and white, it's important that elected officials and others in Texas from the governor on down be held accountable for what happened in Uvalde. 
"There's obviously a lot of frustration and trepidation with a lot of things that have gone on," he said.
Sen. Guiterrez said the governor needs to call a special session of the legislature to focus on gun violence and firearms safety. But tighter restrictions on gun ownership is not a priority for the governor or state GOP.