North Texas roads remain icy, slick day after winter storm moves out
DALLAS - Friday's sun melted some of the storm's snow and ice. But as the temperature drops, anything that may have melted will re-freeze.
Some heavily traveled highways are starting to get better. Still, most North Texas roadways still have ice on them and are actually worse a day after the winter storm.
But there have been no serious road issues, like the one that left six people dead on I-35 in Fort Worth last year.
A winter storm dropped several inches of ice, sleet and snow on North Texas overnight Wednesday into Thursday, making many roadways slick and dangerous.
State officials are warning drivers to be cautious of black ice on roads that re-freeze.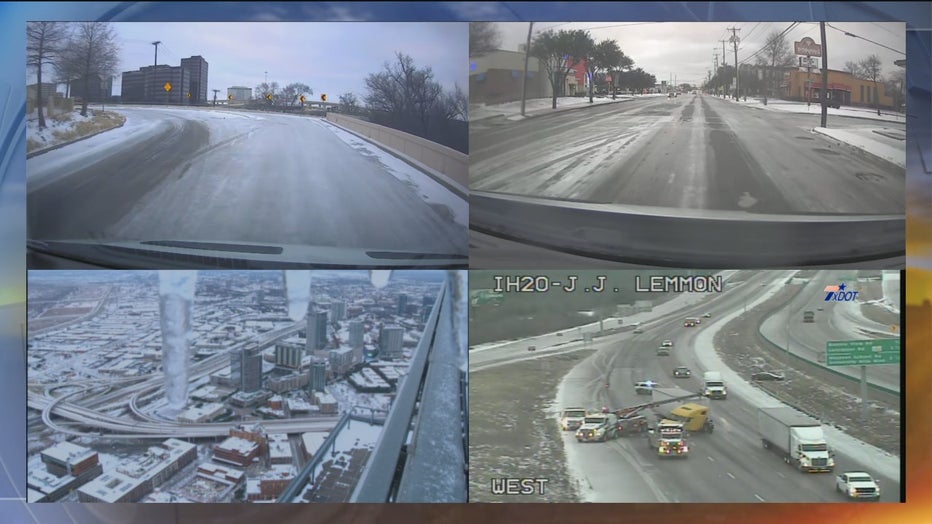 "We are not out of the woods," said DPS Director Steven McCraw. "We are still dealing with dangerous roadway conditions. We expect to see problem areas and trouble spots reoccur as we go into freezing conditions."
They're asking drivers to use caution, slow down and move over for emergency vehicles and work crews.
"We've had a number of investigations based on someone running into a TxDOT truck," McCraw said. "It's not like you can miss one. Yet, people are going too fast for the conditions and running into them, sliding sideways."
A FOX 4 photojournalist captured video of one driver spinning out right in front of him on Hwy. 114 at Interstate 635 in Grapevine. Thankfully, the other vehicles weren't too close, and no one was hurt.
SKY 4 watched trucks lose control and fishtail at that Loop 12 and Hwy. 114 trouble spot in Irving. 
At one point an 18-wheeler got stuck, and a pickup truck had to pull it. Other trucks slid on the icy road and cars needed help getting through.
"Lots of people stuck. Lots of people driving slow and caution like they should be. Lots of snow and ice, then you have people like that," Kevin Soucie told FOX 4 reporter Shannon Murray as a pickup truck did a donut in a Collin County parking lot behind him.
 The Texas Department of Transportation said it will continue using plows, sand and salt on Friday to treat highways.
"This is actually our sixth day that we've been out there pre-treating, treating and trying to clear the roadways in our nine-county area. And we've made some progress," said TxDOT spokesperson Val Lopez. "But at this point, we are asking motorists to help us finish this task. The task, of course, is making the roadways as safe and passable as we can."
Lopez said considering the amount of precipitation that fell and how bitterly cold it is, clearing the ice is a formidable task. 
MORE: Texas power grid had no problems at peak winter storm demand, Abbott says
"So the advice still stays: If you can stay at home, please do," he said. "If you have to go out, give yourself plenty of space and time. And give us space so that we can do this job."
Driver Harlon Weisse filled up at a Quick Trip in Mesquite on his way to DFW Airport for a flight to Florida.
"Not sure how we're gonna get around there on time," he said. "I'm already running a little late.
And the roads won't be friendly. Most of the day, they were frozen under a sheet of ice. Many lost control trying to navigate.
"When they push the brake when they're actually supposed to be turning and just follow through at a steady pace, they end up slamming on their brakes and they're off," said Omar Wada with Discount Towing. "So they got to call us."
David Bailon operates Barber's Edge. They opened Friday because many called for a cut. He and two others working the fades Friday.
"I just figured the roads would be better because it was already a day the sun. They said the sun was gonna be out. But it wasn't. It's actually worse."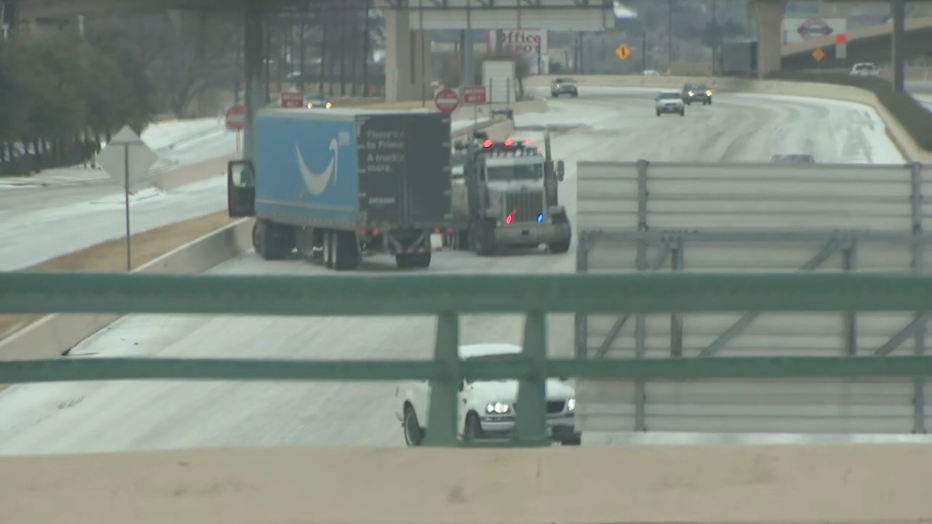 Terrie Walton waited until late afternoon to get the gas she needed.
"It's kind of slushy. Everything is kind of melting," she said. "But later, I'm sure it's gonna freeze up again. So I didn't want to get caught up in that."
When the sun goes down, so will the mercury. And what's melted will meld, meaning another night of ice on streets. Bridges and elevated overpasses will ice first.
TxDOT had crews back on the highways Friday afternoon to plow up leftover slush and put down brine treatments in an effort to keep the roads from freezing over too much during Friday night's hard freeze.
While the day's above-freezing temperatures and the sun made driving conditions better, wet areas on highways and streets are becoming hazards again.
Patches of black ice are going to be one of the biggest problems, and there hasn't been this much traffic since before the storm hit.
Blaine Downey and his friend were eager to get off the road after an icy accident on Thursday.
"He tried to stop at a red light and just started slipping across the road. Yeah, somebody else hit us," he said. 
A Fort Worth Fire Department spokesperson says they're not too concerned about overpasses since they're expecting the water to have drained away during the day. Instead, their attention is on the shady underpasses.
Neighborhood streets have been a mix of both dried-up pavement and slick stretches where ice hasn't yet had the chance to melt. 
"That's why I don't go anywhere," said Angel Vargas. "Because they got a lot of people who don't know how to drive." 
If what you're driving starts sliding, ease off the gas or brakes, and steer into the direction of the skid until you regain traction. Then straighten your vehicle.
RELATED: North Texans take advantage of snow day to enjoy some of the winter weather