North Texas homeless shelters prepare to take in hundreds during arctic blast
DALLAS - As we get closer to the dangerous cold that will push into North Texas, cities are working overtime to make sure the homeless and others have a place to stay. 
Lots of cities in North Texas are identifying and making warm places for their unsheltered population.
The biggest need and biggest efforts, as you might imagine, are in Fort Worth and Dallas.
FULL LIST: Shelters and warming stations prepare to open across North Texas
For the first time, Our Calling and Austin Street are holding hands to help house the homeless.
Dallas is making plans to get the homeless population and others who need a place to stay off the streets during the arctic blast.
The Austin Street Center at 2929 Hickory Street is being the primary place for people. It's taking the lead on sheltering as the city's external partner is working hand in hand with Our Calling.
"We have space here for 360 folks to come in off the streets this weekend to get out of the cold," said Teresa Thomas with the Austin Street Center. "And so we are also going to be providing transportation. So we have a transportation network set up around the city of Dallas. We have negotiated pickup spots where folks can come and gather, and we'll be operating a shuttle on a regular basis. We'll be swinging by and picking people up and bring them here."
"And then we have two ancillary temporary inclement weather shelters that could be stood up, which are Oak Lawn United Methodist and Warren United Methodist," said Christine Crossley with the Dallas Office of Homeland Solutions. "And then if those are all full, the city will also stand up the Central Library Shelter, which the city will hold in reserve. We will operate that shelter at the Behest of Austin Street."
Pets will be accepted. There will be metal detectors. There are no background checks. Masks and hand sanitizers are on site, but there is no COVID-19 testing. Sick people will be moved to another location.
Fair Park would be pressed into service as another place for people to overnight if the other shelters run out of room.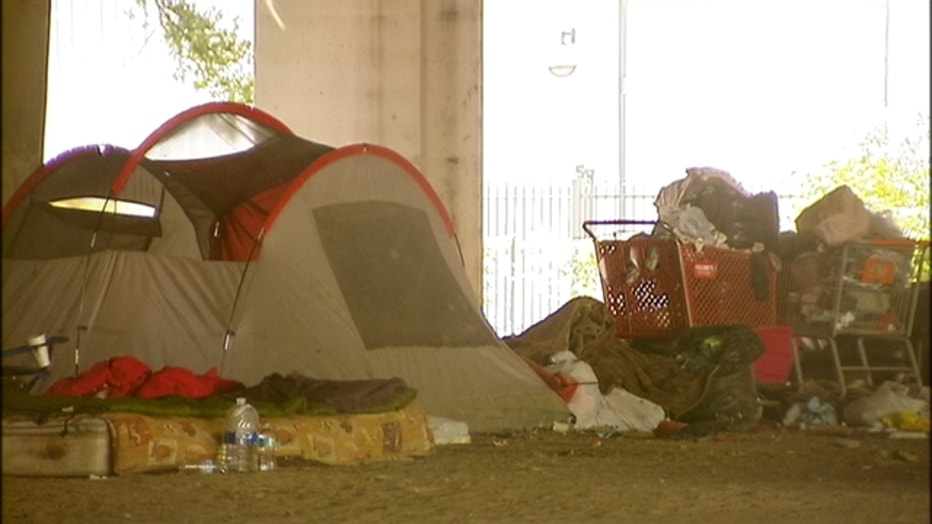 Recreation centers and libraries will serve as warming places during normal business hours, but with the option to extend hours over the holiday weekend if needed.
Dallas weather: Freezing temperatures ahead as arctic air comes to North Texas
"But what we can do is provide a warm place for people to rest if needed in case of power outages," said Rocky Vaz with the Dallas Office of Emergency Management.
"Last night, we had 721 people stay in the shelter across all of our locations," said Presbyterian Night Shelter CEO Toby Owen.
Fort Worth's Presbyterian Night Shelter is close to its 750-capacity before the frostbite weather gets here.
When shelters are full, the city of Fort Worth opens overflow locations.
This winter, Presbyterian Night Shelter is opening what's called 'The Room in The Inn,' churches opening their sanctuary as a shelter.
"In the next few days, when it gets very, very chilly, The Room in The Inn is a great partner," Owen said. "And they will help provide a location for some people that would otherwise run the risk of having to stay outside or stay in an overflow shelter." 
The Room in The Inn name is a play on the New Testament account of the birth of Jesus. Mary gives birth in a barn because there was no room for them in the inn.
LINK: dallashomelesssolutions.com
READ MORE: How to prepare your car for the arctic blast coming this week
READ MORE: Steps you need to take to protect your home from this week's arctic blast