More charges expected for mother charged with murdering her 3 children in Italy, Texas
ITALY, Texas - More charges are expected against an Ellis County mother charged with stabbing her five children, killing three of them.
A spokesman with the Ellis County Sheriff's Office says they are still in the fact-finding phase of the investigation but added that more charges are expected.
Child Protective Services said it would be providing updates via email on Monday. FOX 4 has yet to hear back from them.
The children's mother is jailed and charged with their murders. Two of her other children are hospitalized. 
Shamaiya Hall has a lengthy criminal history in Dallas County. She has mug shots from her four previous arrests between 2014 and 2020. She was charged with theft, burglary, assault and aggravated assault with a deadly weapon.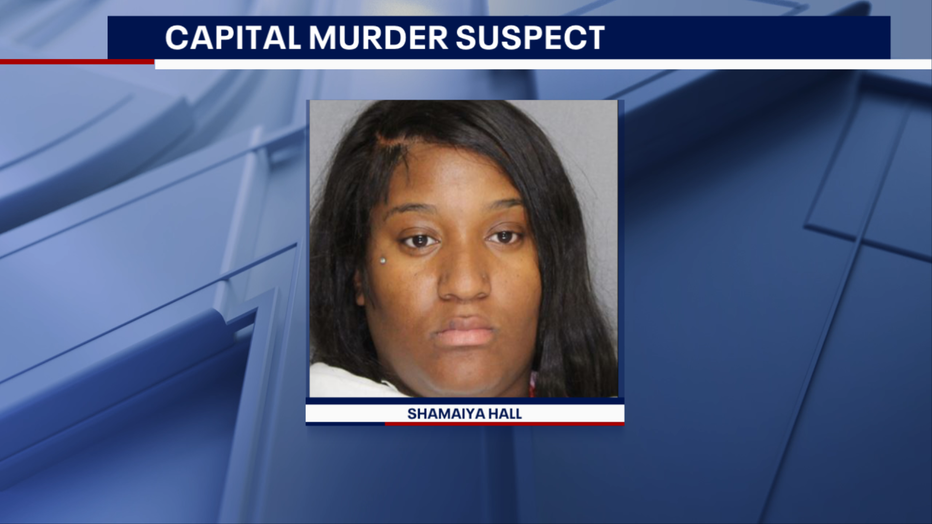 Community members have all sorts of questions, and some will have an opportunity to grieve.
Stafford Elementary School will have counselors available to students and staff after the unfathomable murders of three children, reportedly at the hands of their mother.
Across the street from the school is where the Ellis County Sherriff's Office said the 25-year-old killed three of her five children after a Child Protective Services investigator made the decision to remove the children from the home.
RELATED: Mother charged with capital murder in deaths of 3 children in Italy, Texas, family says
Hall's other two children were seriously wounded.
Family members told FOX 4 the children were stabbed. They also said the kids lived there with a relative.
The house is located right across the street from Stafford Elementary School. Parents shared their thoughts with FOX 4 while waiting in the pick-up line.
Juana Gonzales says she works with Hall's cousin.
"We love our kids. So we don't think how the mom can do that to her kids. We can't imagine," she said. "I don't have words to tell you. I'm really sorry. She was too sad. She was crying."
Counselors and therapy dogs were at the school Monday helping students and staff of this small Ellis County town process the tragedy.
Counselors were also available at nearby Central Baptist Church.
Jail records reveal Hall lives in Forney. A FOX 4 crew went to the home Sunday, but no one answered the door. Neighbors who know the story had no idea Hall lives nearby.
"It's completely crazy. I've seen it all over the news, TikTok, Facebook, I mean it's all over the place and no idea. It's insane to me that, two houses down," Sajah Hicks said.
RELATED: 3 children killed, 2 hurt in Italy, Texas
Neighbors said there's typically not a lot of activity coming from the home. But while the FOX 4 crew was outside, someone appeared in the garage. That person chose not to answer any questions. Instead, he closed the garage door. 
In 2016, Hall pleaded guilty to felony property crimes. In 2021, she pled guilty to assault causing bodily injury after she bit someone.
Several of Hall's family members told FOX 4 that Hall's twin sister, Troyshae Hall, stabbed her own 7-year-old daughter to death in 2021. 
PREVIOUS COVERAGE: Dallas PD: Woman confessed to stabbing 7-year-old daughter to death
Court documents reveal Troyshae's case has never gone to trial because she is in a mental hospital.
Meanwhile, relatives of the Halls told FOX 4 their hearts are heavy.
"Everybody can have their own you know thought process about what could've happened, but we can't undo what has happened, but what we can do is we can come together and pray," Rayla Morrison said. 
The names of the children involved have not been released.
A 6-year-old boy and twin 5-year-olds, a boy and a girl, were killed. A 4-year-old boy and a 13-month-old girl remain hospitalized.
The Ellis County District Attorney's Office said it will not be releasing the arrest affidavit because the victims are children.