3 children killed, 2 hurt in Italy, Texas
ITALY, Texas - The Ellis County Sheriff's Office is investigating the murders of three children in an attack that also injured two other children.
All five children were found at a home in Italy after Child Protective Services went to the home and discovered the victims Friday afternoon.
The home where investigators said the children were found dead is right across the street from Stafford Elementary in Italy. Family members said some of the victims went to the school. 
At 4 p.m., a CPS worker called 911 from a home on Harris Street. Ellis County deputies arrived on scene to find three children dead inside the home. Two other children were injured and were taken to nearby hospitals.
The ages of the children have not been released, but neighbors and family members said they are elementary age and even younger.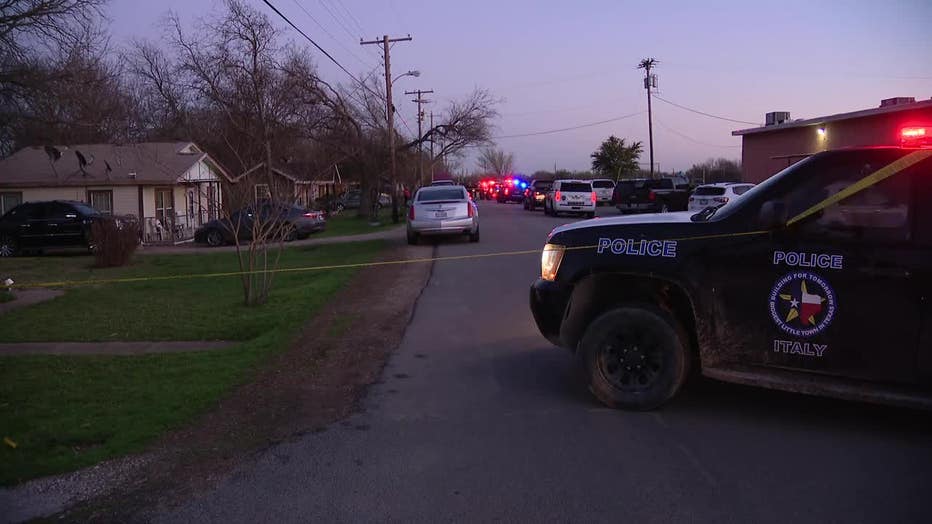 The Ellis County Sheriff's Office said the suspect is in custody.
They are not releasing details about how the children were killed or injured, who the suspect is, if the suspect is connected to the children, or what the motive is in this case.
DPS also assisted in the death investigation. 
Investigators didn't take any questions and didn't address why CPS was at the home in the first place. 
"When we arrived, we found multiple victims on scene," said Ellis County Deputy Jerry Cozby. "Three deceased victims were found inside the home. All victims were children. Two children were taken to local hospitals. Suspect is detained."
"It's disappointing to hear things like this here. The pressure is real. Whatever went on in the situation, I don't know," said neighbor Benny Turner. "We don't understand. We need to be watching out over these kids."
"I just want everyone to know they are beautiful angels. I love them," said Shamelia Anderson. "God doesn't make any mistakes. And I want to say they gained their wings. That hurt me so bad."
Anderson said she's related to the family and would help babysit when the grandmother wasn't available. She said the grandmother was the children's guardian. 
The Ellis County Sheriff's Office said it believes this is an isolated incident and there is no danger to the public.