Moms Demand Action renew calls for gun control laws after Allen outlets mass shooting
ALLEN, Texas - About 800 people gathered at a park in Allen Saturday to talk about gun violence and what it means to protect kids when a mass shooting happens like the one at the Allen Premium Outlets just a week ago.
As part of the event, they set up flags with the names of victims of gun violence.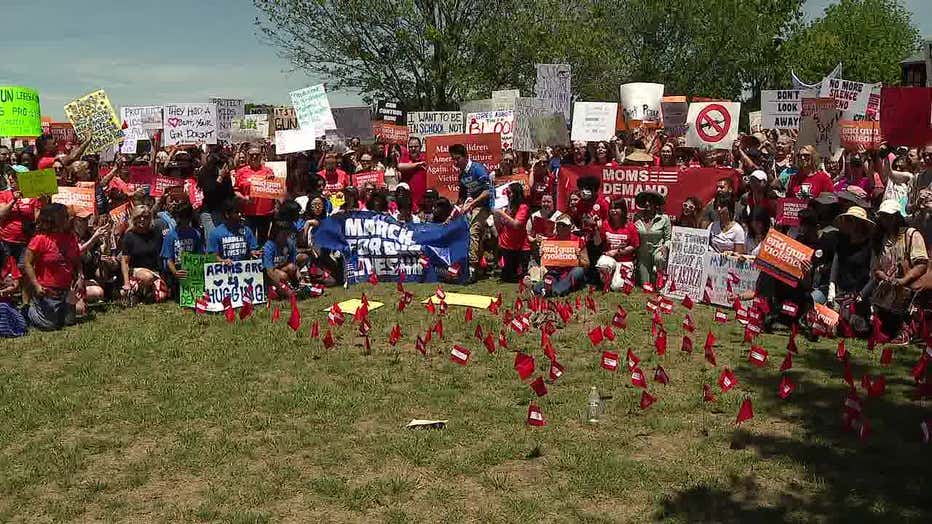 "Someone from our Allen community woke up one morning, drove 650 miles to El Paso to murder 23 people who looked like my husband and three boys. I distinctly remember having a conversation about who would cover which child," said Kat Vargas, with the Texas chapter of Moms Demand Action.
It's a moment Vargas won't forget, where she was forced to think about being a human shield for her children.
Now, the Allen mass shooting a week ago has reminded her of inaction by lawmakers for gun control.
"While it is very surreal to be here today and to be talking about this, it is not shocking. This is a result of the lawmakers in our state not inscribing common gun sense legislation, and enough is enough," Vargas said.
Vargas' husband is a firefighter in Allen, who responded to the mall shooting.
"We saw last summer we passed the Bipartisan Safer Community Act. We have seen more and more Texans are willing to have these discussions," Vargas added.
Discussions about ways for peace and protection of children.
The Allen outlet mall shooting has moms in an uproar, moms demanding bipartisan support when it comes to gun laws.
"I was a survivor of the mass shooting that Saturday at the Allen mall," Mirela Rodriguez said.
Rodriguez said Saturday's day of action was in an effort to reinstate the bipartisan assault weapons ban.
"When you see it everywhere else, you speak up and you make reactions. It's not until it happens to you, and that's the problem. It's that it shouldn't have to be normalized to happen directly to a person," Rodriguez said.
She said the shooting of eight people so close to home has impacted her deeply. 
"I feel like this incident is going to stick with me for a long time. Just because that could happen so close to home it's really scary. But it's important to remember this is a reality for a lot of Americans across the U.S.," she added.
Saanvi Mukkara, the Texas area chapter president of March for our Lives, isn't giving up the fight either. 
She began her activism after Uvalde. 
"The motivation for gun violence is often varied, but that doesn't justify the violence itself. However, when you look at the victims of violence, naturally, violence affects every community the USA, but it's particularly targets, black, and brown communities," Mukkara said.
"I would continue to fight for what I believe in, even if things seems scary or unsafe, because that's the least I can do for people who were unable to go and fight for themselves," Rodriguez said.