Memorial service held for Celina officer & daughter killed in crash
CELINA, Texas - Funeral services were held Thursday for Celina Police Detective K.C. Robinson and his 6-year old daughter, Brynlee, who died last week in a car crash in Grayson County.
RELATED: Off-duty Celina officer and his 6-year-old daughter killed in crash
Robinson was off duty when the chain-reaction crash happened. His wife was also involved in the crash but survived.
Robinson's wife is now out of the hospital. She's previously been unable to be there for other memorials for her husband and daughter as she recovers. But on Thursday, she was surrounded by family and friends as they laid both to rest.
Wearing Hawaiian shirts and pink in honor of K.C. and Brynlee Robinson. Friends, family, teachers and classmates gathering to say goodbye to father and daughter.
"One of the things he talked about was how he loved wearing Hawaiian shirts to work because Pec hated them," said Celina Officer Eddie Veracruz. "Another thing he talked about was how he liked to listen to The Beach Boys in his office at work because he knew it annoyed Pec."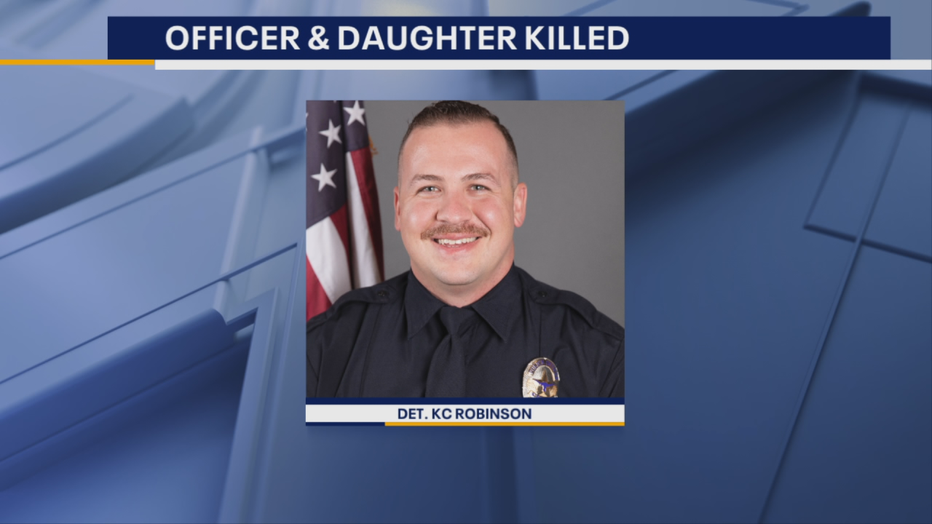 At 33 years old, Robinson had only been with Celina police for three and a half years and was recently promoted to detective. His wife, Lauren, is now out of the hospital but still recovering in a wheelchair from injuries sustained in the crash that killed her husband and daughter. 
The service also remembering 6-year-old Brynlee, who many say looked just like her mother but had the big personality of her father.
"Those of you who knew her will miss her funny little squeals, her laughter and the sparkle in her eyes," said Celina Police Chief Allwin Barrow.
Brynee's martial arts instructor, Haley Arnold Black, honored her in a special way.
"We would like to promote Brynlee to honorary black belt," she said. "There is no doubt in our mind she would've made it all the way with that smile and hard-headedness, too."
"And while I'm saddened God was eager to have her so soon, my heart is full in knowing that she and KC will always be together," said Celina Officer Ian Odin.
RELATED: Large show of support at vigil for Celina officer, his daughter killed in crash
Local businesses as well as the Celina Police Association have stepped up to take in donations that will go to Robinson's family.