Lake Worth High School closed due to flooding
LAKE WORTH, Texas - Classes at Lake Worth High School are canceled this week because the main building flooded.
The flooding started in a boys' bathroom.
"One of our band directors went up on Friday afternoon and found water in the newest wing of the building," said Lake Worth ISD Superintendent Rose Mary Neshyba.
The superintendent says a look at security camera footage shows a broken urinal flooded the newly-constructed wing of the campus late Wednesday night at the onset of the impending ice storm shut the school down. 
"Something went wrong and caused it to leak. So it was leaking," Neshyba said. "When we look at the cameras to see if anyone was in the building, we don't see water until around midnight. We're not sure if it's a malfunction or if it had to do with the weather."
Mold and air quality are the major concern.
"They will have to seal it off with plastic walls and set up a dehumidifier to dehumidify. They cleaned everything. They will pull out the baseboards to make sure no water in the walls. We want to make sure we are healthy when we come back simply because of the mold and that type of thing," Neshyba said.
There is no virtual instruction to make up for the campus being off-limits, and the administration is being strategic in making up for yet another five days lost from the high school calendar.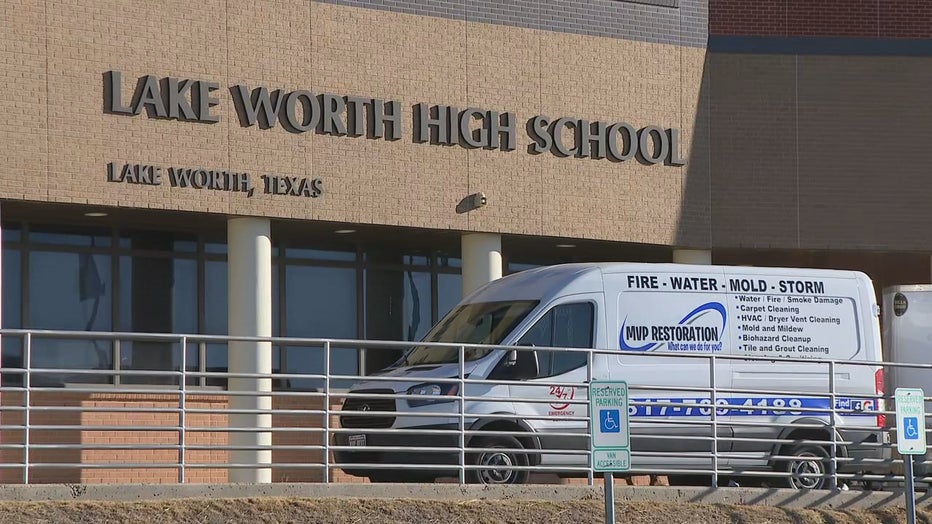 "We had already missed five days. We had three days of COVID and two days with the ice. So that's already facing us," Neshyba said. "And then we have a challenge of five more days. So a group of us met Saturday morning and brainstormed what options there were. And our goal was to take care of our children's instructional program." 
Meals can still be picked up at the school's athletic facility from 11:30 a.m. to 12:30 p.m. on Monday through Wednesday.
All other schools in Lake Worth ISD are open as usual.
The high school students will have to make up the missed days later in the year.
READ MORE:
North Texas thaws, cleanup continues after winter storm
Competitors overcome winter weather to take part in Fort Worth Stock Show
Ohio family sues doctors after DNA test reveals father, daughter unrelated