Innocent man's name cleared 40 years after wrongful conviction in Dallas County
DALLAS - A 75-year-old man who was wrongly convicted of crimes he didn't commit had his name cleared in a Dallas County courtroom Thursday morning.
This is the 42nd time since 2001 that a Dallas County man has been exonerated.
Mallory Nicholson was convicted of burglary and two counts of child sex abuse in 1982.
Nicholson was 35 years old when he was sentenced to 55 years in prison. He was released on parole after serving 20 years. He also served another 20 years registering as a sex offender.
Withheld evidence and wrong eyewitness testimony robbed Nicholson of 40 years. Now, his name is completely cleared.
Nicholson's case was put under review in 2019, and with the help of the Innocence Project, the evidence showed he was not responsible for the crimes.
RELATED: Wrongly convicted Dallas man close to being set free after 34 years in prison
His exoneration came with an emotional apology.
"We apologize for what happened to you," Cynthia Garza, with Dallas County District Attorney's Office Conviction Integrity Unit, told Nicholson.
"Thank you miss, I accept your apology," Nicholson responded. "Thank you very much."
"On behalf of the state, the justice system, the judiciary, all the players that contributed to this atrocity, I apologize," Judge Chika Anyia said.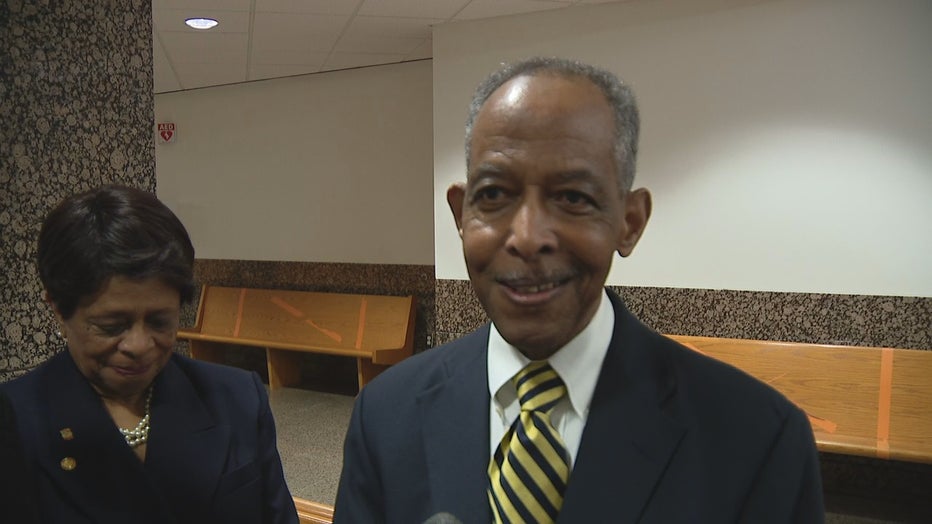 Nicholson met with media with his second wife, Ethel, by his side, where she's been the past 19 years.
"The words from the district attorney and the judge mean a world to me, and it takes a load off my mind from 40 years," he said. "It was just a long fight and wait. But I've always had hope that a day would come for me."
He credits the support of his wife for helping him endure his long incarceration and "never losing hope."
Nicholson was at his first wife's funeral in another city when the Dallas crimes happened.
Nothing linked him to the crimes and there was a different juvenile suspect identified by street name who is now dead.
Undisclosed information by prosecutors pointed to another suspect.
"That evidence should have been given over, it should have been considered by a grand jury. He should never have been indicted, to be quite honest with you, and certainly never convicted," Dallas County District Attorney John Creuzot said.
"He has been out, but he hasn't been free," said Adnan Sultan, with the National Innocence Project. "And he has had a rotating cast of parole officers who have set things up in a way that was designed for him to fail."
But he did not fail, and said his faith helped him with that.
"My faith in God, each and every day. I'm a God-fearing person, as is my wife, and I just put it in God's hands one day at a time," he said.
Time has made the justice system better in Dallas County, said Innocence Project attorney Gary Udashen. 
"The same D.A.'s office that did the things that it did that caused Mr. Nicholson to lose 40 years of his life is the same D.A.'s office with new leadership that's correcting the mistakes that were made back then," Udashen said.
Despite the obstacles placed before him, Nicholson never gave up and he kept working with his wife and their family to prove his freedom to prove that he was completely innocent.
His name is now cleared and this is the day he's been waiting for.
RELATED: North Texas exoneree fights for justice with Richard Miles Act