Grapevine-Colleyville ISD to restrict gender and race discussions under new policy
GRAPEVINE, Texas - A suburban school board approved controversial new policies that limit classroom lessons on race and gender.
The Grapevine-Colleyville Independent School District's trustees heard from nearly 200 speakers during four hours of public comments on Monday night, many in opposition to the new policy. They called it politically motivated and discriminatory.
Still, just before midnight, the GCISD trustees approved the policy in a 4-3 vote.
Under the new rules, teachers are not required to address students by pronounces that match their gender identity, even if the student's parents approve. 
Staff members also cannot teach or promote "gender fluidity" and discussions about the topic or sexual orientation are banned before 6th grade.
The changes also prohibit transgender students from playing sports that do not align with their birth gender and limits how race and racism are taught in the classroom.
Texas public schools required to display 'In God We Trust' posters if they are donated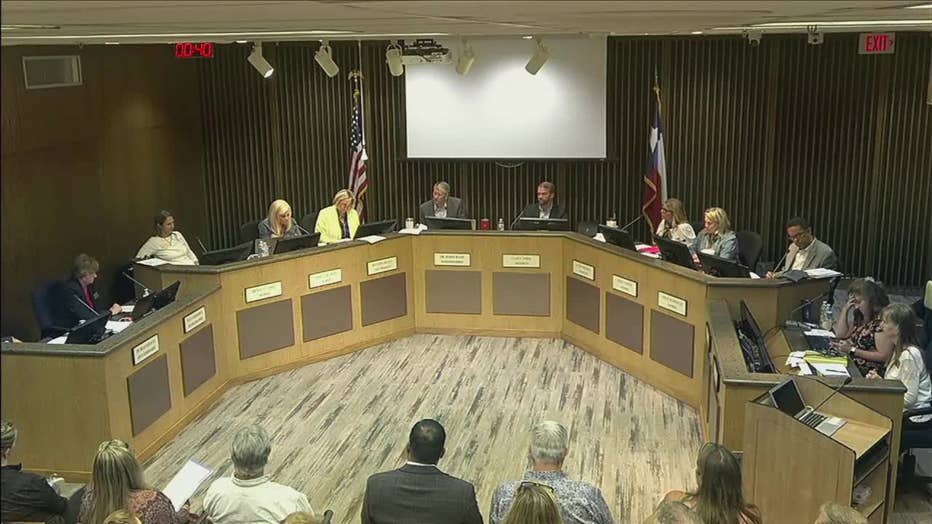 Those who spoke at Monday night's meeting included parents, as well as current and former students.
Melissa Critz, a Grapevine mother of two, spoke out against the policy changes at the meeting.
"These policies are being written by outsiders, people that have larger political goals in the state of Texas," she said.
Critz's 15-year-old daughter, Caroline, also spoke against the policy. She says she was able to get a transfer to a school in Grand Prairie, after she no longer let safe at Colleyville Heritage High School.
"By implementing these policies, you are preventing our kids, the kids that are entrusted into your care, from getting the help and support that you need. I have a question. Are you ready to be responsible for even one child taking their life or being made to feel like that is the only choice for them?" she asked during the meeting.
"Some of the most important guidelines in these policies are not teaching race theories, gender fluidity and identity. Children should be able to go to school without having their purity tarnished by propaganda being taught under the guise of curriculum," said Rosalie Escobedo, the Tarrant County Republican Party Precinct Chair.
GCISD Board Trustee Shannon Braun, one of four well-funded conservatives recently elected to the board, released a statement on Tuesday saying in part, "We did it! […] I'm proud to say that with this package of reforms, we have neutralized the classroom at GCISD."
 
Trustee Beck St. Johns who voted against the changes said, "This policy is going to harm students in the classroom, overburden our teachers for political agenda alone."