Grand Prairie NAACP calls for students using racial slurs in video to be expelled
GRAND PRAIRIE, Texas - Parents and community members in Grand Prairie are frustrated that not enough is being done about a recording in which several Dubiski Career High School students are seen writing and using racial slurs.
The district addressed the video in a letter to parents, saying the students have been dealt with and that the behavior will not be tolerated, but the local NAACP says that response doesn't go far enough.
The video shows several students in a classroom discussing and handling Post-It notes with the written message "I hate n****** 4 life."
"When I saw it I actually wasn't surprised because every single day it's another racial slur," said Amaia Davis, a freshman at Dubiski.
Davis has attended Grand Prairie schools since kindergarten. Her family celebrated the opportunity for her to attend DCHS.
"Because of the academic advantages, the fact that you could come out on a career track, and you can have certifications," said Shavsha Davis, Amaia's mom.
Fort Worth ISD investigating racist comments during class presentation at Paschal High School
They say the fact that the video circulated online is evidence of a more widespread problem involving racially-charged name-calling. 
"You can't really do anything about it because it's going to make you look bad in a sea of people who are all doing the same thing," said Amaia Davis.
The local NAACP accuses the district of not responding to the video appropriately.
"They ignored it, they wanted to downplay it," said Angela Luckey, the president of the Grand Prairie NAACP.
The video surfaced Thursday, March 9 before the start of Spring Break. The district addressed it in a letter to parents Wednesday of this week.
The letter describes the behavior as "offensive, inappropriate and hurtful to each and every one of us."
It goes on to add, "Discrimination, harassment, and offensive language is not and will not be tolerated."
Luckey says she has not had a chance to speak with district leaders face-to-face.
"They are refusing to speak to me as leader of the NAACP. I did get an email from President Carrillo telling me that she will be giving the students due process of a full investigation," Luckey said.
The letter to parents does say "the students involved have been dealt with and held accountable to the fullest extent allowed by the Student Code of Conduct."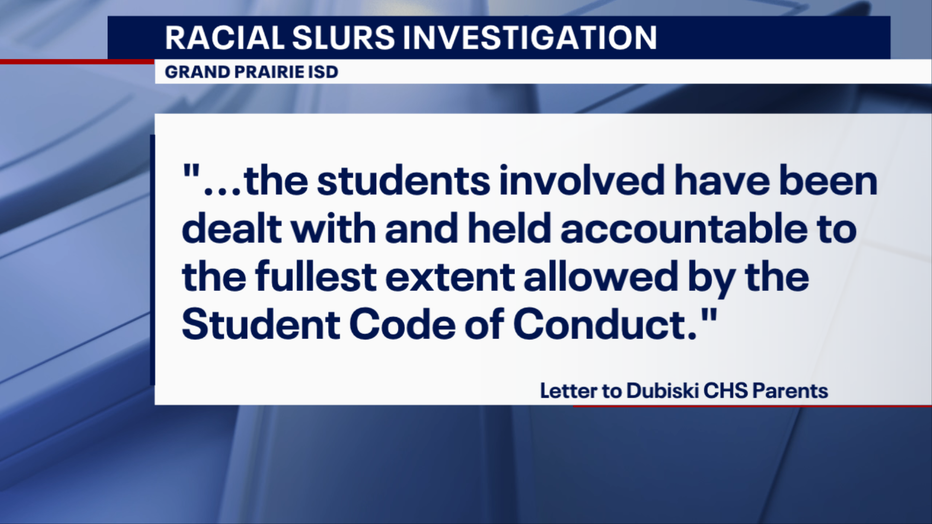 Luckey says the video is no laughing matter. 
"We are calling for those students to be expelled and removed from Dubiski," she said.
The Davis family agrees.
"it's just eye-opening. It's like each generation has the same battle," said Will Davis, Amaia's father.
"It is disheartening that the decision now we have to make on whether to move her out of Grand Prairie ISD altogether, which we have had a good experience in. We are having to make that decision based on racial slurs and a culture of oppression within the school when the administration is aware of it," said Shavsha Davis.
The NAACP is calling for the resignation of the superintendent and the principal of Dubiski Career High.