Gov. Abbott tours COVID-19 vaccine site in Arlington, hopes to replicate it around the state
ARLINGTON, Texas - Texas Gov. Greg Abbott was in North Texas Monday to tour the COVID-19 vaccination site at the Arlington Expo Center.
"I just had the opportunity to go inside to visit this operation and the way that everybody receiving the vaccination talked about it. They said they had never run so effectively, so smoothly, so swiftly and so easily," Abbott said. "They said this is the easiest thing they've ever done going through this process. So I want to applaud everybody with Arlington and Tarrant County for everything they did to streamline this process."
Arlington Mayor Jeff Williams explained he knew vaccinating so many people so quickly would be a challenge. He touted the leaders at the city's fire department and public health authority who he said came up with a game plan for a vaccination site that is "customer service friendly."
MORE: Coronavirus coverage
"It actually is equipped with our fire department, our paramedics who care about people and have that hospitality there with them," Williams said. "But more importantly, it increases the capacity here where our doctors and nurses can then be tending to so many of our citizens that have other health needs."
The effort has been so successful that Tarrant County Judge Glen Whitley reached out to his counterparts in 10 surrounding counties such as Ellis, Erath, Montague and Cooke county to help vaccinate their residents as well.
"We're registering them starting this weekend. We are registering them in the Tarrant County database and they will be called in. Initially, they will be called in here and given appointments to come and receive their vaccination," Judge Whitley said.
Johnson County is one of the counties involved in the partnership. The only department receiving doses in the county is the city of Burleson, but they have a limited amount. The city said Monday it only has enough for first responders and other frontline workers.
"A Texan is not limited to getting a vaccine only in the county in which they live," Abbott said. "A Texan is able to get a vaccine in any county in the state of Texas."
Tarrant County currently has more than 250,000 people waiting for their vaccination appointment.
In neighboring Dallas County, more than 140,000 people are waiting.
The state is hoping to replicate the process in Arlington in as many other locations as possible.
Abbott said Texas will shift the focus from using numerous smaller providers to large-scale vaccination sites that can more efficiently vaccinate thousands of people each day.
Mega sites like the one in Arlington, as well as at Fair Park in Dallas, are opening in 28 locations across the state of Texas. More than 200 slightly smaller sites will open in some of the state's more rural counties.
"Each of these facilities will provide thousands of vaccines every single day making the process far more quicker and far more efficient," Abbott said.
One of the new mega vaccine hubs will open in Hurst on Tuesday. Three more are being planned.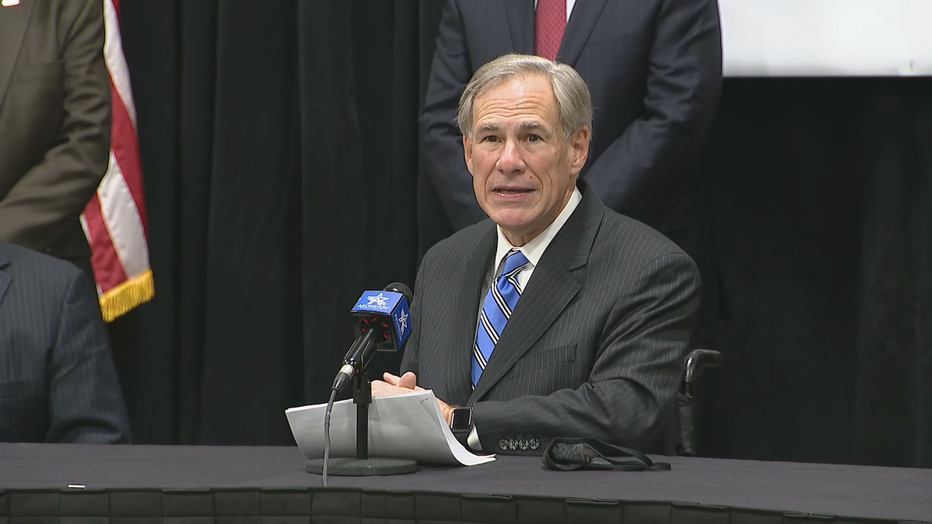 "I know our database currently has about 260,000 registrations, and it's going to take a little bit to get through all of those folks," said Tarrant County Health Director Dr. Vinny Taneja. "Currently, as far as I know, we are giving most appointments to people who are in 1B that registered around Dec. 30."
Abbott says the state will receive at least 310,000 more doses each week this month.
To date, Texas has shipped out more than 1.5 million doses to providers across the state. Of those shots, a little over 800,000 have been administered as first doses and about 80,000 have been administered as second doses.
That, of course, means there are more than 700,000 doses that either have not yet been administered or haven't yet been reported as administered. Reporting is about two days behind, Abbott said.
Nearly 500,000 doses have also been provided to nursing homes and long-term care centers to be administered by CVS and Walgreens.
For now, the state is still only vaccinating people in the first priority group which includes frontline health care workers, first responders, people over the age of 65 and people with high-risk health conditions.
"By targeting the people who we are and providing the vaccinations to the people that we are providing it to who are the people who are most likely to lose their life or face serious hospitalization. Because of the strategy that we are using, it should lead to a swifter decline in fatalities, as well as a swifter decline in the people being hospitalized because of COVID," the governor said.
Abbott also mentioned 13 drug therapy sites are being set up across the state to administer treatments like the drug, Regeneron, which has been proven to fight off adverse effects of the virus in some. One such center opens in Fort Worth on Tuesday.
RELATED: What's the best way for North Texans to get the COVID-19 vaccine?
If you are trying to get a vaccine, walk-ins are not allowed. You must register and wait for an appointment date, location and time.