Forney murder suspect's push to reduce $2 million bond rejected by judge
KAUFMAN COUNTY, Texas - The bond for Trevor McEuen, who is accused of murdering his neighbor in Forney earlier this month, will not be reduced. 
A judge in Kaufman County court made the decision to keep McEuen's bond at $2 million during a hearing Wednesday morning.
McEuen is in the Kaufman County jail after authorities said he shot his neighbor, 35-year-old Aaron Martinez, who was husband and father of two, on May 1. Martinez's family members said he was hit 17 times.
McEuen was ordered to be held on a $2 million bond, which his lawyer called "excessive" in court documents.
More than a dozen of Martinez's family members and supporters were in court Wednesday, and some celebrated the judge's decision not to reduce the bond amount.
"He committed cold blooded murder," family spokesman Carlos Quintanilla said.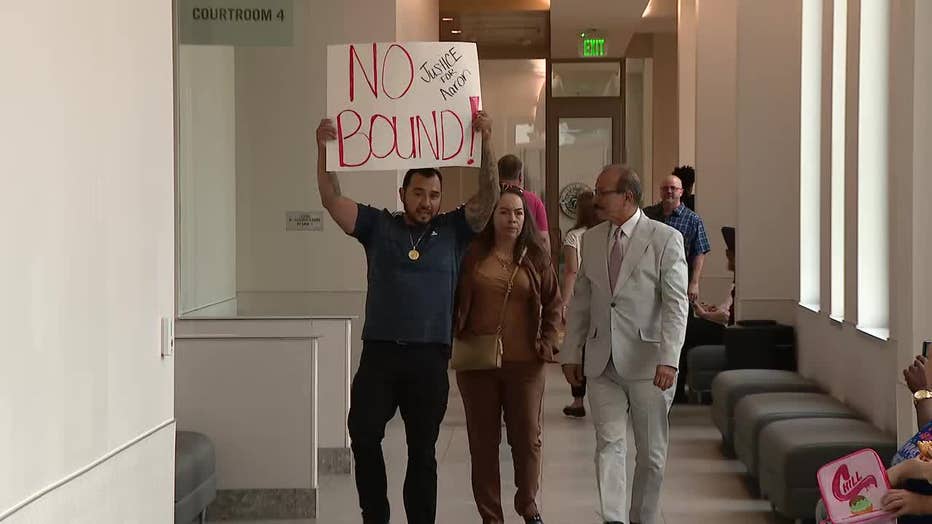 McEuen himself did not attend the hearing, but his father was there to discuss the family's ability to pay the bond. McEuen's father chose not to answer FOX 4's questions outside of court. 
Investigators have not released an official motive in the killing, but Martinez's father, Salvador Martinez, said the two neighbors did not get along.
A search warrant revealed, "There were numerous previous calls related to Trevor [McEuen] and [Aaron]."
At Wednesday's court hearing, prosecutors talked about the rift between the two including prior calls to police. 
Prosecutors argued McEuen planned the "execution-style" killing and had an attachment on his gun that caught bullet casings. They said he shot Martinez in the forehead after shooting him several times in the back.
An investigator who took the stand on Wednesday said that after the shooting, McEuen stole some of Martinez's property.
McEuen was arrested after a SWAT standoff. He reportedly confessed to the shooting after being taken into custody.
McEuen's defense team claimed he had no previous criminal history, but prosecutors said he has prior  police reports of aggravated assault and deadly conduct that did not lead to charges.
The charge against McEuen could be upgraded to capital murder.
On Tuesday, Martinez's loved ones rallied against the possible bond reduction. 
Had McEuen's bond been reduced, it could have allowed him to go home before trial, next door to the victim's family ranch.