FEMA to set up mass COVID-19 vaccination sites at Dallas' Fair Park, Arlington's AT&T Stadium
DALLAS - The Federal Emergency Management Agency will set up three mass COVID-19 vaccination sites in Texas later this month, including two in North Texas and one in Houston.
Texas Governor Greg Abbott announced on Wednesday that the three sites are part of a joint effort to vaccinate more Texans in an efficient, effective and equitable manner.
"These mass community sites will allow us to expand access to COVID-19 vaccinations in underserved communities and help us mitigate the spread of the virus," he said in a statement. "Thank you to our partners at FEMA for working with the State of Texas to establish these vaccination sites and help us protect our most vulnerable."
In DFW, the vaccination clinics will be located at AT&T Stadium and Fair Park. The site in Houston will be at the NRG Stadium.
This comes after NFL Commissioner Roger Goodell offered President Biden the use of all 30 NFL stadiums across the country as possible vaccination sites.
The sites will be operated by FEMA in partnership with the state through the Texas Division of Emergency Management and local officials.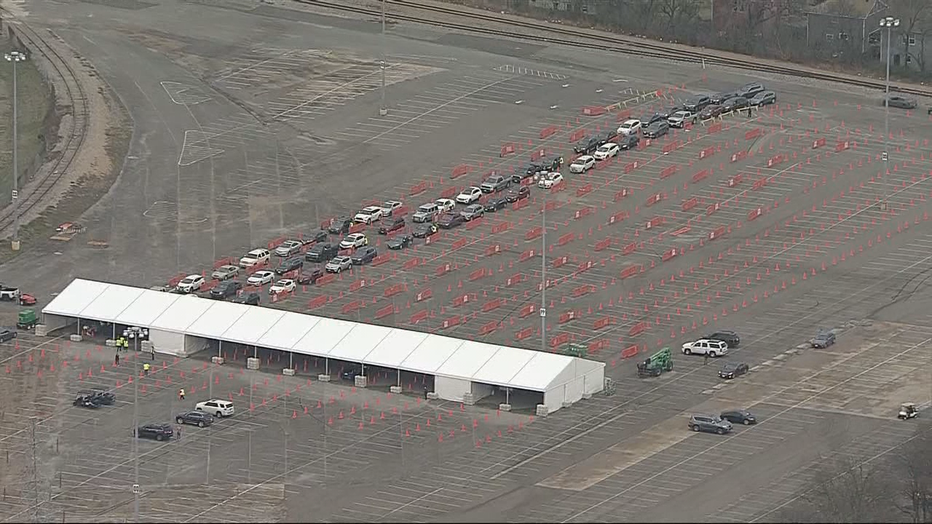 "Together, these sites will be capable of administering more than 10,000 shots in arms a day," said White House COVID-19 Coordinator Jeff Zients.
The super sites were selected using the CDC's social vulnerability index to try and bring equity to vaccine distribution.
"Our state and local partners have made an extraordinary effort in the vaccine rollout, these sites are another opportunity to work together and assist in the vaccine administration," said Tony Robinson, FEMA Region 6 Administrator. "We are making progress, but the job isn't complete until everyone who wants a vaccine receives a vaccine."
"I applaud the White House for selecting Dallas as a community vaccination site. This is welcome news for all Texans. These much-needed resources will help us reach some of our hardest-hit communities and ensure that more residents access the vaccine in a fair and equitable manner. No Texan should be left behind," Dallas County Judge Clay Jenkins said in a statement.
Congressman Marc Veasey says it's important all stakeholders in the community let people know it's safe to get the vaccine and necessary.
"These centers are going to be crucial in helping us try to get to a point where we're managing COVID a lot better. And the ultimate goal, obviously, is herd immunity. But in order to get there, you have to be able to vaccinate large numbers of people," he said. "In order for us to be able to get back to normal without the risk of death or serious hospitalization, we need for people to take advantage of these sites."
The Biden Administration also thanked several Texas leaders for their efforts in expanding vaccine access, including Gov. Abbott, Representative Sheila Jackson-Lee, the late Representative Ron Wright, who died Sunday after contracting COVID-19, and Rep. Veasey.
"We're excited about it. We're looking forward to working with FEMA," Tarrant County Judge Glen Whitley said.
Whitley said the new FEMA sites won't take away from vaccination sites already offered in Tarrant County and in Arlington, as those will continue to run.
"And that's coming from the federal, that's not coming from the state," Whitely added. "Hopefully that won't affect our state allocation at all."
Whitley said he anticipates that 3,000 doses a day at AT&T Stadium is just the beginning, and hopes eventually the sites will be able to scale up as more vaccine is available. 
"The more vaccines we can get in the arms, the quicker we can get it there, the better off we are," he added.
Jenkins said FEMA will take over operations of the Fair Park vaccination site.
"Once that happens, I can take the vaccine that we have now, and get a hub going with Irving, and another hub going with Garland with the vaccine we are currently getting from the state," he explained.
Gov. Abbott and Dallas Mayor Eric Johnson said they are looking forward to how this will be run and help the state's efforts to combat the virus.
Dallas and Tarrant county officials are now working with federal officials to prepare for and build out the sites. They are expected to open to eligible members of the public on Feb. 22.
Details about registering for appointments at these locations will be announced in the coming days.
RELATED:
Texas likely to partner with FEMA for vaccine 'supersites'