Drive-by shooting at Dallas short-term rental leaves neighbors petitioning to stop rentals
DALLAS - People in a Dallas neighborhood are left shaken after a party at a short-term rental ended with a drive-by shooting.
A neighbor's security camera captured the terrifying moments as about 40 shots rang out, hitting the short-term rental as well as a home across the street and two cars. 
The rental was left riddled with bullet holes. 
Dallas police said no injuries have been reported, and the suspects are still unknown.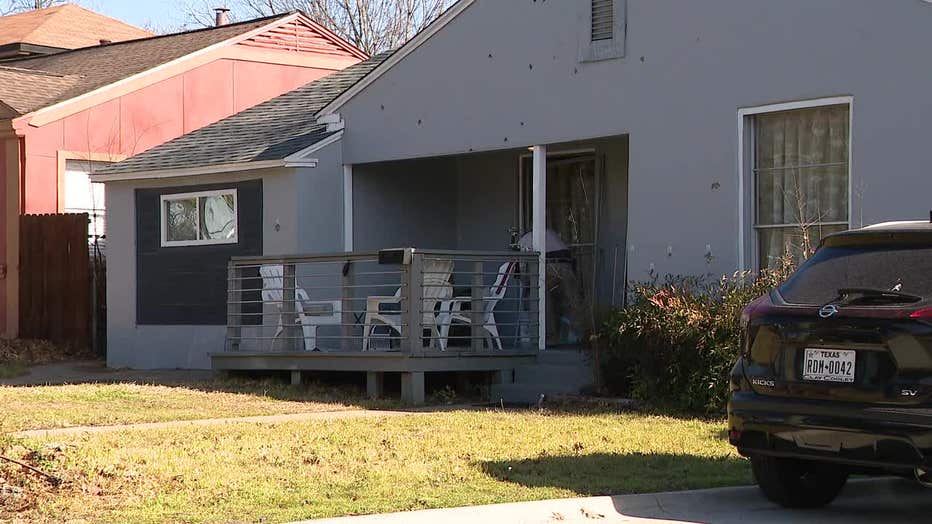 Video from Jorge Lopez's home security camera shows people in three cars firing shots at the short-term rental home. He heard around 40-50 gunshots.
Video shows a gunman in one car hanging out of a window firing at the home on the 900 block of Zebb Street. It shows muzzle flashes from the guns and debris flying as bullets hit the home. 
"It literally sounded like a war zone. Just shots non-stop," Lopez recalled. "That's when we knew these weren't fireworks. It was non-stop for a minute or so."
The camera then recorded about 20 people quickly leaving the targeted home minutes later.
"It's scary to realize afterwards what could have gone wrong," Lopez said. "Someone could have died or been in the hospital."
In addition to the bullet that went through Lopez's front home window, bullets hit his neighbor's car and another hit his parent's car.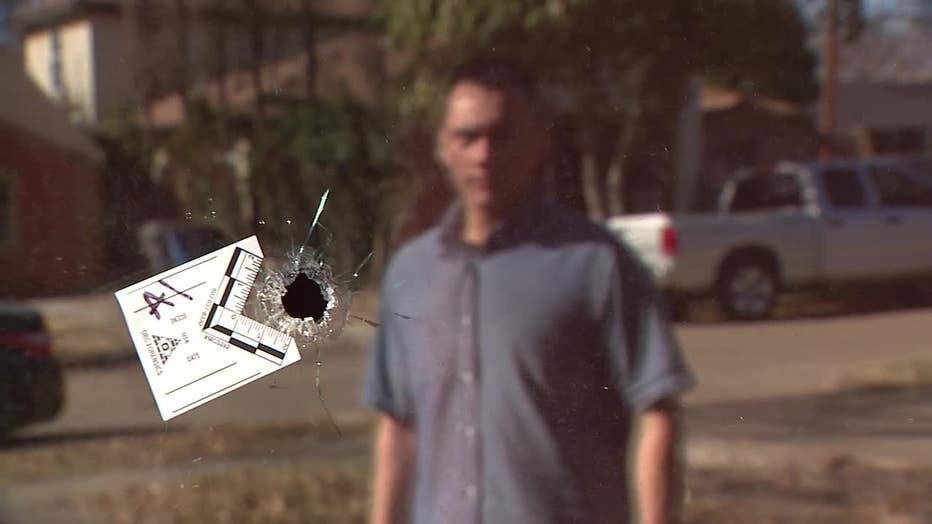 "The bullet went through the driver's side window and ended in the passenger seat," he said.
The targeted home was still listed on Vrbo's website on Wednesday and was advertised as a charming house that sleeps up to eight people for $130 a night. 
However, that charm is now diminished by the bullet holes left behind. 
The property manager was there assessing the damage Wednesday morning. 
FOX 4 reached out to the owner of the STR and Vrbo, but we have not yet received a response.
After years of city council debate about how to regulate short-term rentals, Dallas still has no restrictions on where they can exist.
Homeowner Mark Kull is starting a petition to send to his city council representative. 
"It's a quiet neighborhood. Our street is one block long. We have 19 houses all built the same year," he said. "We're letting our city council person know we don't feel safe having this rental in our neighborhood."
"One moment, you can be with your family celebrating a new year. Then, it's a war zone," Lopez said. "It shouldn't happen in a residential neighborhood."
Last month, the Dallas City Plan Commission recommended that the Dallas City Council define short-term rentals as lodging. That would make them illegal in neighborhoods zoned for single and multifamily use but allowable in areas zoned for commercial or mixed use. 
No date has been set yet for a vote.