Suspect wanted for 'unsubstantiated' threats at Denton high schools
DENTON, Texas - Denton police are still looking for the person who made threats against two high schools in the city.
A caller threatened a shooting at Denton High School Wednesday morning if the campus was not evacuated. That school and Ryan High School were put on lockdown.
As a precaution, Guyer High School, Newton Rayzor Elementary, and Calhoun Middle School were all placed on a soft lockout.
After a thorough investigation, police said they believe the threats were a hoax. They did not find any weapons or cause for concern on any of the campuses. 
One student was detained at Denton High School and one person who was not listed as a student was detained at Ryan High School. They were both released after being ruled out as suspects.
By noon, the lockdowns were lifted and classes returned to normal.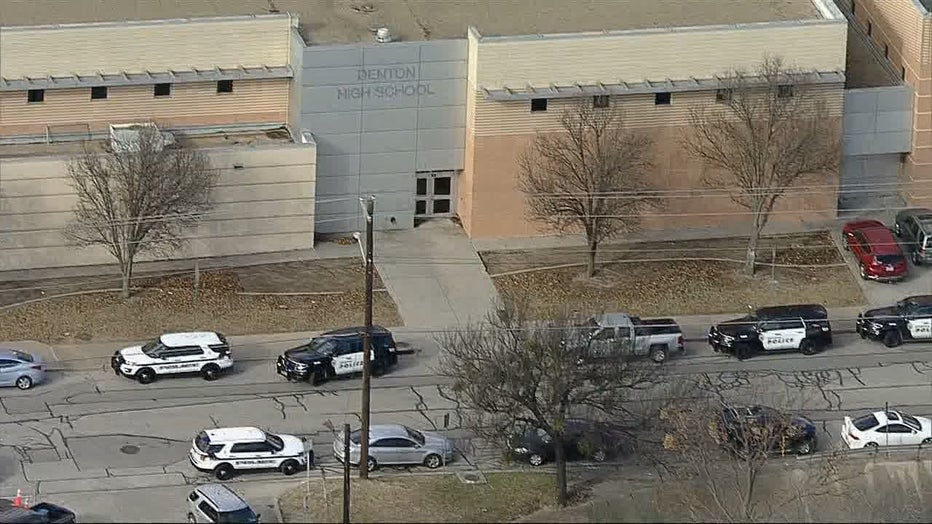 Students and their parents said it was a scary morning.
"When I originally showed up, the area was very blocked off. There were helicopters in the sky," said Angela Dockery, the mother of a Denton HS sophomore.
Sophomore Joanna Du said there was a brief announcement on the intercom during 2nd period.
"We just went into lockdown and we didn't get much information from the teachers," she recalled. "There were a lot of people who were anxious and there were a few girls who were like crying, but it was like pretty [intense]."
Dockery said she got a call from her daughter.
"She sounded really calm, said that they could hear police officers in the hallway," Dockery said.
This news came just a month after a series of social media threats in North Texas and across the country forced schools to enhance security.
Students in Flower Mound ISD, Lewisville ISD, Frisco ISD, and others were arrested for making those hoax threats.
"Sadly, I think they've kind of gotten used to it to a certain degree. It's kind of a sign of the times," Dockery said.
Denton police say they will continue to work with the FBI to investigate leads.
Students, parents, and staff can expect increased police presence on campuses this week.
READ MORE:
FBI searching for driver who dropped Colleyville synagogue hostage-taker at Dallas homeless shelter
COVID-19 forces more school districts to close as others reopen
Trans kids and supporters say new Texas law will keep them out of school sports