Dallas weather: Temperatures rise above freezing Thursday; roads still icy in spots
DALLAS - The Ice Storm Warning that was in effect for most of North Texas expired Thursday morning. Temperatures are rising and should be above freezing for most by midday.
The FOX 4 Weather team said temperatures did not drop as much as expected overnight and the rain continued to fall. So, there are still patches of ice on the roads.
RELATED: Some in North Texas dealing with power outages because of the ice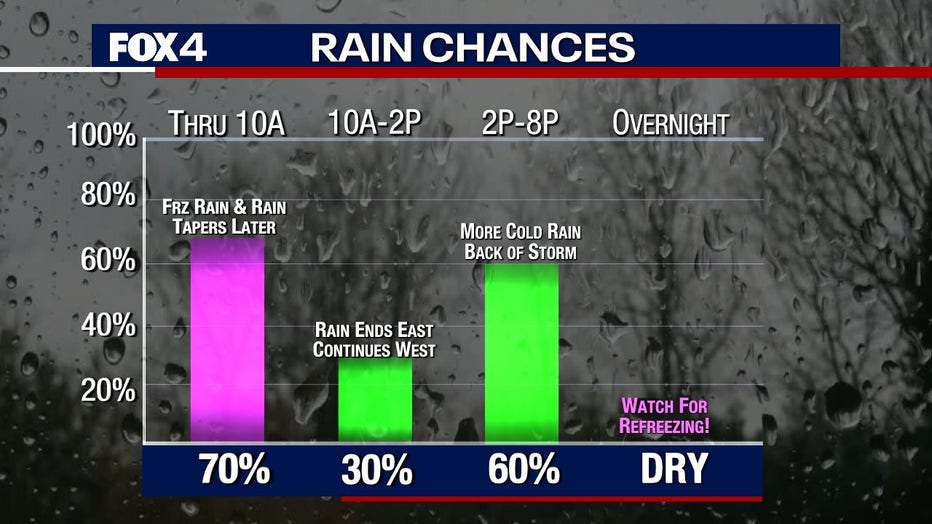 Particularly in Tarrant County and the western portions of North Texas, some roads are still very slick. In Dallas County, things are more wet and slushy.
The freezing rain and rain are expected to taper off before 10 a.m. The rain may pick up again Thursday afternoon but by that time temperatures should be around 35 degrees.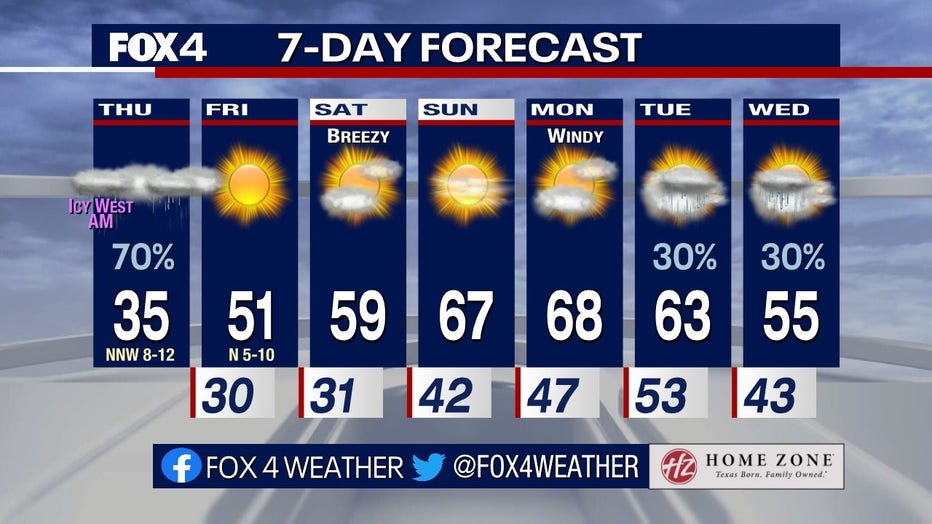 Going into Friday, there's no precipitation in the forecast. But any roads that are still wet could refreeze during the overnight hours.
The highs are in the low 50s on Friday. And then we warm up to the high 50s on Saturday and mid-60s on Sunday.
Tarrant County Driving Conditions
There are signs that things are starting to thaw out in Tarrant County. 
FOX 4's Dan Godwin said there is less ice and slush on the roads near downtown Fort Worth.
But the bridges and overpasses are still icy. The conditions could still be dangerous in some spots and drivers should use caution. 
"Drivers still need to watch out for icy spots which can suddenly appear with no warning, especially on those elevated ramps, he said. "What we really need is for temperatures to start climbing above the freezing point into the mid-30s and certainly that's going to happen a little bit later this morning."
Dallas County Driving Conditions
Roads are much better than they have been over the past few days in Dallas County. 
On Wednesday, the city of Dallas focused on trying to clear the main roads and highways so they would be safer on Thursday. 
FOX 4's Shannon Murray said she had the most trouble walking down her steps Thursday morning as she left to report on the conditions near Dallas Love Field.
"It's just kind of a slushy, nasty mess. It's kinda starting to melt away," she said. "But you still want to look out on the side streets and in neighborhoods, your driveway, your front steps. Those could still be tricky spots for you."
People that she talked to in West Dallas said they had to defrost their vehicles and scrape ice off their windshields.
One Uber driver said he is back out giving rides after two days off.
"Today the roads, it's okay. I got puppies to feed. I got a lifestyle. So I gotta get back on the streets. That's just what it is. But other than that, I find the roads are good," said Tim T.
Austin Carr said he woke up to a frozen truck and had to pour water on the gas cover to get it open.
"Yesterday, they were trash. They're a lot better today, though," he said about the roads.
Dallas' director of public works discussed how the city can improve for the next winter storm. The plan is to add more trucks and plows and to pre-treat roads with a brine solution.
Live Weather Radar
Download the FOX 4 WAPP for updates on severe weather whenever it comes to North Texas. It is free wherever you get your apps.
Live Traffic Conditions
For the latest traffic updates, download the FOX 4 Fastlane app or follow Traffic reporter Chip Waggoner on Twitter.