Dallas weather: Some in North Texas dealing with power outages because of the ice
DALLAS - Oncor is working around the clock to restore power, as there are more than 2,000 outages in two North Texas counties.
In Tarrant County, there are more than 2,800 outages as of 7:30 p.m., while Dallas County has about 2,000.
The culprit in many cases is ice on limbs and powerlines.
"It was a…just a loud pop," Betty Crow recalled.
Utility poles were down and power was out at Mesquite's Willowbend Nursing and Rehabilitation Center and the adjacent Parc East Apartment Complex
"It was about 9:30 a.m., and I had just walked out on my daughter's balcony, and I saw the…there were two poles on this side that snapped, and sparks just flew everywhere," Crow said.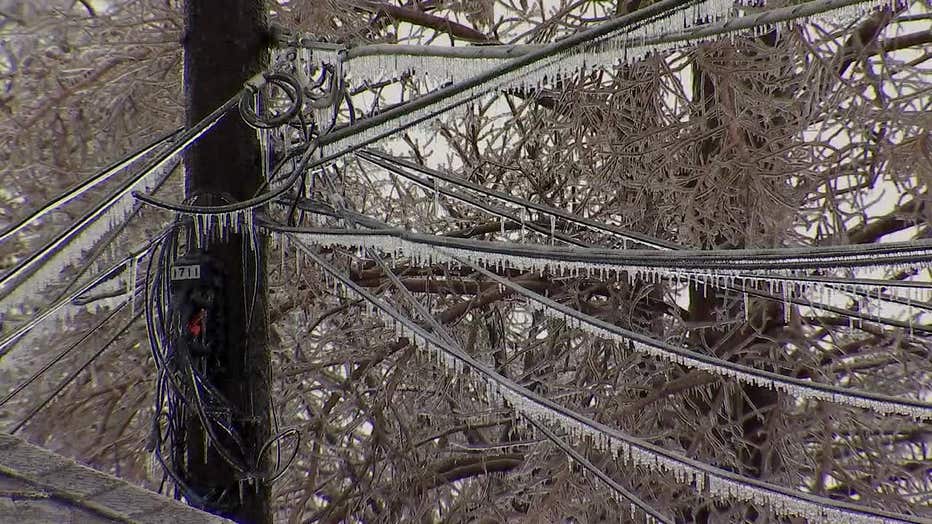 The break in the power was caused by ice, but it wasn't on the lines, it was along the street.
"They had lost control, went into the power pole, and of course, once they impacted the power pole, that caused some issues," Mesquite Fire Department Chief Rusty Wilson explained.
That happened twice in Mesquite Wednesday along Galloway Avenue, and Thursday along Highway 80, even as linemen were restoring power in neighborhoods where lines were brought down by the weight of ice.
Willowbend workers were firing up a second generator to keep power pushing through the facility.
The manager of the New York Food Mart in east Arlington said power at her store went out at 2 a.m. Thursday.
By late afternoon, it was still out. A small generator plugged into an extension cord was the only thing keeping things going.
"One of my customers offered me a generator. Now I am working with that because my online is not working, so only cash, and my leg is like frozen now, freezing now," Rojina Sudda said.
Oncor brought in reinforcements to help respond to the outage, which included nearly 2,000 workers and mutual aid from neighboring states.
Getting the lights back on during a winter storm presents its own challenges.
"In some instances, our crews are not only making repairs to certain outages, they are having to completely clear the area before they can start work," explained Juan Reyes, with Oncor.
And access isn't the only issue.
"In some instances, they are not just repairing outages, they are completely rebuilding electrical infrastructure," Reyes added.
And that means people like Sudda are forced to wait it out.
"At first, they said they are going to restore at 5 a.m., and then they text 7 a.m., and now 9 a.m., and now they said they are still working on it," Sudda said.
CoServ says it restored power to 1,200 customers in east Frisco.
The Frisco Fire Department said power lines were down at Eldorado Parkway and Independence Parkway.
RELATED: Temperatures to rise above freezing Thursday; roads still icy in spots
A map of outages provided by PowerOutage.us shows there are more than 400,000 without power statewide.
The problem is not the state's power grid, though. Ice, especially in Central Texas, is building up on power lines and causing some to snap. 
Tree limbs are also breaking and hitting power lines, causing more customers to lose power.
RELATED: Over 360,000 Texans without power as ice storm continues to move across Texas
In the Austin area, about 30% of Austin Energy customers are without power. It's been off for at least 12 hours for some.
Austin Energy said its crews are working to get the lights back on but doesn't know how long it will take.