Dallas police release photo of replica handgun suspect pointed at officers before fatal shooting
DALLAS - The Dallas police chief on Tuesday released pictures of the robbery suspect who was shot and killed by officers Monday evening on LBJ Freeway.
Tuesday afternoon, police identified the suspect as 28-year-old Edgar Luis Tirado.
Chief Eddie Garcia also released a picture of the replica handgun he says Tirado used to commit several robberies. Police say he pointed the replica Smith and Wesson revolver at the officers who shot him on a ramp along the busy highway.
"As you can see in the picture, it looked real to the officers and it certainly looked real to the victims," Garcia said.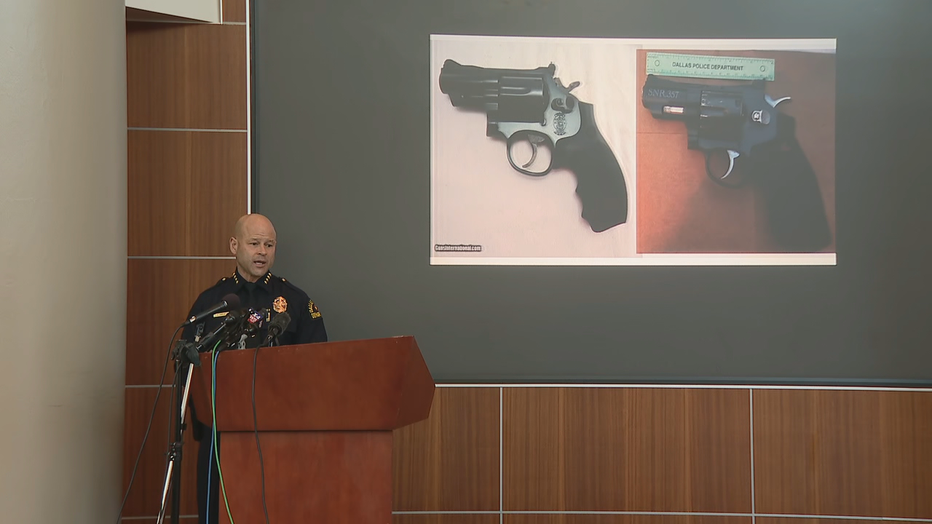 The crime spree started with a robbery shortly after 2:30pm at the Fiesta on West Spring Valley Road, with Tirado pointing his replica gun at employees. A little more than an hour later, he tried to carjack someone a few blocks away on rolling hills lane near a school.
"Officers located the suspect on Esperanza Road and confronted the suspect. The suspect reached to his back waistband, produced a handgun and pointed it at officers," Garcia said.
Garcia showed an image from that confrontation and noted that his officers chose not to shoot at that moment. Tirado ran away through nearby apartments. Police say he then robbed a CVS on Coit Road about a half mile away.
Tieado was spotted again at the intersection with LBJ freeway.
"The suspect was located by officers and ran across LBJ, the suspect pointed his gun at the officers at which time our officers discharged their weapons, striking the suspect," Garcia said.
Frances Solares and her daughter Victoria were driving along the LBJ service road when they saw the police foot chase. Frances recorded part of the incident on her cell phone.
"He ran across the street and then three other police officers just started shooting. I personally didn't know where the shots were coming from.  I didn't know if it was behind us, in front of us, what was going on. I just wanted to get out there," Solares said.
DPD says three officers fired their weapons and Tirado was hit at least twice, dying from his injuries.
"When you have a replica firearm you're pointing at a police officer after having committed multiple robberies, the expectation is there that if you point that something's going to happen," Garcia said.
Garcia says they also plan to release video of the incident within the next 48 hours.
RELATED: Man with replica gun fatally shot by Dallas police after robberies, attempted carjacking