Dallas man who allegedly sold machine gun conversion devices on Instagram charged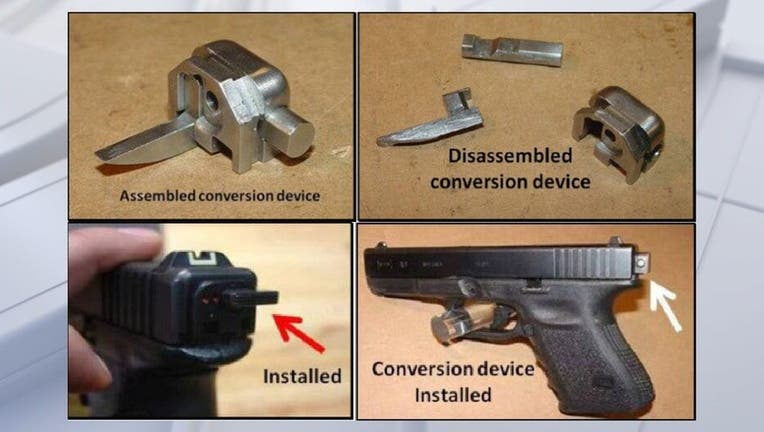 article
DALLAS - A Dallas man who sold equipment that makes semiautomatic pistols fully automatic is facing multiple charges.
22-year-old Jeremiah Dwyen Ashley was indicted on two counts of possession of an unregistered firearm on Dec. 28.
Investigators say Ashley sold 'Glock switches' on Instagram.
Police arrest suspect at Dallas golf course after he shot at golfers, hid for hours in drainage ditch
Glock switches can be installed onto a pistol and instead of one bullet firing per trigger pull, several shots are fired very quickly.
Undercover law enforcement reached out to Ashley in 2022 to arrange a purchase.
The officer met Ashley at a gas station in Garland and purchased three Glock switches for $1,200.
When the undercover officer questioned Ashley about how they worked, he showed the officer how to install them onto a pistol, according to police.
Another undercover officer arranged a second purchase.
Ashley allegedly sent the officer a screenshot of UPS tracking information.
Drive-by shooting at Dallas short-term rental leaves neighbors petitioning to stop rentals
Law enforcement tracked down the package at a UPS distribution center on June 10.
Inside the box was filled with metal screws hiding 30 Glock switches.
An undercover officer delivered the package to Ashley on June 14, once he opened it officers executed a search warrant.
During the search Ashley allegedly admitted he knew the packages contained Glock switch and that he was known for selling them on Instagram.
Glock switches are classified as machineguns under federal law.
"Switches transform regular pistols into weapons of war, only suitable for use by soldiers on the battlefield," said U.S. Attorney Leigha Simonton. "We cannot and will not allow switches to proliferate on the streets of north Texas."
If Ashley is convicted, he faces up to 20 years in federal prison.