Dallas ISD's 'Operation Comeback' urging 11,000 students to return to school
DALLAS - The largest school district in North Texas trying to get kids back in school after many were lost during the pandemic.
Dallas ISD says there are around 11,000 high school and middle school students who have not bothered to show up or log on for class this school year.
The district is trying to get them to return to class, starting with the high school students. It's an initiative it's calling Operation Comeback.  
The return of in-person graduation ceremonies is still up in the air for Dallas ISD students. But many are in danger of not graduating at all.
Dallas ISD says about 9,000 high school students barely attend class or have stopped altogether.
District-wide, average daily attendance has dropped from around 94.5% down to 91%.
Assistant Superintendent of School Leadership Vince Reyes says Operation Comeback is the new push to get them back in classes and back on track.
"The list that we're generating from our internal systems are the kids that since the first grading period back in October have not engaged," he said.
That means teachers haven't seen them in person or online.
Reyes says it's a district-wide issue stemming from a lack of interest from some students and the need for others to help support their families by going to work instead.
"There's still hope. It might be February, and we haven't seen you since October? But it's an open door," he said. "Come on in. We'll get you caught up."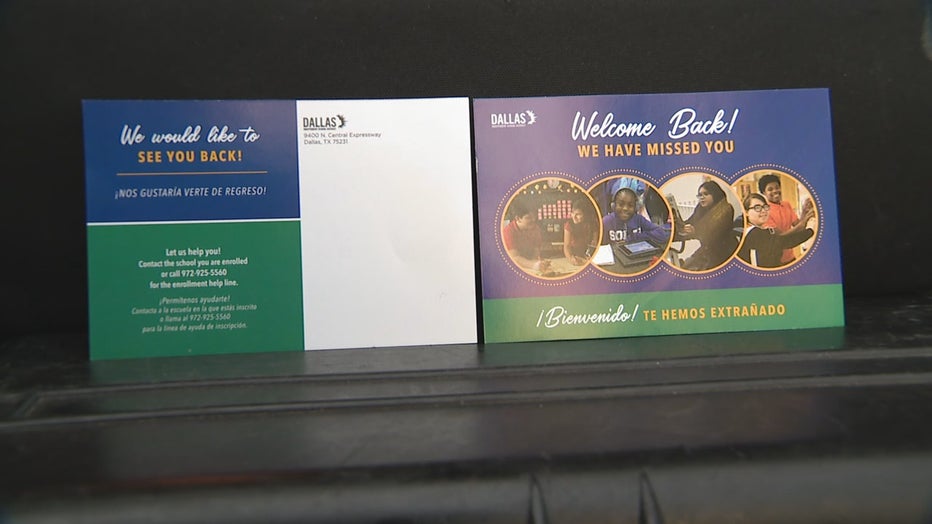 Reyes says that outreach had largely fallen on teachers —until now.
Last week, the district mailed out 9,200 postcards saying "We would like to see you back!" But the response has been underwhelming.
Teams of district staff will spend the next week reaching out to parents via phone and text. And starting Saturday, they'll start making house calls.
"Contactless home visits. Socially distanced. We will knock on the door," Reyes said. "We will not go inside anyone's house and we'll just share the information and invite them back to school."
The district has a range of options for students to make up for missed time.
"It's a historic graduating class to say I made it through the year, a full year of a pandemic school year," Reyes said. "It's history in the making and we just want the kids back in class."
While this week's focus is on high school students, the district has already identified at least 2,000 middle school students in the same situation. They will start reaching out with phone calls next week.