Dallas County nonprofits surprised with $300,000 in grants
DALLAS - Three nonprofits from southern Dallas County were surprised with grants on Tuesday morning.
The groups received a combined $300,000 from the Wells Fargo Foundation to help build lives, homes and hope.
The leadership of Wells Fargo went on a tour with the Dallas Regional Chamber (DRC) in Southern Dallas.
"The reason DRC wants to do these tours is not to spectate, it's for us to tell the story, the message of what's happening in southern Dallas County.  The change agents, the organizations, the people who are making things happen for this community," said Latasha Herron Bruff of the Dallas Regional Chamber.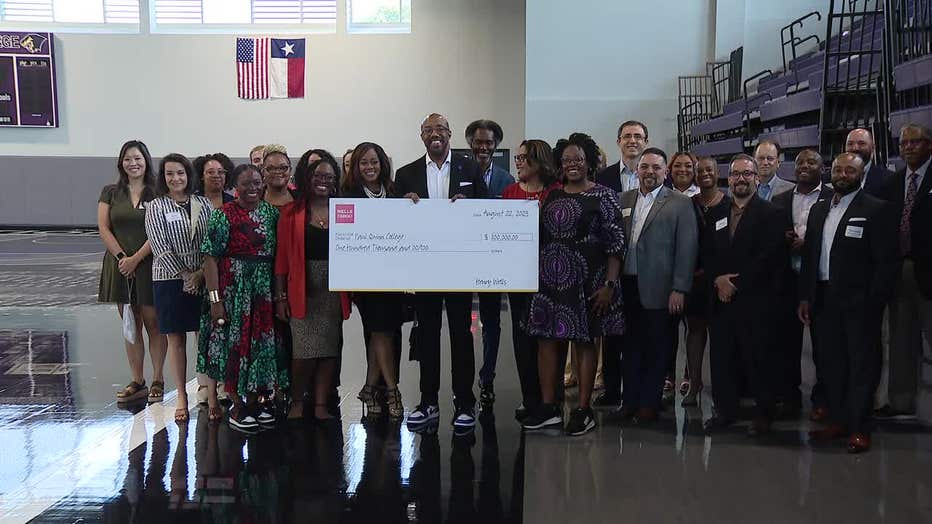 Paul Quinn College, a symbol of transformative change, was recognized by Wells Fargo.
"On behalf of the Wells Fargo Foundation we're so inspired by the great work the college is doing and continues to do, and we want to be a part of that, so our contribution is $100,000 for the college," said Tanya Sanders, the head of Wells Fargo Auto.
The money will support Quinn's urban work college model. The program gives a job to students who come to the HBCU.
"People don't invest in places they expect to fail, they invest in places they want to see succeed," said Dr. Michael Sorrell, the president of Paul Quinn College. "Wells Fargo understands that the work we do is critically important, and we're succeeding at a very high level, and they want to be a part of that, and we are thrilled that they feel that way." 
Paul Quinn was one of three nonprofits getting attention and grant assistance from the Wells Fargo Foundation.
One of the others: Builders of Hope, a group developing affordable housing in West Dallas, Oak Cliff and Pleasant Grove.
More than 500 homes have gone up in the past 25 years.
"Here is a gift from us say thank you," said Alexis Snow, the Vice President of Philanthropy and Community Impact at the Wells Fargo Foundation.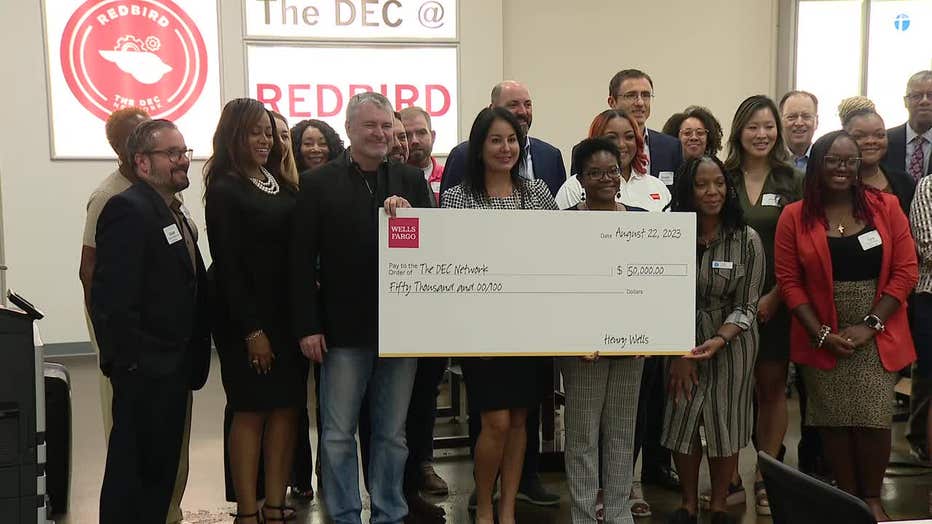 A $50,000 grant was given to the Dallas Entrepreneurship Center (DEC) at Red Bird Mall.
The DEC supports start-up businesses focusing on woman and people of color.
"The grants that we're providing helps fuel the work that these organizations do," said Snow. "Whether it be to provide small business housing, small business workshops here at the Dallas Entrepreneurship Center or to look at Paul Quinn College where they're providing students with the opportunity to go to college almost debt-free."
The groups knew the tour was coming, but did not know about the grants and amounts.
After the tour, there were plenty of smiles and happy feelings on Tuesday.