Dallas councilman hires private company to help residents with overflowing trash bins
DALLAS - Six weeks after the city of Dallas changed its trash pickup routes, garbage cans are still overflowing for some residents. 
One city council member decided to take matters into his own hands and hired a private company to help pick up the city's slack. 
Trash pickup delays are an issue across the city of Dallas right now after the city launched new routes that are supposed to be more efficient. However, there is still a lot of trash piling up six weeks after the rollout. 
Lubertha Watkins owns the small but memorably named junk removal business in Oak Cliff called Wee Hawll. Monday, she worked to do her part to haul away what the city of Dallas left behind.
"They were overflowing with trash," she said. "Trash draws rodents and bugs. If it is right outside my door, they will go inside my house."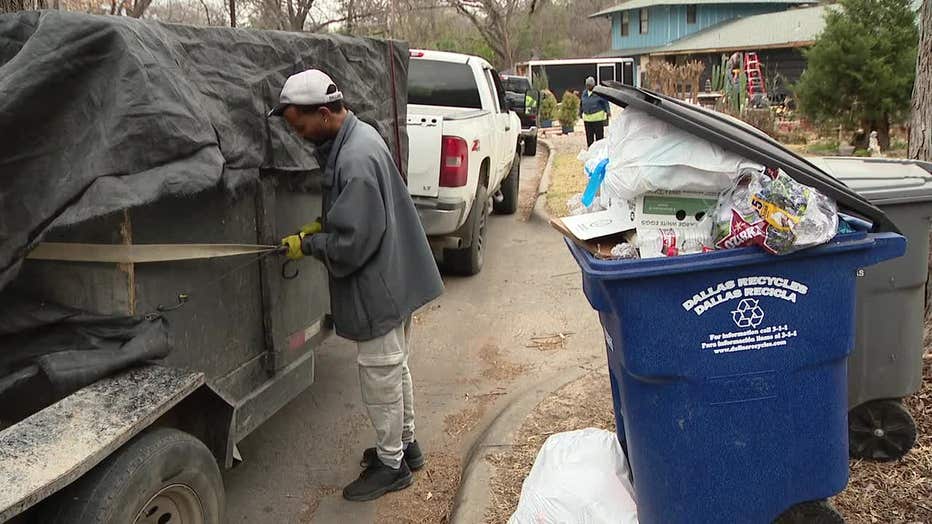 Sornie Jessie works for Watkins and says he's faced the same issues as other residents.
"Tuesday they didn't get it. Next Tuesday, didn't get it. So I put it in my trailer. Third Tuesday, I didn't put it out," he said. "Guess what I see driving by. That too me is disorganized."
The city is still trying to catch up on delays after changing trash routes last month for the first time in ten years.
District one Councilman Chad West says he hears complaints over and over from constituents desperate for help. 
"One lady called. She's too elderly and mobility challenged to take trash anywhere," he said. "She was getting rodents in it. She called saying, 'I don't know what to do.'"
West sent out an email letting people know that if their trash was posing a health risk, they could sign up to have Watkins pick it up at the expense of his office. 
"I'm using excess campaign donations," he said. "To me, this is the very nature of why that money exists."
Gustavo Guerrero is one of the many whose trash has set out for weeks.
"You leave food in a dumpster after a few days, it smells," he said. "Imagine the whole street smelling like rodent food and animals digging in the trash."
"Sanitation is a basic service we provide in Dallas," West said. "If we can't get that right, it doesn't give me confidence we can get other things right."
West says he and some other city council members are considering asking the city to provide customers with rebates if they are among the ones who paid taxes for services that were not rendered.