Dallas artist recovering after being shot while out jogging
DALLAS - A 37-year-old Dallas artist is recovering at a hospital after family members said he was shot while jogging along the Santa Fe Trail in Old East Dallas.
The shooting happened at the popular exercise trail on July 15, at about 6:30 p.m.
Family of Antonio Lechuga said he was finishing a five-mile run when, all of a sudden, he was shot twice in the chest area.
Dallas police said no arrests have been made. They would not say if they have learned about a motive or if they have any suspects.
Some neighbors said the shots came from a vehicle, but police aren't confirming that detail. 
Lechuga's sister said he lives a few blocks away from the trail and uses it daily.
"It's sad because now his normal is not normal anymore, you know?" Cynthia Lechuga said. "It just doesn't make you feel safe anywhere."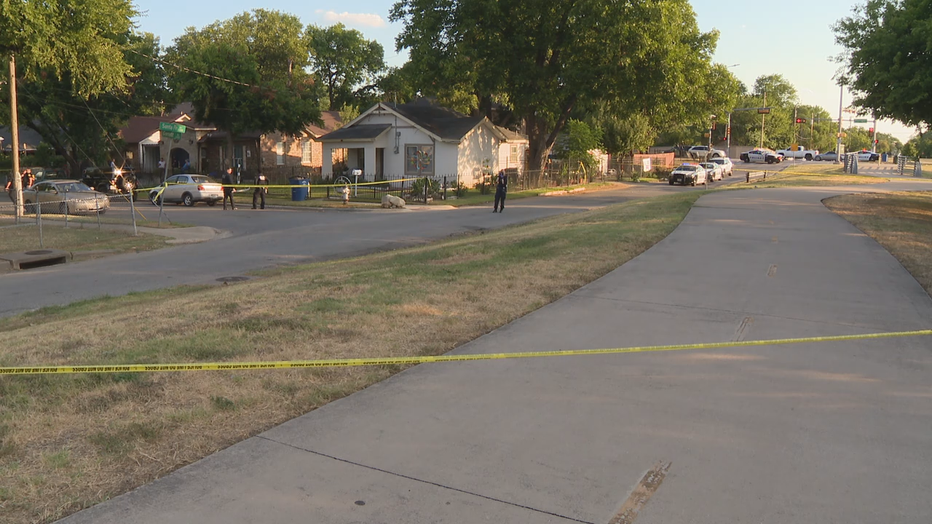 READ MORE: Trackdown: Help find Higinio Edwin Flores' killers
Lechuga, who's recovering in a hospital after multiple surgeries, told family members he barely heard the shots since he was wearing headphones. He did not see a shooter.
"He said that he felt the blow to his chest," Lechuga's sister said. "Kind of a blow to the chest, so he started to walk a little, then he fell over into the grassy area."
Patty Rodriguez, whose family lives in the area, saw the shooting. She said she told police the shots came from the front-passenger's side of a car.
"And when I heard the gunshots I just turned and that's when I saw the white car," she recalled. "It was like 10-13 gunshots…like, right whenever they got done shooting, they just took off."
Rodriguez's description makes it sound like a drive-by.
Family members believe it was a random shooting that happened too close to home.
City of Dallas officials said, typically, more than 1,000 people use the Santa Fe Trail each day.
The section where the shooting happened in Old East Dallas is a popular stretch in a residential neighborhood. It's surrounded by homes and people.
"We still don't believe it, but we're here," Lechuga's sister said.
RELATED: 15-year-old arrested for shooting that killed 14-year-old in Dallas
This section of the trail is a block away from old East Dallas Work Yard Park.
It's where, last month, a 14-year-old boy was shot and killed, and a 19-year-old was wounded.
Police arrested a 15-year-old boy for the shootings.
There's no known correlation between the park shooting and the trail shooting, but Lechuga's sister is frustrated with ongoing gun violence, especially in an area her brother exercises daily.
Lechuga is an artist. Some of his work is on display at Love Texas Art in Fort Worth's Sundance Square.
A fundraiser will be held for him Saturday evening.
He's expected to spend at least the next several weeks recovering in a hospital.