Cold weather forces Dallas County to delay drive-thru vaccinations
DALLAS - Cold weather was blamed for new problems at Dallas County's Fair Park vaccination site on Tuesday.
The site was set to flip to a drive-thru-only clinic Tuesday morning, but that didn't happen because some essential equipment did not arrive.
Generators and heaters ordered Monday did not arrive in time to operate the drive-thru lanes Tuesday morning. Judge Clay Jenkins said the decision was made to switch back to walk-up vaccinations only because the temperature-sensitive COVID-19 vaccine needs to be administered at stable temperatures once it's thawed.
"We thaw the vaccine in the building and then we take it out the drive thru," Jenkins said. "Because those items are not here, we can't open the drive thru until it gets above 40 degrees."
That didn't happen either on Tuesday, as temperatures hovered in the upper 30s.
RELATED: Find the COVID-19 vaccine
There was no warning from the county about the abrupt change in plans, so many elderly vaccine recipients weren't prepared to leave their warm cars to park and make the long walk in. 
Fortunately, volunteers were there to ferry them from the parking lot in golf carts. But even volunteers were in short supply because of the change.
"Yeah, they could have been more forthcoming with what the process would be," said Carl Ozan, vaccine recipient.
"You expect to drive through and get your shot. But you didn't. You had to park, get out and come here," said Benny Gabriel, vaccine recipient.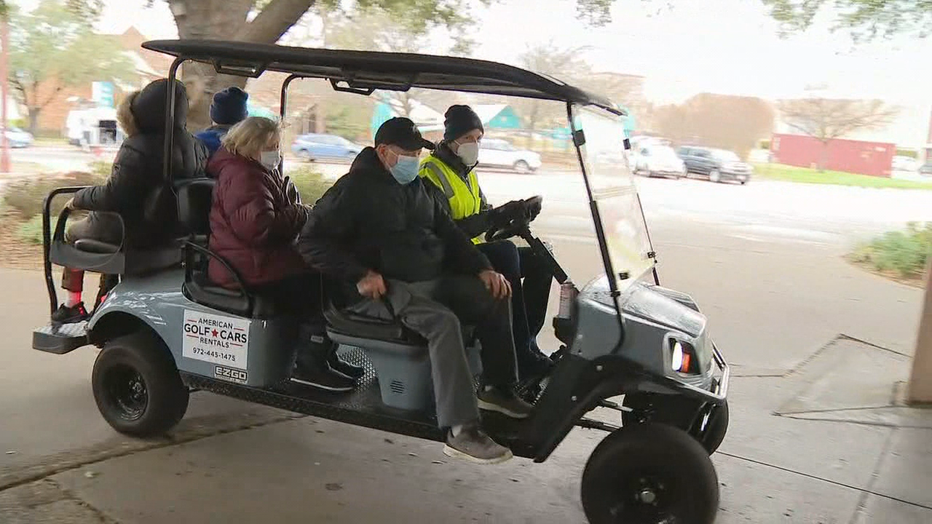 Judge Jenkins says if the equipment arrives, the goal is to have the drive thru up and running at noon on Wednesday.
For those who rolled with the punches on Tuesday, including waiting in long lines that snaked well outside Fair Park, the hassle was worth it.
"It was good because we got our shots," Bill Lewis, vaccine recipient. "Drive thru, sit thru, inside whatever, we got our shots."
Jenkins says he may have to halt vaccinations if Dallas County gets icy weather in coming days that create dangerous driving conditions. Jenkins said he'll try to make the decision as early as possible to give people lead time. If that's the case, those with appointments will get notified from the county about rescheduling.
RELATED: Fair Park drive-through site opens Monday with long lines