City of Dallas to close parks for Easter weekend due to COVID-19 pandemic
DALLAS - The city of Dallas will close all of its 397 parks during Easter weekend to prevent the spread of COVID-19.
Starting Friday at 9 p.m. through Monday at 7 a.m., all parks in the city will be shut down.
The city's parks and recreation director said the city made this decision because this weekend tends to be one of the busiest for public parks.
Dallas city leaders said they typically see two or even three times as many people using city parks during Easter weekend, so they're trying to prevent the spread by shutting down access to city parks and golf courses.
"I would have loved for our community to be able to celebrate Easter in our wonderful parks, and I regret that we have to make this decision," said Dallas Mayor Eric Johnson. "But we cannot take the unnecessary risk of further crowding in our parks right now. We cannot afford to jeopardize the gains that I believe we are making in the fight against COVID-19 with the stay-at-home orders that we have in place.
"Easter weekend tends to be one of the busiest days of the year in the park system, but the department is urging the community to stay home instead," said Dallas County Judge Clay Jenkins. "While we miss our parks being full of families playing together, we hope they will enjoy their egg hunts and Easter brunches from the safety of their own homes."
City leaders are discouraging large social gatherings and shutting down city parks and golf courses to stop the spread of coronavirus, citing the typical spike in visitors during Easter.
"We know Easter weekend this year will be unlike others we've had," Johnson said. "Families go out into our parks to barbeque, people have picnics, groups gather for Easter egg hunts. Basically just to enjoy the nice weather that's typical for this time of year. It's a party basically out there in our parks."
City leaders said the risk of having to enforce social distancing by keeping parks open was too great.
The closings do not apply to trails, but users will still have to follow social distancing guidelines.
Barricades and digital message boards will go up Friday to help enforce closures.
"Our park rangers, park staff, along with code enforcement, Dallas Police Department, parking enforcement, Dallas Marshal's Office will be patrolling the parks for enforcement," Jenkins added.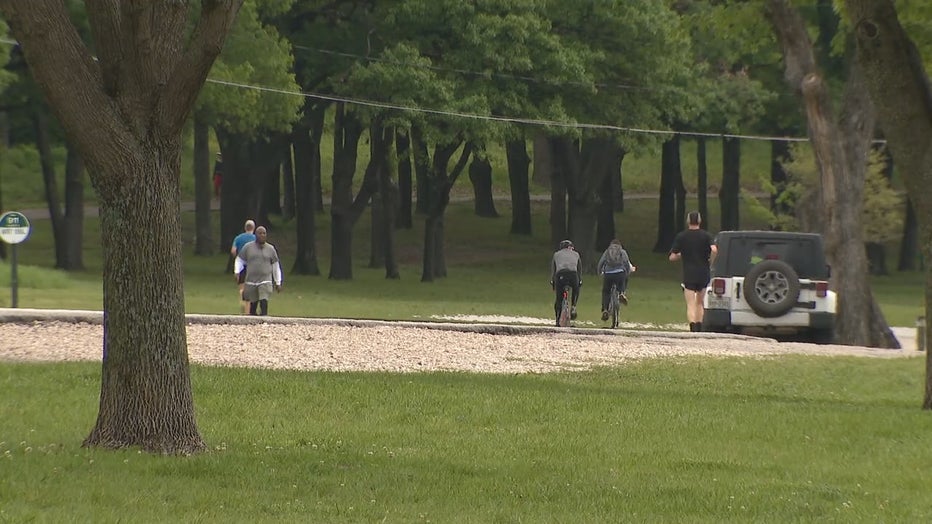 RELATED: Fort Worth to close parks to vehicle traffic on Easter Sunday
Earlier this week, Fort Worth leaders announced they will close parks to just vehicle traffic on Sunday, and will be closing public parking lots for many of its public parks.
City leaders in Fort Worth share the same concerns.
"Everything we've done can be destroyed in a weekend or two, and we just can't afford to do that," said Brandon Bennett, director of Fort Worth Code Compliance. "One of the things we're concerned about is Easter plus five, and what that means is from the time that somebody contracts the virus it's about five to seven days for them to become symptomatic."
People can still walk or bike to parks, but are still urged to stay home and keep social distancing.
"If a lot of people get together, particularly generations of families, or get together in a very communal or close social setting like you would see in a typical church environment, we're going to see viral spread like we have not seen it before and 5-7 days down the road, we're going to start to see a surge on the hospitals," Bennett added.