Dallas firefighter, teachers among 59 people facing charges in North Texas child exploitation crackdown
Law enforcement agencies announced charges against dozens of North Texans as part of a month-long investigation designed to rescue children who are the victims of online sexual exploitation.
The investigation, called Operation Janus, sought out people who were trafficking illegal images and videos of children who were forced to perform sexual acts.
The victims in the operation are as young as infants, according to investigators. 
A detective says this started after companies like Google and Facebook flagged the inappropriate material. 
It resulted in more than 80 criminal charges filed against 59 offenders from Jan. 16 to Feb. 10.
Law enforcement groups say over the course of the operation, 28 children were rescued from online sexual abuse, and investigators seized terabytes of data and electronic devices used in the crimes.
Jeff Rich is the detective handing the Plano side of the case.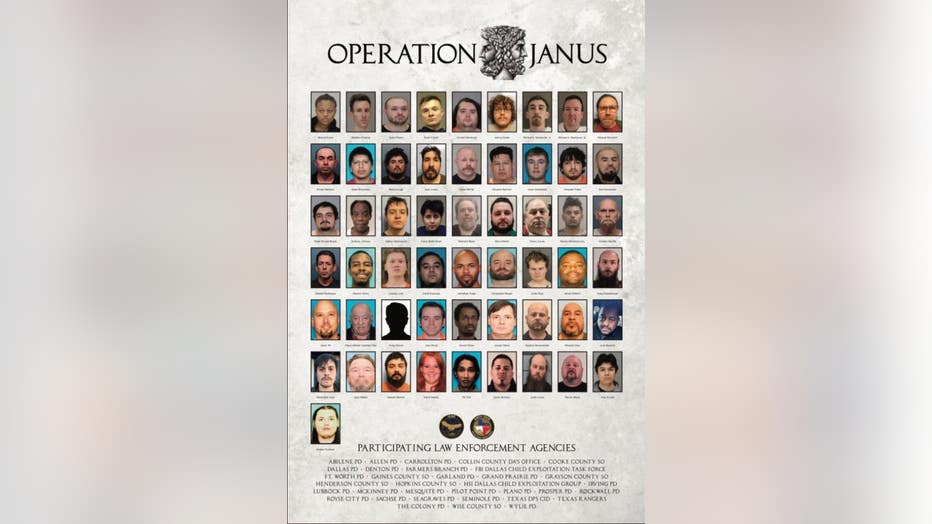 "The electronic service providers, the services you use on your phone or computer, detect contraband material, and they report that to the National center for missing and exploited children who then forward that information to the affected law enforcement agency. 
More charges could be coming as the devices are analyzed.
Among those charged are Jesse McFall, who worked for Dallas Fire-Rescue, Brandon Froning, who taught at Parish Episcopal and Michael A. Newhouse, Jr., who worked as a substitute teacher for McKinney ISD.
READ MORE: Parish Episcopal School teacher arrested on child porn charges
Operation Janus was the result of a number of federal, state and local law enforcement agencies, including the FBI Dallas Division's Child Exploitation Task Force and the North Texas Internet Crimes Against Children Task Force.
The name of the mission comes from Roman mythology and the two-faced god who looks to the future and the past.
"We see the worst of society, the darkness of society, to be able to shine a light into the darkness and rescue these children is hugely important," Rich said.
"The people charged as a result of this operation preyed upon some of our most vulnerable, our children," said Dallas Police Chief Eddie Garcia in a statement. "We will never stop working to identify, locate and apprehend these predators to make our community safer for our children."
A majority of the people involved live in Texas. One person was arrested in Alaska.
Operation Janus Charges
Mickail Dukes, Manifestation of Prostitution, Dallas PD
Brandon Froning, Possession of Child Pornography, Dallas PD
Justin Peters, Possession of Child Pornography, Garland PD
Noah Craver, Possession of Child Pornography, Plano PD
Vincent Hammack, Possession of Child Pornography, Plano PD
Joshua Drake, Possession of Child Pornography, Wylie PD
Michael A. Newhouse, Jr. Possession of Child Pornography Possession of Lewd Visual Material, Texas DPS
Michael W. Newhouse, Sr. Possession of Child Pornography, Texas DPS
Michael Sinnreich, Possession of Child Pornography, Wylie PD
Ernest Martinez, Possession of Child Pornography, Abilene PD
Isaac Hernandez, Possession of Child Pornography, Irving PD
Marcus Lugo, Possession of Child Pornography, Abilene PD
Juan Juarez, Promotion of Child Pornography, Wylie PD
Jesse McFall, Possession of Child Pornography, Dallas PD/Denton PD
Eduardo Ramirez, Receiving/Possession of Child Pornography, Plano PD
Jesse Giesbrecht, Receipt and Distribution of Child Pornography, Seminole County Sheriff's Office/FBI
Ubaydah Fadel, Possession of Child Pornography, Plano PD
Ivan Hernandez, Sexual Assault of a Child, Dallas PD
Ralph Brooks Brown, Possession of Child Pornography, Plano PD
Anthony Johnson, Possession with Intent to Promote with Prior Conviction, Dallas PD
Nathan Abramovich, Possession of Child Pornography, Wylie PD
JUVENILE, Possession of Child Pornography, Wylie PD
Corey Smith Shaw, Possession of Child Pornography, Plano PD
Nathanel Black, Possession of Child Pornography, Irving PD
Steve Martin, Possession of Child Pornography, Plano PD
Tracey Couey, Possession of Child Pornography, Dallas PD
Ramiro Mendoza, Lara Possession of Child Pornography, Irving PD
Charles Stanfiel, Possession of Child Pornography, Abilene PD
Edward Rodriquez, Online Solicitation of a Minor, Abilene PD
JUVENILE, Possession of Child Pornography with Intent to Promote, Wylie PD
Shemar Green, Possession of Child Pornography and Transportation of Child Pornography, FBI-Lubbock/Snyder PD
Cassidy Lush, Distribution of Child Pornography, FBI – Lubbock
David Espinoza, Possession of Child Pornography, FBI – Lubbock
Jonathan Paige, Kidnapping/Sex Assault of a Child, Plano PD
Christopher Berger, Promotion of Child Pornography, Dallas PD
Justin Wyly, Possession of Child Pornography, Hopkins County SO
James Wilborn, Indecency with a Child, Dallas PD
Thomas Dobbs, Possession of Child Pornography, Abilene PD
Craig Schamberger, Online Solicitation, Fort Worth PD
Jason Till, Production of Child Pornography, Homeland Security Investigations
Pipino Alfredo Castelan Diaz, Solicitation of Prostitution of a Minor
Irving Woods, Online Solicitation, Fort Worth PD/Alaska State Troopers/US Secret Service
Demon Driver, Possession of Child Pornography, Dallas PD
Joseph Sterle, Possession of Child Pornography, DPS-Texarkana
Stephen Benzenhafer, Online Solicitation of a Minor, Plano PD
Silvestre Diaz, Indecent Assault, Wylie PD
Juan Blaylock, Possession of Child Pornography, Dallas PD
Maximillian Arya, Possession of Child Pornography, Dallas PD
Juvenile, Bestiality, Garland PD
Juvenile, Publish Intimate Visual Material, Wylie PD
Gary Mathis, Promotion of Child Pornography, Dallas PD
Anthony Garza, Misdemeanor Charge, Lubbock PD
Haseeb Memon, Possession with Intent to Promote Child Pornography, Wylie PD
Sierra Hendry, Bestiality, Dallas PD
Rit Tran, Distribution of Child Pornography, FBI – Dallas
Javier Montano, Sex Abuse of a Child, Fort Worth PD