2 arrests made, third suspect sought in September murder of 14-year-old in South Dallas
DALLAS - Police arrested two alleged gang members in the September murder of a 14-year-old boy.
Manuel Edwards was shot and killed in September. He was found dead in a field at Al Lipscomb Way and Meyers Street in South Dallas after being shot multiple times.
The murder was the subject of Shaun Rabb's Trackdown segment. Tips generated from that segment helped police eventually find the people responsible for his death.
Police are still searching for a third suspect. 
RELATED: 14-year-old shot and killed in South Dallas, police searching for shooter
Dallas police say anonymous tips came in from the public identifying the suspects, claiming they are known gang members and terrorize the neighborhood with firearms. 
Now, the two alleged shooters sit in the Dallas County jail facing capital murder. 
RELATED: Dallas police share photos of persons of interest in shooting death of 14-year-old
A memorial to honor Manuel still stands after more than two months. The teen's mother, Cynthia Edwards, says the cross and flowers were not to move until she knew who took her son. 
"I'm going to get justice. All we wanted was justice, and we are going to get it. Thank you, Jesus," she said.
Cynthia received a call Friday at work from police saying that two men connected to her son's murder are now in custody. 
Treveion Harris, 22, and Alonzo Simpson, 17, were both taken into custody Thursday. 
Simpson's mugshot at the Dallas County Jail has not been made available yet. 
A third suspect is still wanted by police: 19-year-old Gregory Ellison.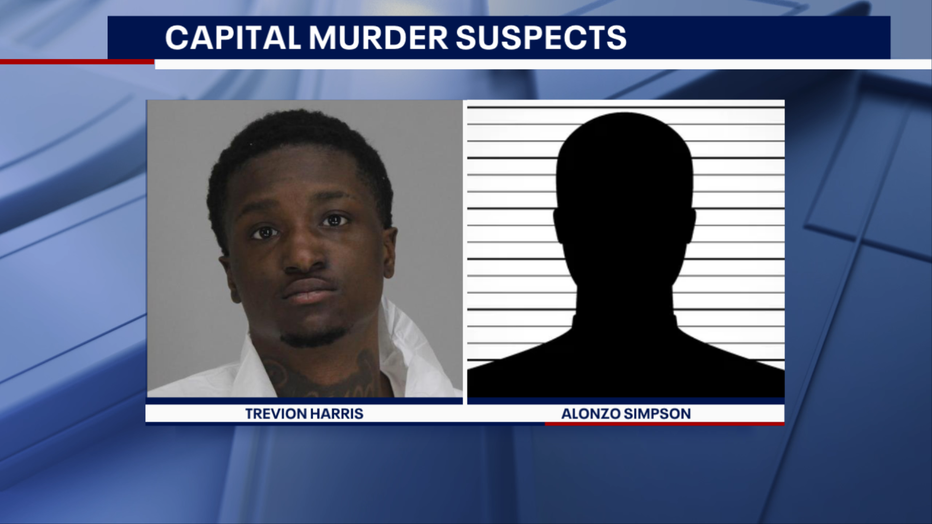 Cynthia doesn't recognize any of their names. 
"I don't remember seeing any of them. They were the boys when he left the house," she said.
Dallas police say the seventh grader's death was at the hands of known gang members with a motive of retaliation.
Dallas police say the 14-year-old was last seen on surveillance video in the early morning hours of Sept. 25 with six men, including Harris, Alonzo, Ellison and three others outside Grand City Store off Al Lipscomb Way. 
According to an arrest affidavit, Ellison lured Manuel to the store parking lot, and then the entire group walked one block to an empty field. There, police say Harris and Alonzo both shot Manuel multiple times and left. 
Just one street over, Cynthia says she was asleep in their South Dallas home at the time when her son left. 
"He was only 14 years old. It's hard. It's very hard," she said.
The three other men in the group who are not currently facing charges or in custody were previously named potential persons of interest in a FOX 4 Trackdown, helping investigators get one step closer to the alleged shooters. 
The mother of two of the men pictured contacted Dallas police, agreeing to bring her sons in for an interview. Both were eventually released. 
A teen who was being questioned identified the males in the group but denied any involvement in the murder, claiming they were just standing with the group prior to the shooting.
During the investigation, Dallas detectives did learn the day before Manuel was killed that he had been involved in an altercation where a deadly shooting occurred. 
Investigators say Manuel was set up and killed the next day.
"I miss him," his mother said. "I know I am never going to see him again."
Police say Harris was linked to another shooting around the time of Manuel's murder. Investigators linked the firearm used in that shooting to the gun used to kill Manuel.
Investigators say Ellison is the only outstanding suspect.