4 suspects in custody, armored car driver shot during robbery near bank in Carrollton
CARROLLTON, Texas - Four people were taken into custody near the Tyler area after a robbery and shooting at a Carrollton bank.
Carrollton police say a group of people tried to rob an armored van at a Bank of America around noon on Thursday, and gunfire erupted.
Police didn't say how many people fired, but evidence at the scene shows a lot of expended rounds.
One employee for the armored van vendor was shot.
Trackdown: Burglar cuts into safe, crawls to avoid detection at White Settlement Family Dollar
Oscar Perez describes dashing behind a stone column when he heard gunshots ring out just a few feet away from his salon. 
"I tried to cover myself like that because of the gunshots," he said.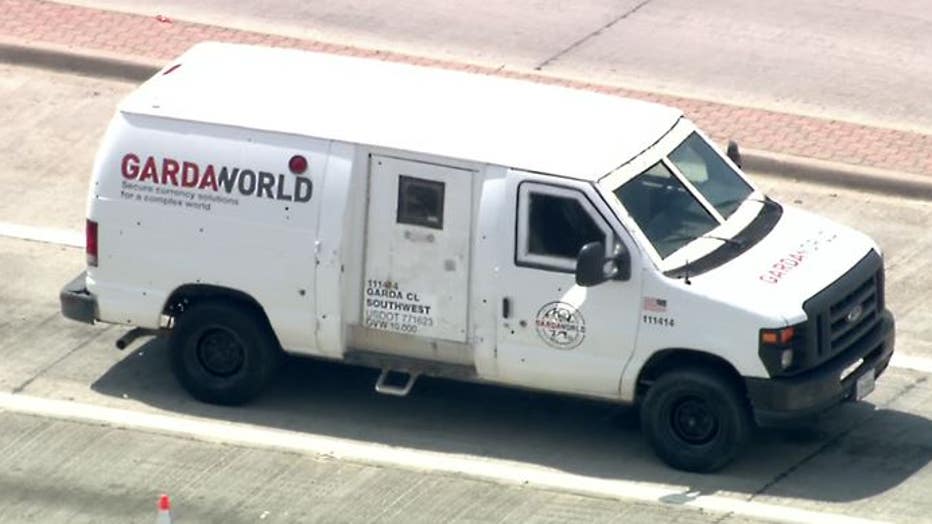 Carrollton police say they got the call just after 12 p.m. about a robbery at a Bank of America at the Carrollton Park Shopping Center on Josey Lane.
Police say two employees for security services company GardaWorld were inside of a white armored van. They were contracted to restock the bank's ATM.
Investigators say four people opened fire on the van, striking one of the guards in the arm.
It's unclear if the GardaWorld employees fired back, but SKY 4 captured evidence markers for what appeared to be nearly 20 bullets fired. Investigators did not find any weapons at the scene.
"I see the guys working for the bank. They tried to protect themselves," Perez recalled. "And I saw the robbers in the grey car. But I just saw one of them."
A few doors down at Diva's Hair Salon, FOX 4 spoke to a woman who says the shooting happened right next to her parked SUV. She didn't want to show her face on camera but said she hid inside of the salon for several minutes while the gunshots continued.
"So nervous. And then when we see everything, go back, get on the floor," she said. "Probably more than 15 minutes."
SKY 4 captured the armored van parked on Josey Lane with several bullet holes on the passenger side.
Police are still searching for surveillance video but say it's likely the GardaWorld employees drove away from the bank to get away from the shooters. 
Police say after the suspects left the scene. They ditched the vehicle they were originally in and got into a new car.
After issuing a BOLO alert, that vehicle was spotted around 3 p.m. by a Smith County constable about 100 miles east on Interstate 20 near Tyler.
Police have not said whether they recovered any weapons from the second car.
The injured GardaWorld employee is expected to be okay, and the other was not injured.
"They are very lucky to be alive, and we are too," Perez said.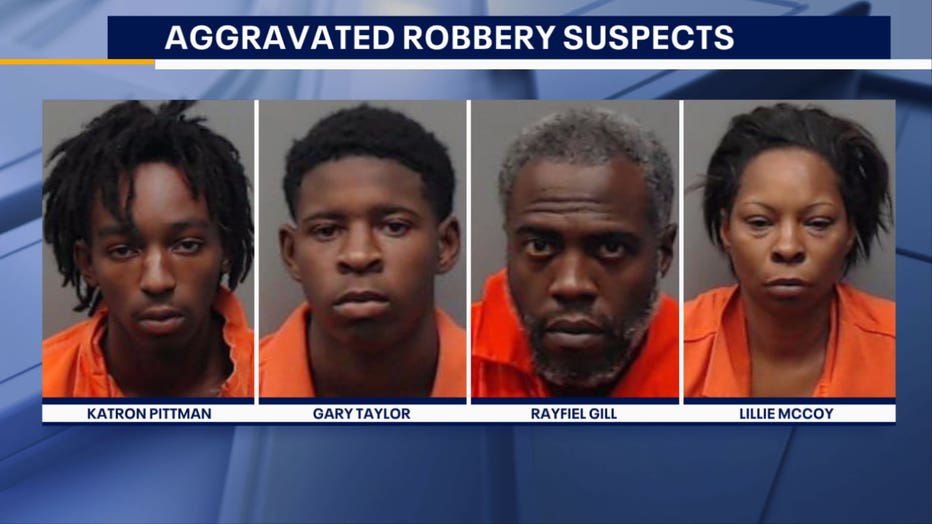 The four suspects Katron Pittman, 17, Gary Taylor, 17, Rayfiel Gill, 40, and Lillie McCoy, 43, were all from Mississippi.
The suspected stayed in the Smith County Jail overnight Thursday. They will be brought back to Carrollton and then transferred to Dallas County Jail on Friday.