2 men, 2 women killed inside Northwest Dallas apartment, 2 arrested, police say
DALLAS - A shooting at a Northwest Dallas apartment complex killed four people on Sunday evening.
Dallas police confirmed four people were found inside an apartment along Villaverde Avenue near Forest and Marsh Lanes after family members called 911.
According to court documents, relatives went to the apartment complex after the victims would not answer their phones.
READ MORE: Family of 11-year-old killed in shooting that also injured his mother remember their 'inseparable' bond
They told investigators they found the four bodies with multiple gunshot wounds. An infant was inside the apartment but was not hurt.
Investigators determined there were two suspects: 18-year-old Artemio Maldonado and 20-year-old Azucena Sanchez.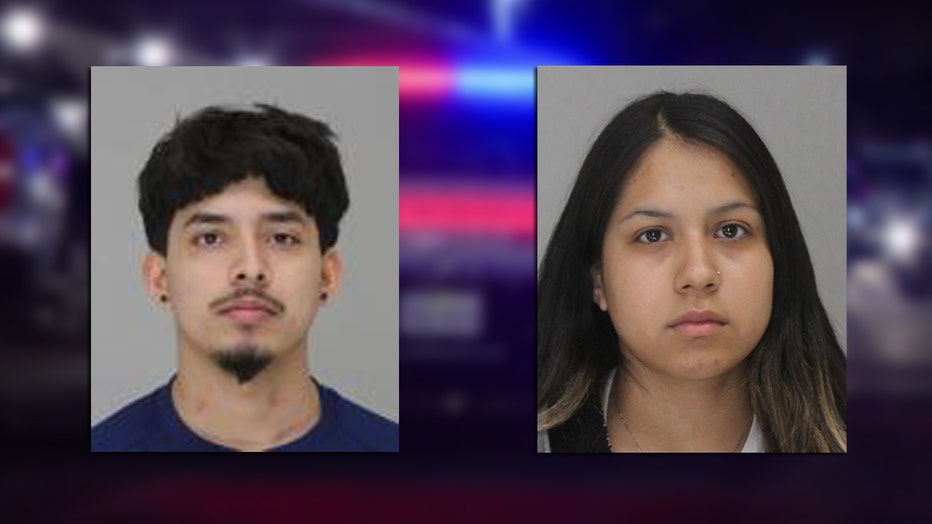 Family members told investigators Sanchez was the ex-girlfriend of one of the victims and the two had been in a custody dispute over their son, according to the arrest affidavit.
Those family members told FOX 4 the victims included two brothers Lupe and Juan Cruz, as well as Lupe's wife, Jazmin Borja, and a family friend, Fatima Alvarado. They said Juan is the one who had a previous relationship with Sanchez.
A neighbor told police investigators he thought he heard gunshots around 1 a.m. but did not call the police.
Security video from the complex showed a Black Ford Mustang, believed to belong to Maldonado, leaving the complex around 1:11 a.m. 
Detectives found the Mustang in a different apartment complex parking lot on Northaven Road and took both suspects into custody as they were walking toward the car just after 10 p.m.
They were taken to the Dallas County Jail and charged with capital murder.
READ MORE: 2-year-old hospitalized in Dallas shooting
According to court documents, a handgun was found between the driver's seat and door.
Maldonado allegedly admitted to the shooting to investigators. He told officers he and Sanchez broke into the apartment through a window. He said he shot the victims after a confrontation, according to his arrest affidavit. 
"I saw all the cops, cars and the tape. so I was like, 'Ok, somebody is dead.' Because I saw the yellow tape, but I didn't know it was that close to where I lived," said neighbor Robert McCray. "It was surprising. It's frightening for one, and I mean I feel bad for the family. I mean and the kid being in there like that."
"It is important to note that if you hear something, if you see something to contact us, to make that phone call. It may be nothing, but it may be something that ends up being critical to an investigation," said Dallas police spokesperson Kristin Lowman.   
The infant was taken to the hospital as a precaution and is currently with CPS.